School hosts young engineers LEGO® event
Life in EEE 13th March 2019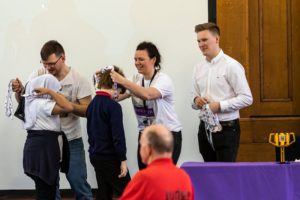 Manchester gained a taste of global competition as a regional heat of the FIRST® LEGO® League INTO ORBIT came to town on 18 February.
The event, hosted by us, the School of Electrical and Electronic Engineering, is part of an initiative aimed at encouraging children to consider a career in STEM (science, technology, engineering and maths).
The robotics competition enables young people to work as a team, learn valuable life skills and discover the wonders of STEM. Staff and students from our School worked with young people from across Manchester, giving them the opportunity to engage not only with each other, but with adults involved in STEM professionally.
Participants aged nine to 16 got to grips with LEGO® packs containing out-of-this-world structures including space travel ramps, solar panels, meteoroids, satellites and habitation hubs.
But they didn't just learn about building LEGO®. The FIRST® LEGO® League helps to develop a whole range of important life skills, including applied science, design and technology, programming and control, computing, mathematics, research, communication and presentation skills, strategic thinking, and teamwork.
The event was a huge success and a perfect example of School and university outreach helping future engineers to come together, learn lots and – importantly – have a great time.
Read more about the event on the Faculty of Science and Engineering blog
Related posts