Meet a researcher – National Nuclear Laboratory
EEE in the real world Meet the Department 29th April 2019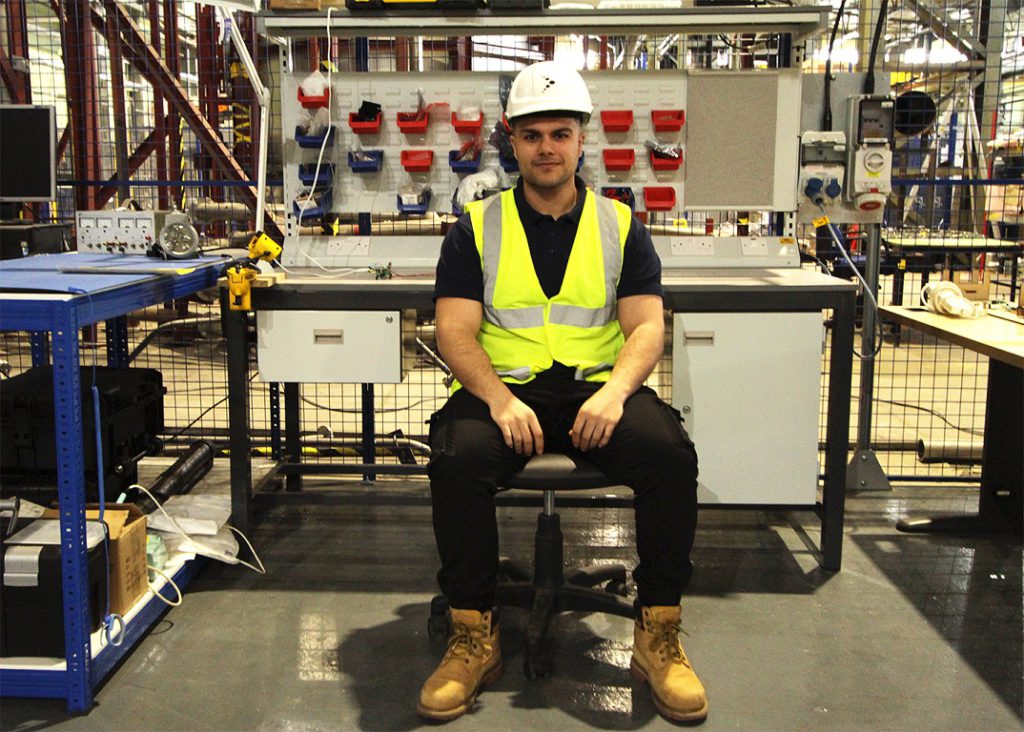 Rodosthenis Charalampous, or Rhodes as he is known by most, is a graduate of our undergraduate course in Electrical and Electronic Engineering and is now a PhD student working at the National Nuclear Laboratory.
Please can you describe your research, for the layman?
I currently work at the Centre for Innovative Nuclear Decommissioning (CINDe) at the National Nuclear Laboratory (NNL). The goal of our research group is to develop novel technologies and techniques to support a range of nuclear decommissioning activities. My research is concerned with the study of underwater acoustic communication within confined, unstructured environments. The underwater acoustic (also known as hydroacoustic) channel represents one of nature's most demanding communication media and by understanding its characteristics, my project aims at creating an innovative underwater positioning system for small Remotely Operated Vehicles (ROVs). My project also contains elements of Systems Engineering which is an interdisciplinary field that studies the development and management of complex systems.
How can your research benefit the public?
Nuclear decommissioning research has gained a lot of popularity in recent years and I believe that my research will aid in the development of systems which can support such activities.  In a wider context, the study of underwater communications plays an important role in Naval Engineering and can potentially help to enhance technologies used in search and rescue operations.
How did you first become interested in your research area?
In my final year as an undergraduate at The University of Manchester, I worked on a similar project which involved the design and development of a localisation system. What I enjoy most about this field is that there is a multitude of areas to investigate and multiple tasks to perform and master. Some days I research the physics side of acoustic waves and read about communications theory and other days I focus on writing software and study embedded systems. I am also very lucky to have a great academic supervisor, Peter R Green, who supervised my second year internship and third year projects when I was an undergraduate, and also introduced me to this research area.
Who or what first inspired your interest in Science and Engineering?
I wrote a blog on this subject a few months ago called 'The Why'. When I was a child I was fascinated by circuit boards and I had a habit of disassembling broken electronic devices and tinkering with the components. I have always enjoyed studying physics but engineering won me because of its practical aspect. As I wrote in my blog, deep down I am still that same kid with that very same fascination, only now I can understand the function of electronic components and spend a lot of my time designing circuits!
Can you tell us a little about your other interests?
I am an avid book reader with a keen interest on behavioural psychology and philosophy. I also devote a substantial portion of my time studying history and political theory and I am particularly intrigued by how different disruptive technologies and radical inventions have shaped the progress of civilisation over the centuries. Nowadays, Artificial Intelligence (AI) seems to be the main conversation topic and I would highly suggest the book "Superintelligence" by Nick Bostrom to anyone who is interested in investigating this area within a social context.
What do you get up to in your spare time?
Music plays a significant role in my everyday life and I would go as far as to say it helps me in my research! I consider myself to be an audiophile and I often find myself searching for a new piece of audio equipment. I have been producing electronic music for about eight years and for the past couple of years I have been learning to play bass guitar. I also have an interest in designing and developing electronic musical instruments both for artistry and education.
How does being based here in Manchester help your work and research?
Although my research project requires me to spend the vast majority of my time off-campus, Manchester has played an important role in my development as a researcher. The University itself has strong ties with industry which creates a lot of unique opportunities for students. Overall, I believe that the historical importance of the city of Manchester in terms of engineering and technological innovation has inspired me to strive to excel as an engineer.
What undergraduate course did you study with the School of Electrical and Electronic Engineering?
I graduated in July of 2018 with a Bachelor's degree in Electrical and Electronic Engineering.
What did you enjoy most about it?
My favourite courses were Electronic Circuit Design and Microcontroller Engineering. I am the type of person who learns by doing so I preferred the laboratory over the lecture theatre! I would say that I had the most fun during my third year project because I had the chance to get a glimpse of what it means to be responsible for making engineering decisions which influence the development of a system.
careerPhDpostgraduateresearchResearcherRhodesRodosthenisSystems engineering
Related posts