Life as a PhD student – Tom Fisher
Meet MACE Research and impact Student experience 14th October 2019
Tom Fisher recently completed a PhD funded by the European Space Agency to develop new techniques of predicting the aerodynamics of the re-entry of space debris in order to reduce its impact.
His thesis – 'Development of advanced techniques for aerodynamic assessment of blunt bodies in hypersonic flows' – improved existing optical methods and evaluated new optical methods, background-oriented schlieren and object-tracking. Tom then applied them to study complex free-flight shock interactions between models in high-speed wind tunnel experiments.
The developments in methodology helped validate computer simulations that predict the destructive re-entry of satellites. This will allow confident predictions about how newer, bigger satellites can be safely disposed of.
These techniques can also be used to support development of new high-speed supersonic passenger aircraft, and can be applied to aircraft in-flight such as the recent NASA testing.
What initially attracted you to Manchester?
I first came to Manchester to study an MSc in Aerospace Engineering, and even at that stage, I knew I wanted to continue on to do a PhD, so I carefully researched various universities before applying.
Manchester had the perfect combination of factors I was looking for – a good and reputable university, a friendly and supportive academic department, excellent wind tunnel facilities and a big city which has lots going on. It is more affordable than London and although Manchester is a busy and exciting city it is also small enough to feel homely.
"Manchester had the perfect combination of factors"
The University of Manchester is unique in the UK for its high-speed wind tunnel facilities. Very few places have hypersonic wind tunnels and Manchester is currently the only university with a Mach 6 capable wind tunnel which can run for seven seconds.
Tell us about your experience of undertaking a PhD…
Doing my PhD has probably been one of the best things I've ever done.  At the start, I had an idea of how I thought things would pan out – my imagined outcomes and my research plan – but I quickly came to realise that things never go in the direction you had expected!
Things take longer than you had thought. Things change or go wrong. There have been many times that I have found the process really challenging and frustrating.
But it is by experiencing and going through those times of frustration, and seeing my strengths and my weaknesses, that I feel I have really grown as a person. I am much better at coping with challenges and stressful situations than I was when I started my PhD.
"As well as the unexpected challenges, there have also been so many unexpected opportunities"
Having such a supportive group of people around me has helped so much – my supervisors and other people in the Department of MACE. Another thing that allowed me to cope well with the challenges of my PhD was getting out and doing other things.
Whether that be going for a swim or doing some exercise, seeing friends or going out for nice food – just something to get you out of your own little bubble. That often helped me to get some head space so that I could come back to my research ready to find solutions to whatever problem or frustration I was facing.
"Having such a supportive group of people around me has helped so much"
However, as well as the unexpected challenges, there have also been so many unexpected opportunities that have arisen during my PhD. The ESA NPI project enabled me to take the techniques I had developed at Manchester and apply them in collaboration with the German Aerospace Centre (DLR).
I was lucky to spend a fortnight carrying out testing in their huge hypersonic wind tunnel facilities, which was an amazing experience (see below).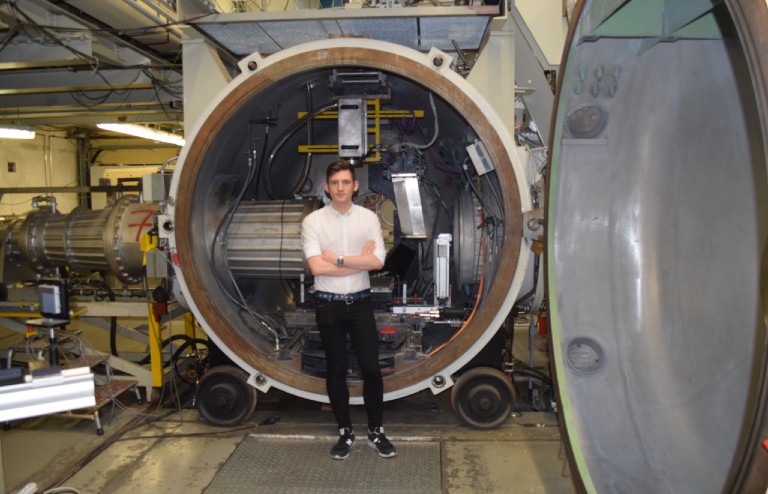 I have also collaborated with Rolls-Royce and several other universities, including Imperial and Oxford, and had the chance to develop the flow visualisation techniques further.
I was also able to support other PhD students with their own research through the UK Fluids group. There have been many opportunities to meet with others in my area of research and share ideas through talks, meetings and conference presentations.
What do you hope to now you have finished your PhD?
I am currently a Postdoctoral Research Associate in MACE, where I have further developed the Department's wind tunnel facilities and an experimental teaching lab for the MACE 42111 course unit.
"Curiosity has always been the driver"
I am working on developing fluidic thrust vectoring concepts in collaboration with BAE Systems to support Project Tempest. However, I am soon to leave Manchester to take up a position with BAE Systems to support high-speed wind tunnel testing at their Warton site.
My future plans are not set in stone and for me curiosity has always been the driver. So wherever a new and interesting challenge presents itself – whether in academia or in industry – I would be keen to pursue it.
Find out more about Aerodynamics at Manchester at the research group's Area of Expertise website.
Want to meet more MACE staff, students and alumni? Check out the 'Meet MACE' section of the blog.
Related posts