Alice's advice for aspiring engineers
Meet MACE Research and impact Women in engineering 15th July 2020
Under the direction of Professor Alice Larkin, the School of Engineering at Manchester is driving forward rapidly with a range of initiatives to improve gender diversity and inclusion. We caught up with Alice to hear more about her journey to becoming an Engineer, her advice for aspiring engineers and what she thinks the future holds for women in engineering.
"I was very keen on stargazing as a child…
…and also liked to fix things, or think about how things worked. This led me to study a degree in Physics with Astrophysics and I then went on to do a PhD in Atmospheric Physics and Climate Modelling.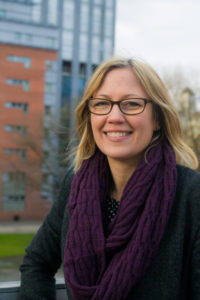 My research focussed on trying to understand the degree to which climate change is due to natural phenomenon, such as the sunspot cycle. After completing my PhD I worked in science communication at the Institute of Physics and later in a medical school.
I then joined the department of Mechanical Engineering at UMIST (now The University of Manchester) where a research group called the Tyndall Centre was advertising for a 'physicist with communication skills' – which struck an immediate chord!
The Tyndall Centre has a specific remit to conduct policy-relevant research, and encouraged me to engage with policymakers and submit evidence to government inquiries. In doing so I managed to influence the development of the UK's Climate Change Act, as well as airport expansion in the UK, on the grounds of climate change concerns.
After several years I became a lecturer in the Department of Mechanical, Aerospace & Civil Engineering (MACE), and was eventually made a Professor of Climate Science and Energy Policy in 2015. Leading projects on decarbonising the energy system, particularly focusing on aviation and shipping, and working in an interdisciplinary way had been my focus for many years.
However, in 2017 I was given the opportunity to lead our Department of MACE – a challenge that was exceptionally rewarding – although very hard work! And I have now recently taken up the role of Head of School of Engineering and am excited to be leading Engineering at the University of Manchester.
"We are surrounded by bright, creative and ingenious minds"
The Department of Mechanical, Aerospace and Civil Engineering at The University of Manchester has a tremendous breadth of expertise and areas of research interest. Our academics are from diverse backgrounds and span engineering disciplines.
We are surrounded by bright, creative and ingenious minds who are keen to put their skills to the benefit of others, be that through imparting knowledge and understanding to our students, supervising student projects or running world-leading research endeavour. There is never a dull moment in the Department, and the variety and scope of what our engineering has to offer never ceases to amaze me.
Studying Engineering in the Department of MACE creates a natural drive to collaborate and many colleagues seek to develop and support others, and understand that sharing an idea can spawn innovation.
Our academics and researchers are also well connected to industry and other stakeholders that help to ground our research in real-world applications. These applications are brought into our teaching and learning, helping to inspire and upskill students for their working lives.
We also have industrial advisory boards which help us keep our material in line with accrediting bodies, whilst keeping it up-to-date with the state-of-the-art. They push us to ensure that as well as challenging our students to learn core engineering concepts, we are providing softer skills to really ensure that our graduates can provide what industry needs.
"Making a difference in the world inspires engineers"
I love finding out about all the amazing research that is going on here, and seeing the research-inspired ideas going into our teaching, by talking to staff around the Department, or seeing the great work students put together in their posters based on their individual projects, on poster day.
Our engineering creativity knows no bounds, and gives new optimism that we can develop creative and impactful solutions, that are not only important technical innovations, but draw in expertise on how we, as humans and communities, interact with those technologies. The interdisciplinary nature of much of what we do in the Department, and across the whole School, is a wonderful thing of which to be part.
Making a difference in the world inspires engineers. Engineers often focus on applying physical science understanding to challenging problems, seeking solutions to those problems with innovation and creativity.
"Engineering impacts society in so many ways"
They are inspired by finding neat solutions to complicated problems, and even more inspired if they can see those solutions benefiting people – be that through healthcare innovation, avoiding environmental damage, making things work more effectively to make people's lives easier, helping to make things cheaper so that they can be more readily accessed by those in poorer communities both close to home and in other countries.
Engineering impacts society in so many ways. Our modelling and simulation work can have applications in healthcare – such as improving cardiovascular implants by better understanding fluid flow. It can also help us to understand flooding and coastal erosion, improving decisions around construction.
"Finding neat solutions to complicated problems inspires engineers"
Our mechanical engineering experiments can show how renewable technology can deliver more energy from the wind, waves and tides using the hydraulics facilities we have available which helps to deliver commitments as laid out in the Paris Climate Agreement.
Without engineering, we wouldn't be able to fully understand how materials function in nuclear reactors, to ensure that investment in low-carbon power can have a long lifetime. Understanding the spread of fire, and how to improve buildings to resist fire is underpinned by structural and civil engineering research.
Combining computation with mechanical engineering is leading to new innovation in robotics, and couple that with 3D printing, we are able to design new types of bone implants, or prosthetic devices, to improve the lives of people with disabilities; whilst our aerospace engineers explore the use of UAVs to help in disaster zones.
"The future looks bright for women in engineering"
Misconceptions you may hear about women wanting to study engineering might include 'They won't find it interesting. They won't be so good at the creative and practical elements. They won't be physically strong enough to conduct activities in workshops and with machinery'. All nonsense!
The future looks bright for Women in Engineering. We are increasing in number, and our engineers who identify as female often excel both as undergraduates, and post-graduate students. The workplace is changing rapidly, and increasingly engineering organisations are recognising the huge value in having a diverse workforce. Furthermore, the societal importance of engineering, and ensuring that
Diversity is a great thing – and one that can only benefit engineering and help to solve societal challenges. At the moment, students identifying as male dominate engineering graduates – but it doesn't have to be that way. Come to Manchester and be a part of that change!
"Engineering needs people with a can-do mentality"
If you are interested in pursuing a career in Engineering, make sure you choose some maths and physical science subjects both at GCSE and A-level. Engineering, especially in a Russell Group research-intensive University such as Manchester, is a technical and mathematical topic, as well as being hands-on and creative. Having a strong mathematical and physical sciences background is very important.
Engineering needs a diverse range of creative people, people with open minds, people with a 'can-do' mentality. If you like making things, and are innovative, engineering could be for you."
Hear from more of our staff and students who identify as female in the 'women in engineering' section of the blog. You can also hear about what is going on nationally and internationally with the Women's Engineering Society. 
Want to meet more MACE staff, students and alumni? Check out the 'Meet MACE' section of the blog.