Congratulations to the CanSat Project team!
Student experience 20th July 2020
Huge congratulations to MACE's student-run CanSat Project team for their success at the American Aeronautical Society's international competition this summer. Although the final stage of the competition sadly had to be curtailed due to travel restrictions, the Manchester team came in third place overall which is a fantastic achievement!
CanSat is short for 'can-sized satellite'. These types of satellite are usually launched in research rockets or dropped from drones. There are many CanSat projects around the world and the Manchester CanSat Project is allied with MANSEDS (Manchester Students for the Exploration and Development of Space).
"CanSat is short for can-sized satellite"
CanSat competitions around the globe attempt to simulate the life-cycle of a real industry project, from the early initial design stages to the post-flight review. The International AmericanAstronautical Society's CanSat competition runs annually and is sponsored by a number of international companies. The Manchester CatSat Project has been entering a team for several years and this year's competition brief was to design a delta wing glider that would descend in a circular pattern, while monitoring altitude, pressure, temperature, airspeed, and particle count.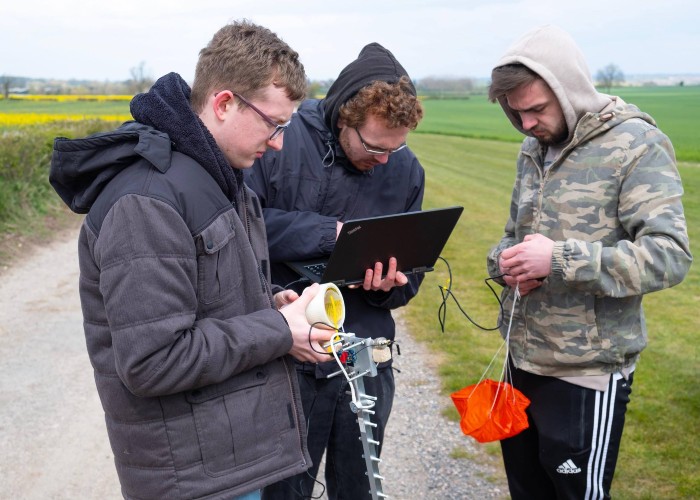 The competition is open to universities worldwide and Manchester's brilliant team often do very well, and this year came third overall and beat all other European universities with a total score of 98.4%!
"Manchester's brilliant team came third overall and beat all other European universities"
In addition to this, Manchester CanSat Project volunteers run the UK's only CanSat competition, aiming to provide more UK universities with the opportunity to participate in CanSat competitions without the high travel costs incurred by the US competition. The Manchester team provide the materials used in workshops and masterclasses to the universities that enter the UK competition. This year, the Universities of Warwick, Southampton, Sheffield, Bristol and the West of England took part as well as Manchester teams.
To find out more about the Manchester CanSat team and the great work they do, check out their website.
There are lots of great student societies at The University of Manchester including Engineering societies, sports, music, wellbeing, baking and many more! Have a look at the full list of student societies on the Students' Union website.
Hear more about about what our students get up to on the student experience section of the blog!
Related posts