Bea Basa, Civil Engineering Graduate
In the real world Student experience Women in engineering 7th October 2021
We caught up with Bea Basa, who recently graduated on the MEng Civil Engineering course, to find out how she enjoyed her time at Manchester and what she has since gone onto do with her career.
Hi Bea, thanks for joining us on the blog! Firstly, how did you come to decide upon studying Civil Engineering for your degree?
Well at A-level I studied Maths, Further Maths & Economics and initially, I actually wanted to go into Computer Science so I did I foundation year for it.  However, after the foundation year, I felt that Computer Science wasn't really the right fit for me.  I still wanted to do a STEM [Science, Engineering, Technology & Maths] subject, so I did some research into the other degrees I could get into with my foundation year and the MEng Civil Engineering course stood out to me, as it was similar to architecture but more technical.  The idea of being able to use my skills to help improve the lives of others, while also advocating for sustainability in the process, caught my eye as civil engineering impacts them on such a large scale.
How was your time at Manchester – what were your favourite modules, projects, lecturers? And what did you get up to outside of your studies?
My favourite modules would probably be the ones where I'd get to work with others in a group as it involved more than just developing my technical knowledge.  Working with others gave me the opportunity to learn more about myself and the ways I could become a better engineer and team member.  The diversity in my cohort was huge, from race to gender to background.  Having such a variety of minds working on solving challenges definitely helped to broaden my perspectives and allowed us to come up with brilliant, creative and innovate solutions.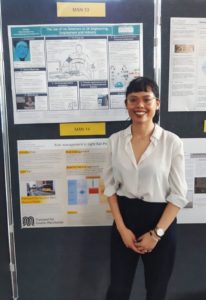 My extra curricular activities consisted primarily of nurturing my creative and social sides.  So in my spare time, I would improve on my drawing and painting skills as well as learn new ones such as playing the ukulele, singing and dancing.  I have to admit, I'm sill not as good a dancer as I'd like to be but it's such a great way to unwind and have fun!  I also got involved with the Civil Engineering society as well as the Filipino society as a social secretary for both and eventually the president for the Filipino society.  Being involved in those definitely helped me to socialise with those I have a common interest in and bring all of us together so we feel part of a family.
Now that you've graduated, tell us more about the company you now work for and what you are working on?
I am currently a Graduate Civil Engineer working at Ferrovial.  I started my role in the summer so I'm still getting used to all the processes and the dynamics within the company.  That being said, I'm lucky to have met the other graduates who are so lovely and supportive of one another.
One of the projects I'm working on at Heathrow Airport is developing and trialing innovative concrete mixes with a lower carbon footprint.  Another initiative involves the recycling of existing high quality concrete from a previous project. So this concrete is broken down and used as type 1 granular material which is one of the layers used in pavement for the runway and taxiway, for example.
Outside the works, the Ferrovial company cars are all electric. 
When people think of the word "sustainability" people often focus on the lowering of carbon and water footprint.  However, the sustainability team at Ferrovial understand there is so much more to that.  The company is focusing on how waste may be reduced throughout the company, not just in construction. They are working on enhancing the sustainability of the workforce through increasing diversity and improving the health, safety and wellbeing of all employees.
How do you think your undergraduate degree prepared you for your current role?
My degree gave me some background on various technical knowledge that I would need to know when going into industry, particularly gaining an understanding of how concrete behaves and how it's affected under the weight and speed of aircraft.  In addition, having a variety of modules, from group projects to dissertations also gave me a taste of what it would be like to work within engineering from report writing and data analysis to soft skills, such as interacting with other members of my group.
"The idea of being able to use my skills to help improve the lives of others, while also advocating for sustainability in the process, caught my eye as civil engineering impacts them on such a large scale"
How did you go about searching for and applying for jobs?
I checked out a couple graduate websites such as Gradcracker and Bright Network which would have job postings and information on the companies.  I would sign up to daily and weekly newsletters which would advertise opportunities but also provide blog posts and videos on how to improve my employability.  I think what helped me out the most was reaching out to a recruiter on LinkedIn who helped me polish up my CV, which I believe was one of the main contributing factors which helped me land the role I'm in now.
What is a typical day on the job for you in your new role?
I'm currently an interim quality engineer so I'm working for the quality department until the end of this year.
I usually start my day with checking and replying to emails and Teams messages.  I have a meeting each day just to catch up with the project team or my manager on the status of the project and provide updates on behalf of the quality department for the projects I've been allocated to.  A majority of my role is chasing documentation and signatures from designers and sub-contractors so that we have all of them readily available for access and for handing over to our client.  Apart from that, I am involved in writing up and reviewing quality and construction documentation.
What advice would you give to current students about jobs and careers?
Something you get asked a lot by managers is, "what is your 5 year plan?".  This is something I hadn't given much thought to when applying for jobs but I wish I did earlier.  I actually worked as a high school science & maths teacher and then a junior researcher for a real estate company prior to my current role.  After coming out of university, you almost get into a mode of "I need to get a job now".
I got into jobs where I realise now that just weren't for me.  I feel, with hindsight, it's good to have an idea of where you want to go.  You don't need to have a super detailed plan but just a goal you want to achieve in 5 years time.  It makes it a lot easier to decide what actions to take in the present as you have a better idea of where you should be headed.  Also, if you do happen to get into something and it doesn't seem to be the right fit for you, do push through it as the beginning stages do tend to be the most challenging period.  Trust in your abilities and see each opportunity as a chance to learn and develop yourself.  I bet you'll be looking back and think think to yourself, "I really did that, didn't I?" and that's such an incredible feeling!
Bea Basa
MEng Civil Engineering 2020 Graduate.
alumnicareercareersCivil EngineeringdecarbonisationengineerEngineeringgraduatehealth and safetyjob searchingMACESTEMsustainabilityuniversitywomen in engineering
Related posts