Ghost town: Is Manchester haunted (and can science explain it)?
UOM life 29th October 2020
There have been times, in this strangest of years, that Manchester has felt like a ghost town. The streets deserted, the shops closed – and campus, usually so vibrant, eerily quiet.
It's been due, of course, to the Covid-19 pandemic. But with Halloween fast approaching, it got us to thinking: are there any actual ghosts in this town? Do spectres really lurk around Manchester? Could the University itself, with its dark corridors, ancient relics, stories and secrets, be haunted?
And – importantly for us – can science explain why things go bump in the night?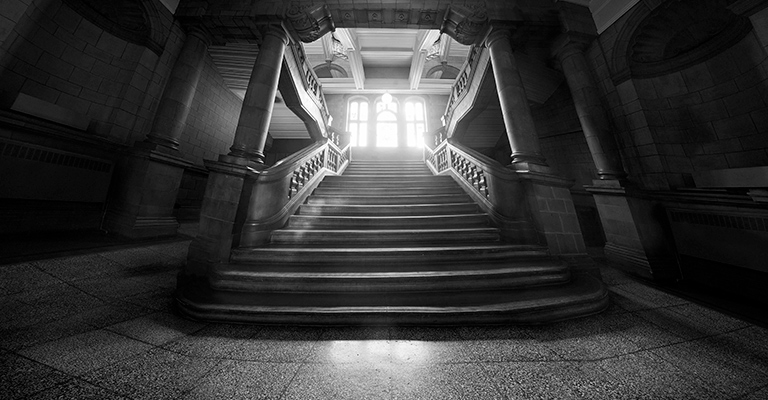 Now, avid readers of The Hub will know that Halloween is one of our favourite times of year. Last year we explored the science behind your nightmares; before that we unlocked Sackville's spooky past, a spine-chilling account of how the extending of Sackville Street Building in the early 1900s meant the removal of not only the building it replaced, St Augustine's Church, but also the 5,000 to 15,000 bodies buried there.
If you've ever heard a creak, croak or cackle in the depths of the building, could it be a restless soul – dug clumsily up from its resting place all those years ago – wandering the halls?
Unnerved at the University
Or perhaps you've been afraid (…very afraid) elsewhere around the University? There have been rumours of ghouls in the toilets of the Victorian Gothic John Rylands Library, and talk of other-worldly goings-on in Fallowfield – including 'a ghostly old man' at the foot of the bed in the 1970s.
One petrifying story from the University even went viral, becoming an internet phenomenon and making headlines around the world. We're talking, of course, about the haunted statue of Manchester Museum… 
In 2013 bosses at the University museum were confused (and dare we say, a little scared) to notice a ten-inch ancient Egyptian statue of Neb-Sanu, discovered in a mummy's tomb nearly 4,000 years ago, spinning of its own accord. A time-lapse video was even set up to record the statuette – and clearly showed it rotating 180 degrees without being touched.
Was it cursed? Haunted? Was a long-dead Pharoah trying to send us a message?
Or, was there a more rational explanation?
An engineer, called into the museum to solve the riddle (and spoil the fun), concluded that the movement was, in fact, caused by vibrations from the busy Oxford Road nearby, aided by the statue's convex base!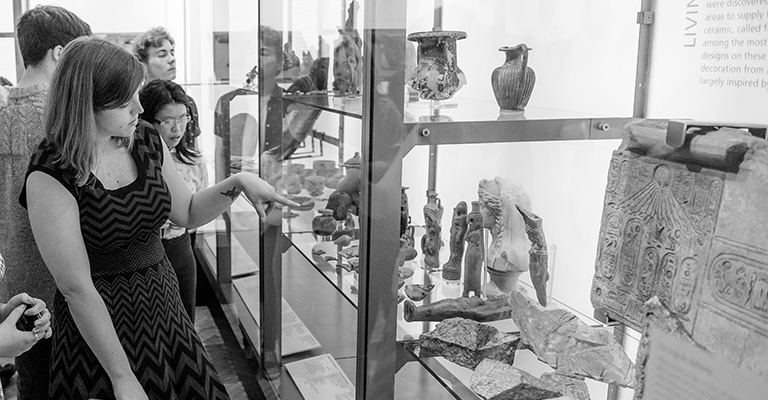 Manchester's most haunted
Casting our (cob)web a little further across the city, and more tales of the unexpected abound. Here are a few of our frightening favourites:
The Albert Hall poltergeist
Manchester's Albert Hall is a favourite 'haunt' *ahem* among our students. But have you heard of the mischievous poltergeist said to stalk the popular music venue? 
The impressive Neo-Gothic building dates back to 1910, when it was built by Reverend Samuel Collier, with the upper hall a horseshoe design so he could better preach to his Methodist congregation. It is thought by some that the poltergeist – accused of smashing glasses, turning lights on and off, and generally running amok about the place – is the ghost of Collier himself, upset about the building's current use. TV series Most Haunted even visited the venue in 2003!
The White Lady of Ordsall Hall
Dating back more than 750 years, Salford's Ordsall Hall is said to be haunted by a ghost known, curiously, as the White Lady. Mystery surrounds just who the woman might be – a jilted bride? A former maid of honour to Queen Elizabeth I? The spirit of Margaret Radclyffe, a woman who lived at the Tudor manor before 'dying of a broken heart' there in 1599?
Such is the ghost fervour around Ordsall Hall that live ghost cams have broadcast from the site, and guests have even been invited to spend the night – if they dare!
The doctor who brought the devil to Manchester
Scientist, theologian and magician John Dee, the one-time royal astrologer for Queen Mary, arrived in Manchester in 1596 to take up the post of Warden of the Manchester Collegiate Church. 
A pious man who dabbled in the occult, he is believed to have summoned the devil while staying at Chetham's School (then Christ's College), leaving a 'Satan's hoof' burn on the table. The macabre mark can still be seen today…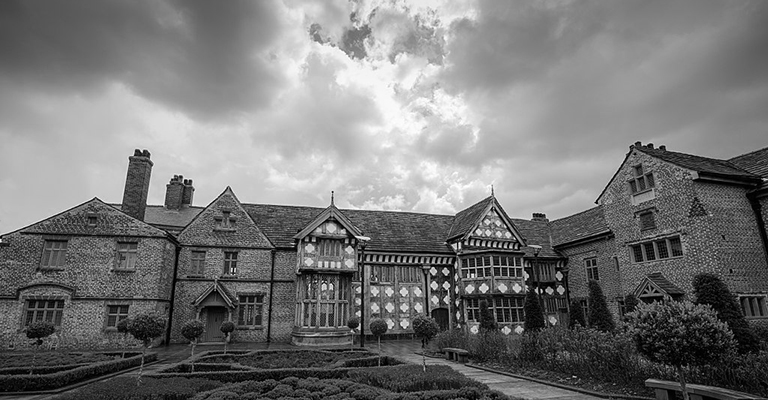 …but what about the science?
Can these blood-curdling tales really be true?
As a faculty of scientific thinkers and engineering minds, we should perhaps talk about how sleep paralysis and hallucinations can cause us to see things that aren't really there, or how inattentional blindness can cause us to completely miss things that are actually there. 
We could, for example, explain how low-frequency sound waves can cause us to feel discomfort or sense another presence in a room… 
But that just wouldn't be as fun. 
And certainly not as scary.
It's Halloween, after all – and who doesn't love a good ghost story?
If you enjoyed this post, be sure to subscribe on our homepage to keep up to date with the latest posts from The Hub.
Words: Joe Shervin
Images: The University of Manchester, Joe Shervin, Michael D Beckwith
Related posts