Evidence of the Big Bang in every direction
Departments Research impact and institutes 7th December 2022
If you've been following our mini series on the work our scientists are working on at CERN, you'll already have been introduced to Marco Gersabeck when he talked about manufacturing, right here in Manchester, the precision equipment that is used on the Large Hadron Collider (LHC).
But there's more to Marco's story, and when we met up with him a few months ago, he first of all told us about the research his team is carrying out into matter and antimatter.
"…on the physics analysis side, what drives our team is largely two things. It's understanding matter/anti-matter differences, so we work a lot with particles that are made of quarks – those are the most fundamental building blocks of matter, of atomic nuclei that are fundamentally built of quarks. And there are a specific set of particles that contain one quark and one anti-quark – so an anti-matter quark; they have anti-matter kind of built into them.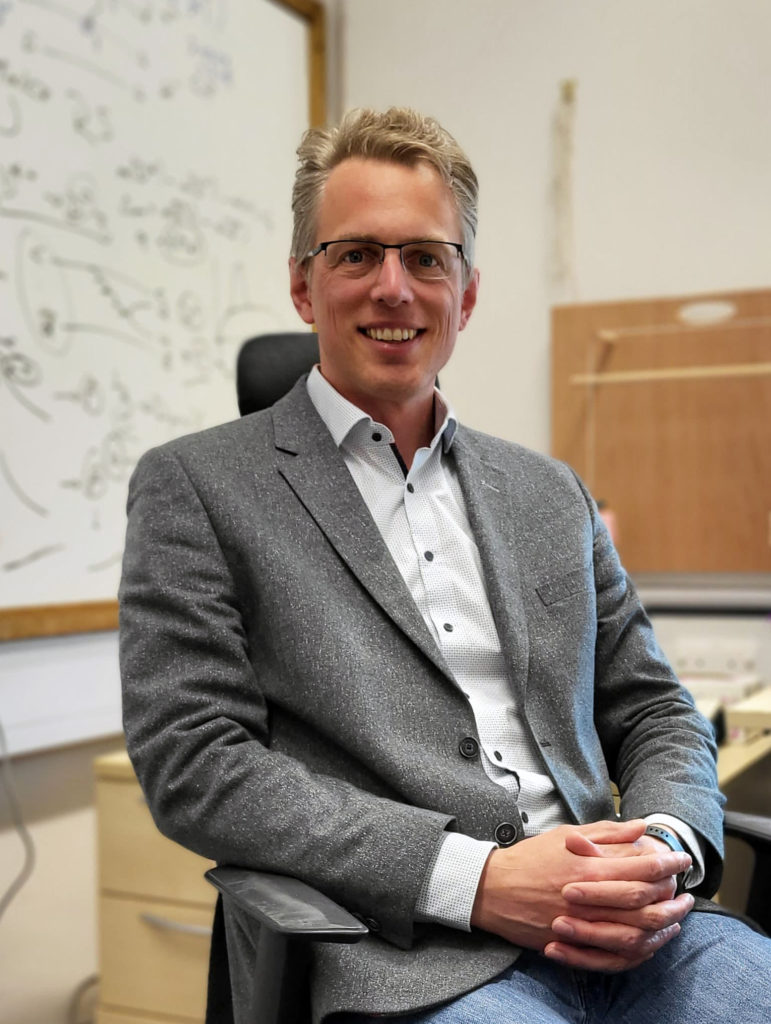 "They don't exist naturally – they have to be produced in some high energy collisions that can happen at a collider like the Large Hadron Collider or naturally in cosmic ray collisions. So when cosmic particles hit the atmosphere, collisions happen there as well and would produce particles like that. And then what we do is we study their behaviour and we compare the behaviour linked to matter interactions and to antimatter interactions. And we want to find and study in detail the differences because what's driving this is the knowledge that the universe is made up of matter, and not of anti-matter. However, at the Big Bang, going back all the way to the beginning, the Big Bang produced matter and antimatter in equal amounts, and when they come together, they annihilate; however, there was a small amount, a relatively small amount of matter left over. And that is what constitutes today's universe. And why that matter was left over and no anti-matter was left over – that is the main question that really drives us. And we want to understand a little bit more about that."
We said that it's strange for non-scientists to hear things like "a relatively small amount of matter was left over – and that's the universe(!)".
Marco explained: "It's really just a one in a billion asymmetry that the rest has indeed annihilated, as one would expect. And that has led to, again, an enormous amount of energy. And that exists as the cosmic microwave background; it was discovered many decades ago. And this radiation that one can see everywhere in the universe wherever one looks – that echo of the Big Bang if you want – that still exists, but there is this tiny amount that that makes up all the stellar matter of the galaxy."
We mentioned that in Bill Bryson's popular science book "A Short History of Nearly Everything", he'd said that this cosmic radiation was responsible, in pre-digital TVs, for the static that you'd get from an untuned channel.
Marco confirmed "you can pick up some of that. It was indeed discovered by engineers who were calibrating very sensitive antennae. And they picked up some what they thought to be static noise and they picked it up wherever they pointed the antennae, because indeed the radiation is simply everywhere. And yeah, if you're looking at the right sort of wavelength you can see that."
We asked Marco the question we'd been asking all our interviewees : Does he get frustrated when you see the science you're doing get reduced to tabloidy "Oh my God, they're going to create a black hole and kill us all!" nonsense. Does that frustrate him?
"To be honest, I do tend to ignore by now the black hole question, because it's been raised so many times when the Large Hadron Collider first started up, and we're not doing anything fundamentally different now, and obviously we're still here first and foremost. But even then, it was shown that there was a minute possibility that we could produce what's called a microscopic black hole. But these things would evaporate straight away, so they're not stable states. It would be fantastic if we were to produce those and see the sort of aftermath, the decay of such a black hole. That would be a fantastic discovery. We haven't made it yet, but certainly the Large Hadron Collider can't produce a stable black hole that would then eat up the rest of the world. It's a very powerful machine but not that powerful!"
If you want more from Marco, including more detail about his work, his views on future, larger colliders, and how his work crosses over into everyday life, you can listen to the full audio of our interview with him below:
Transcript of the audio discussion with Marco Gersabeck (PDF document)
If you've enjoyed reading about what our scientists are doing at CERN, then watch this space for the final instalment of our mini-series, when we'll be talking to Manchester alumnus Jonathan Langford, who graduated in 2017 and has since gone on to complete a PhD while working on the LHC.
Related posts