New year, new opportunities for robotics and AI at Manchester
Research impact and institutes Robotics and AI 5th January 2023
The end of one year and start of another.
It's the perfect time to reflect on the past before turning, expectantly, to the future.
And here at The University of Manchester, with such a rich history of innovation and thought leadership in artificial intelligence (AI) – dating back to legendary codebreaker and Manchester heritage hero Alan Turing – our experts are excited to build on a proud legacy and to further the ever-changing, always-compelling fields of AI and robotics.
Bolstered by the creation of a new Manchester Centre for Robotics and AI, our research will have real-world impact – and we're targeting today's (many and varied) societal problems.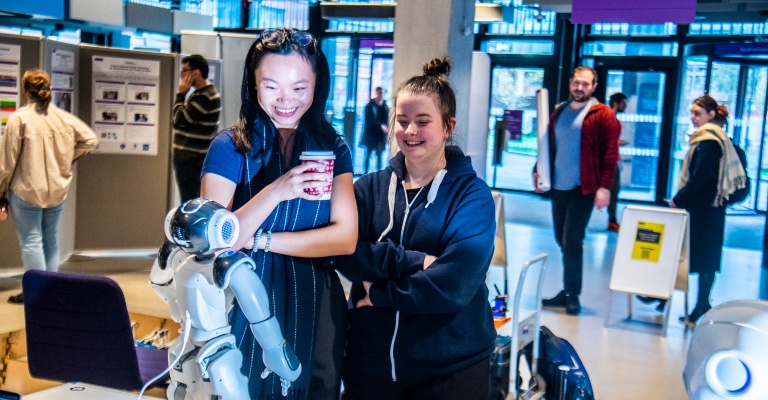 Automatic for the people
"Our research and innovation team are at the interface between robotics, autonomy and AI – and their knowledge is drawn from across the University's disciplines, including biological and medical sciences – as well as the humanities and even theology," explains Angelo Cangelosi, Professor of Machine Learning and Robotics at Manchester, and co-Director of the new Centre.
"This rich diversity offers Manchester a distinctive approach to designing robots and autonomous systems for real world applications, especially when combined with our novel use of AI-based knowledge."
The highly interdisciplinary Centre, which is closely integrated with Manchester's Institute for Data Science and AI, will build on close collaboration between engineering approaches to robotics and control, and computer science approaches to AI and cognitive and neural systems.
Its aims are both ambitious and fascinating – and the impact should be felt far and wide…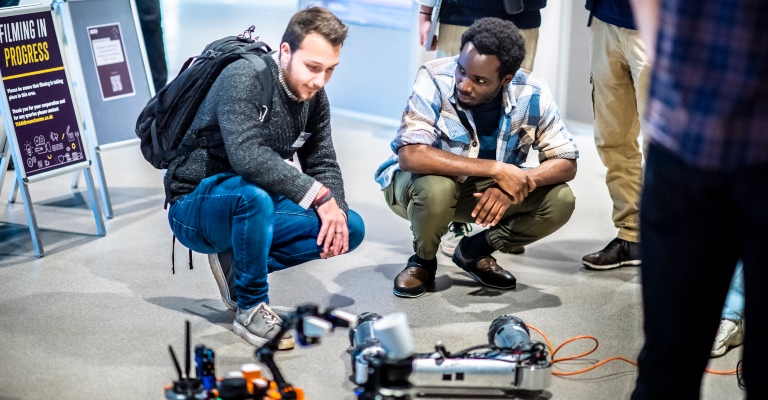 Aiming high
The Centre aims to design control systems with a particular focus on bio-inspired solutions to mechatronics – the use of biomimetic sensors, actuators and robot platforms – and to develop new software engineering and AI methods for verification in autonomous systems, leading to more trustworthy systems.
Intriguingly, it will also research human-robot interaction, with emphasis on the use of brain-inspired approaches to robot control, learning and interaction; as well as ethics and human-centred robotics issues. This should help us better understand the impact that robots and autonomous systems might have on us – both as individuals and as a society.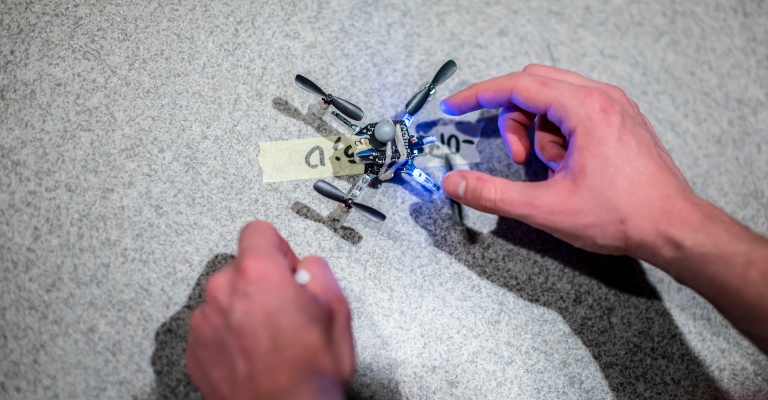 Back to the future
The future certainly looks bright for robotics and AI at Manchester – and continues a journey that dates back to the pioneering work of Alan Turing in the middle of the last century.
Turing is often considered the father of computer science and was an instrumental figure in early thinking about AI. Indeed, here on The Hub we've previously written about the Turing Test, a hypothetical test designed by Turing to measure artificial intelligence and to answer the crucial question: 'can machines think?'.
We don't have to head quite that far back, however, for other examples of Manchester's frontrunning work in the beguiling areas of robotics and AI.
Over the past decade, for instance, a specialist Manchester team led by Professor Barry Lennox has been designing robots that can work safely in UK nuclear decommissioning sites. One of these robots – Lyra, recently deployed at the Dounreay site in Scotland, otherwise known as the 'world's deepest nuclear clean-up site' – has been listed in Time Magazine's Top 200 Innovations of 2022, and featured in the Times on Sunday.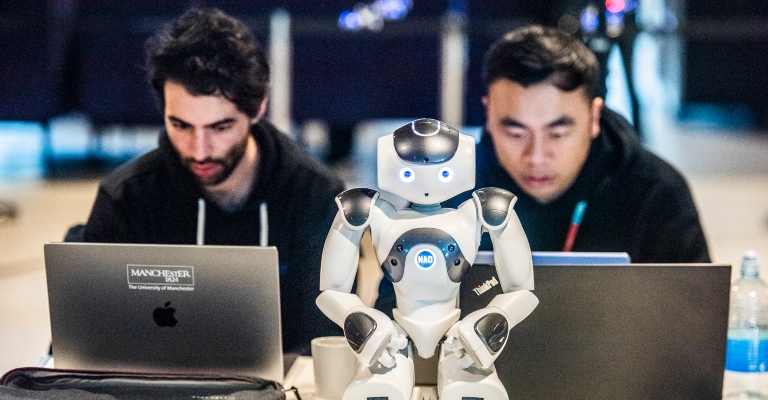 The possibilities are endless
And that's not all.
Other Manchester applications include foldable drones used to characterise subterranean mines and inspect offshore wind turbines, and the designing of verification technologies to increase trust in robots when working autonomously in hazardous conditions.
The opening of the Centre for Robotics and AI was marked with an inaugural conference, with a series of robots and autonomous machines demoed (one even interviewed some of our experts!), and a range of topics discussed – including what it means to be human 'in the face of the promises and challenges of human enhancement through robotic and autonomous machines'.
Our expertise in robotics and AI is also the focus of the Faculty of Science and Engineering's latest 'Spotlight on' series, while the video below demonstrates how we're boosting activity across these areas.
There's certainly lots going on and, despite our achievements so far, it seems we're just getting started.
A new year – and a world of possibilities to come.
We're just powering up.
Words: Joe Shervin
Images: Jill Jennings
Be sure to subscribe on our homepage to keep up to date with all the latest posts from The Hub.
Related posts