Meet our alumni: an interview with Alicia McCabe
The next step 18th February 2020
I spoke to MEarthSci graduate Alicia McCabe about how undergraduate study completely transformed her career trajectory, from Chef to Mining Technology Consultant. Alicia responded to my questions in writing from the Kalahari desert…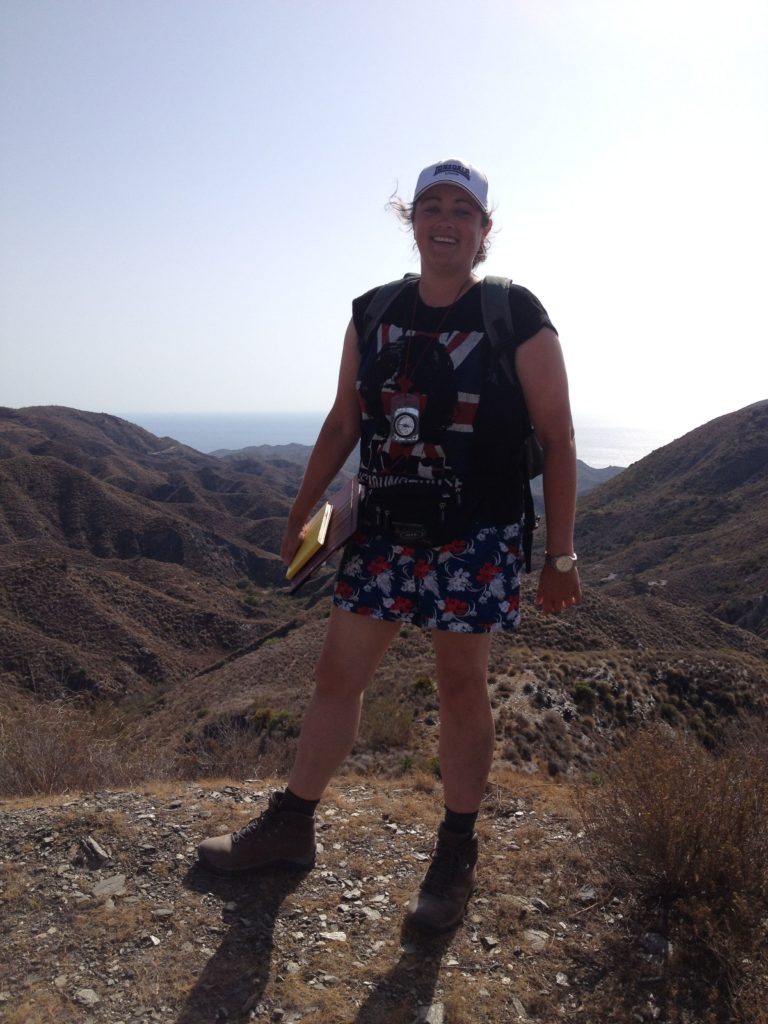 What A levels did you study?
I didn't have any A levels as such. I started at Manchester in 2013 (aged 32) after a 14-year career as a Chef. I studied with the Open University from 2010 onwards, and over three years, I gained the 120 credits in geoscience needed to allow me to join the second year at Manchester.
I visited several Departments and Earth and Environmental Sciences was the most tolerant of non-standard routes into the course. I was pretty frightened of making such a massive change and of then not being good enough or able to cope with the workload, but the staff at EES made me feel comfortable and supported.
Which degree programme(s) did you study at Manchester, and at what level?
I joined the 2nd year of the three-year BSc Geology pathway, but I enjoyed the course so much that I switched to the MEarthSci at the start of my third year.
What advice can you give to new students?
Think about what you want to get into after graduation now, then choose your subjects and courses accordingly. Avoid the easy options that you think will give you the most marks.
Approach people and local companies and ask about mentoring and opportunities to gain experience. Don't leave it until the final year, because that is when everybody else is doing it. Bagging some relevant experience for your CV (whilst still being an undergraduate) displays a high level of motivation to a future employer.
Don't put too much pressure on yourself academically. First and foremost employers want somebody who is able to communicate well, think for themselves and work as part of a team. They do not care that you didn't always get the highest marks in your class.
Did the fieldwork that you took part in as a student here influence your career choice?
My experience of fieldwork at Manchester prepared me well for a life on the road and in mining camps. At times the fieldwork was mentally and physically demanding, but overall it was immensely rewarding. I had the opportunity to travel widely, see some beautiful places, and experience different cultures. I knew I wanted to work in a job that would bring those opportunities.
In the last 18 months, I have spent time at a high-altitude diamond mine in the Lesotho Highlands, a gold mine deep in the Surinamese jungle and an iron ore mine in the Kalahari Desert.
There have been some technical and logistical challenges, but if you can deal with maintaining a legible notebook, whilst knee-deep in Scottish bogs fighting clouds of midges, torrential horizontal rain and sunburn all in one day, you can deal with anything.
How did you become involved as a co-author on an academic paper?
Initially, totally by accident. I chose the Carboneras Fault Zone in southeast Spain for my second-year independent mapping project and I was instantly hooked. The geology, history and wildness of the area really captured my imagination so I discussed the potential for returning to the region with my mapping supervisor Prof. Ernie Rutter, and luckily he already had an MEarthSci project in mind.
The idea behind my final year project was always to gather enough gravity and supplementary magnetic data of sufficient quality to "see through" the sediment package and visualise the shape of the Sorbas Basin floor. This data was then used to inform discussions on how the basin formed within the wider regional geodynamic framework.
Although I probably made a few errors in my original interpretation, the gravity data, in particular, was really high quality in terms of accuracy and coverage over the basin, so that was used within the paper.
Who do you work for now, and what does your job involve?
I work for Mine Tech Services UK (MTS) as a Mining Technology Consultant. We specialise in assisting mining operations optimise their use of technology. We then help them access and organise the data that is generated. I work on a really diverse range of projects including application training, software development and site studies.
I collaborate with people from many different backgrounds and cultures, so teamwork and communication are critical. Frequent travel is required (up to 50% of the time) so I need to be highly organised and flexible.
Excel, Python or SQL skills, and familiarisation with geospatial software and processing packages are really useful. You also need to know your way around MS Office and be confident presenting to groups of people with varying levels of technical knowledge.
Mining technology is a very new, almost niche field, so you can't really "train" for it at any university. However, the MEarthSci pathway at Manchester provided me with the perfect set of data analysis skills, communication skills and ultimately the broad technical background needed to succeed in a varied role.
You can follow Alicia on Twitter @FutureGeo 
You can find out more about Mine Tech Services via their website: https://www.minetechservices.com/about
Interview conducted by Jemma Stewart
Alumnibasin studiescommunicationdata analysisfieldworkGeologyindependent mappingmine campsMiningMining technology
Related posts