Office in the Great Outdoors: Geology Field Work
Student experience 14th March 2022
Emma Conway, a fourth year Geology MEarthSci student, shared the highlights of her time completing field work as an earth scientist.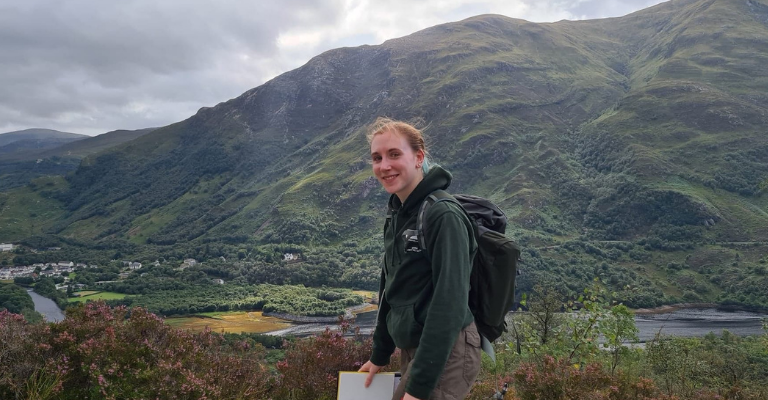 As a Geology student at the University of Manchester for four years now, I have been on my fair share of Earth Science field trips. These are definitely something I usually bring up to people when talking about my degree as a highlight, since they are such a different experience of learning, making friends and exploring which is irreplaceable and has no real equivalent. They are extremely unique to the Earth Sciences and definitely shape your knowledge and skills within that profession in intense, but enjoyable packets of time.
Hope's Nose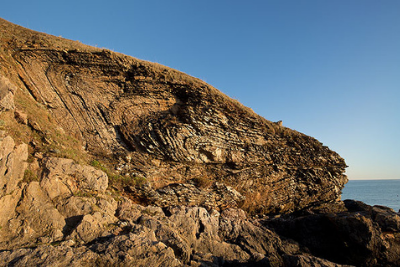 A trip I fondly look upon was the first-year field trip to Devon. The geology myself and my cohort saw was pretty amazing, especially since a lot of first year undergraduates had never been on a field trip before. A point that definitely stood out to everyone on this trip (and we had been told always does) was when we went to see Hope's Nose in Torbay. The way it was set up for us to see this structure was very suspenseful, but very worth it.
Viewing this structure consisted of the group climbing down a small, steep path with the sea to one side and cliff to the other. Once at the bottom of this path the group had to climb over to a few large rocks protruding slightly from the land. And then we were told to turn around to look back at the cliff. Doing so revealed a large Variscan-aged overturned and thrusted anticline, which was also cut by a thrust fault (see photo). Everyone looked at the structure in awe and agreed it was worth the scramble down. Also something everyone came away with from this trip was a great sense of comradery, since we were all well-acquainted beforehand from seeing each other in lectures and occasionally at uni socials, but most of my cohort would pinpoint the start of us all being friends to this first year trip.
Barrême, France
Following a summer break, my cohort (now at the very start of our second year) had their second field trip which was in Barrême located near Nice, France. This was a much more remote area and had a different focus than the previous trip- geological mapping.
Again this was quite new for a lot of students so the trip was integrated with plenty of staff-lead days where key structures would be pointed out and there was plenty of opportunity to get affirmation about what we were doing. Although these days were interesting, I found the independent days the most enjoyable. These consisted of us splitting off into group of at least two or more and just conducting our own work at our own pace, making observations about the rocks present in the landscape to build up a map, cross-section and stereonet representing the area.
Rain or Shine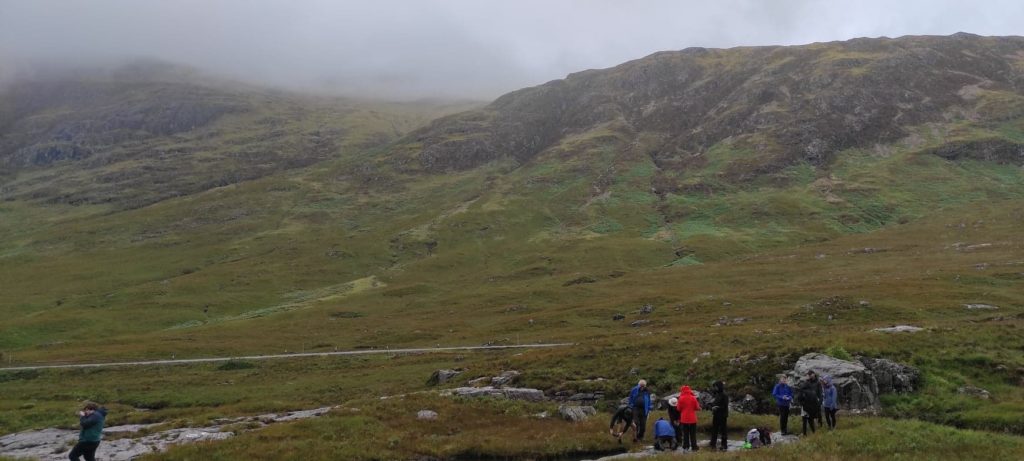 Of course, field work can be challenging. Each day we spend roughly from 9-5 out in our area usually in all forms of weather. Considering all of the field trips I have been on during my time as a student, I have faced a great range of conditions, from howling winds, heavy rain and thick fog to extreme heat and sun (I am yet to be in the field when it is snowing), and although this may seem off-putting, it is all part of the fun and experience that comes with this unique kind of work. Fieldwork always gives a sense of fulfilment, the feeling of being an explorer and scientist where your lab/office can be in the Lochs of Scotland or within the French/Spanish mountain ranges.
For more information about field trips in the Department of Environmental Sciences, read Prof. Jonathan Redfern's previous post on our blog, and visit our website.
Related posts