Choosing to Challenge: uneven playing fields
Meet the Department 8th March 2021
Ever since she was young, Katherine Morris – Professor of Environmental Radioactivity and Director of the Radioactive Waste Management Research Support Office – has been fascinated by science: "I even still have my Ladybird Marie Curie book from primary school, she was an early positive female role model for me".
In 2010 Katherine joined the University, and was excited to join the nuclear community, citing the University's long heritage in nuclear research as an inspiration. Her enthusiasm for her research shines through on our Zoom call, as well as her drive to level the playing field for women in science: "you've got to see it to be it" she says, smiling, before going on to say: "throughout my studies, I've benefitted from radiochemistry being quite evenly split between men and women and from a hugely supportive research environment in the area. I think this goes back to all the early female pioneers in this area".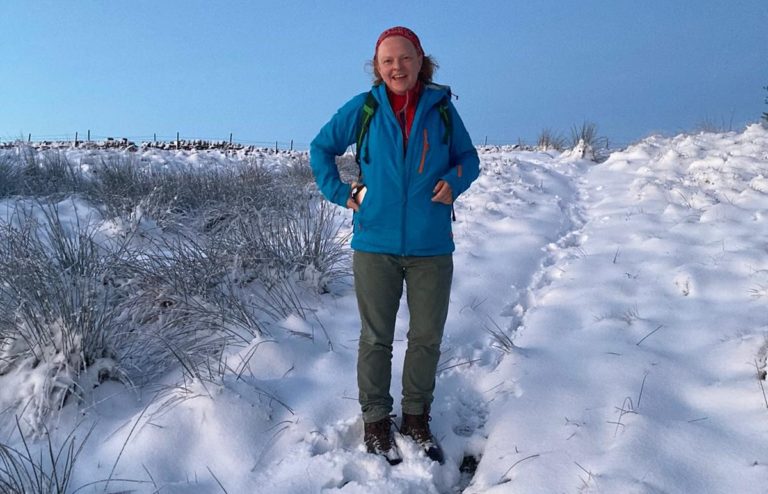 Having strong female role models is something often mentioned in discussions around attracting more women into science, technology, engineering, and maths (STEM), with Katherine clearly promoting gender balance in her research community: "if I tally up the researchers I have advised over the years it's about a fifty-fifty split, I hope that's, in part, due to the fact I am a woman".
However, she does note a lack of senior female academics in the area: "I was one of the first female professors in the Department and I didn't have many women teaching me as I went through university.
"it was hard to hold onto your 'Marie Curie' when there were few women at the top, but there were some brilliant female post-docs I met early on in my research career which was enough to keep me going".
When Katherine came for her interview at Manchester it was an all-male interview panel, but she also met Sue Ion, a literal power woman (she is a leading figure in UK energy research), who spoke about the great community for nuclear research at Manchester. Through her, and the wider academic community, Katherine was able to network with other leading women who provided her with inspiration to progress her career. As Katherine reiterates, "you've got to see it to be it".
Bias in research funding
One area that Katherine notes where women still face challenges is in funding for research: "traditionally women don't do as well as men in funding bids, there does appear to be a bias here". Studies show that not only do fewer women apply for research grants, but those who do apply are generally less successful than their male counterparts. This is one of the reasons attributed to the leaky pipeline of women leaving academic careers.
To help support early-career academics Katherine thinks that mentorship is a valuable tool to ensure women stay within academia: "I have been fortunate to benefit from great mentors, male and female, and I think that really helped me to get to where I am today. It's something that I'm conscious to offer to my research group and students and indeed to new staff members in the University".
The impact of the pandemic
Speaking on the pandemic, she has noticed an imbalance in certain aspects of work and life: "there has definitely been a shift in how people work, those of us with families have had to juggle caring responsibilities with working, a real challenge.
"But, this is a common challenge and the University has been flexible in accommodating people's requirements and that with the support of colleagues and researchers in the group, the laboratories have opened and are running".
One of the things Katherine hopes is that we can continue to work flexibly: "the adoption of online technologies is quite enabling, if we can continue to use them in conjunction with more 'normal' working practices it will help a lot of people.
"For example, in my early career and when I had a young family, I specifically chose to limit my travel so I could be at home. This did have an impact on my career visibility as I wasn't able to network and get known as much as some colleagues.
"with digital technologies it seems that a rebalance between travel and homelife may be possible, and this will help to support environmental sustainability goals as well".
Going forward, and to ensure that universities not only attract new academics, but also retain them, Katherine says we need to continue working towards gender equality through initiatives such as Athena SWAN. We also need to ensure sure we are embedding the learnings from these initiatives in everything that we do: "we are good at what we do, we are changing things, we just need to keep the momentum going in equality and diversity areas".
Find out how others throughout the Faculty of Science and Engineering are 'choosing to challenge' this International Women's Day.