International Student Profile: Fenryco Pratama, Indonesia
International student profiles 24th July 2019
Fenryco Pratama is a third year PhD student from Bandung, Indonesia. Dr Neil Dixon is supervising his PhD project "Application of orthogonal riboswitches as synthetic biology tool for glycoprotein production."
Please give a brief summary of your PhD project.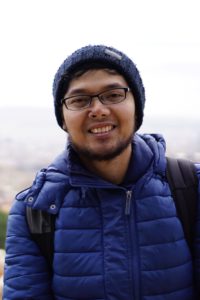 My PhD project aims to develop E. coli as fine glycoprotein production host, by designing in vivo molecular devices for tunable N-glycosylation and engineering of protein biosynthetic pathways to increase the efficiency of glycosylation. Working with various glycoprotein models including pharmaceutical-relevant one such as antibody fragments, we mainly focus on (i) the application of RNA-based gene expression devices (e.g orthogonal riboswitches) to control the glycoprotein production, and (ii) the exploration of function and mechanism of different protein folding modulators (endogenous or heterologous) in E. coli to enhance interaction of the glycosylation enzyme with the target glycoprotein.
What did you do before undertaking your PhD?
Before commencing my PhD degree at The University of Manchester, I worked as a researcher and junior academic staff at the School of Life Sciences and Technology, Institut Teknologi Bandung, Indonesia. My research and teaching areas are in the field of microbiology and biotechnology.
Why did you decide to undertake a postgraduate course?
The postgraduate course will provide essential training to increase my capacity as a researcher and educator, with the expertise in biotechnology. This step is in line with my future career as a research fellow in the higher education institution.
Why did you choose your degree/project/supervisor?
Glycoproteins are one of the primary products in the biopharma industry (e.g. therapeutic proteins, glycoconjugate vaccines, biocatalyst). The development of the bacterial system with predictive and efficient of glycoprotein production are gaining most interest, since this platform has been well-known for its economically and practically bioprocess advantages. My project offers state of the art study in the interface of predictive engineering of biological system and exploration of bacterial glycosylation mechanism, under supervision of the leading scientists in that area.
Why did you choose Manchester?
The University of Manchester is one of the prestigious and world-class universities, with progressive research in biotechnology, supported by frontier research and educational facilities.
What do you think of your PhD so far?  What do you enjoy?
My PhD experiences have trained me to be more adaptive with fast-paced research activities, multiple work challenges, and everyday scientific discussion especially in English as my second language. The working atmosphere in my group is great, and people are very supportive.
What are facilities and resources like in the Faculty?
Manchester Institute of Biotechnology  is a very comfortable research ground and working space, with multi-functional laboratories, high-tech facilities, internal stores, plenty of meeting/discussion rooms, an atrium, lecture theatre, etc.
What does the University offer international students?
Assistance and advice in various issues for international students during their stay in the UK
Training and development programs: language training, academic seminars and workshops, outreaches, etc
Great support and monitoring for the international student communities and alumni.
What do you like about the city of Manchester?
Football, education, people diversity and tolerance, city life, a Muslim community, and plenty of Asian grocery stores and restaurants.