Outreach: Community Festival
Chemistry in the real world 6th January 2020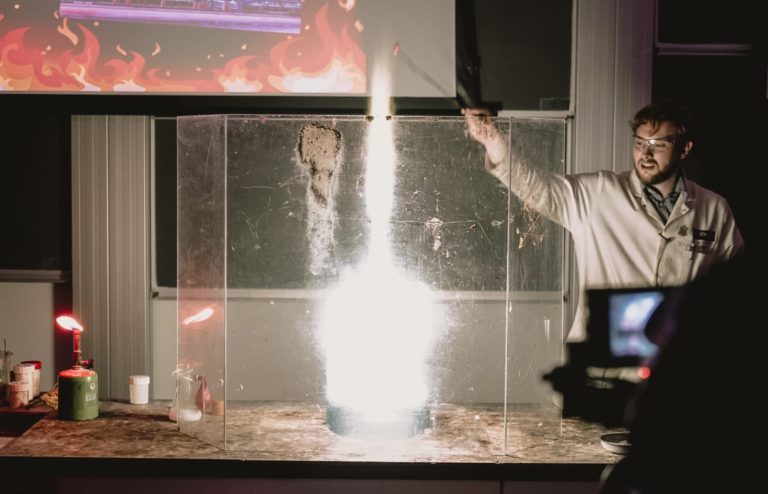 Dr Joshua Moore is a Post Doctoral Research Associate who has become heavily involved in the outreach work across the department since he first arrived as an undergraduate student in 2010. The Community Festival is just one of the projects he has taken part in, which we are finding out more about today.
Can you tell me a bit about yourself?
I'm a postdoc in Professor Yeates' group here in OMIC, mainly working on printing & ink formulation for electronics applications.
I've been here a while though! I came to the University of Manchester in 2010 to study for an MChem with Industrial Experience (I spent a year at Fujifilm Imaging Colorants making & testing inks) but became so enthralled with research I stayed for a PhD, working on the formulation of various materials for nuclear decontamination.
One of the best bits of working here though is that I get to be involved in the outreach programme; I get to show big audiences lots of fun aspects of chemistry from simple colour change reactions all the way to huge fireballs!
What is the Community Festival?
The Community Festival is a fantastic opportunity for everyone to come & see what goes on here in the university. There's all kinds of high tech equipment, fun activities for all ages & new ideas to explore! Lots of the activities are very practical so you can even make yourself something to take home.
This year I was presenting the Flash Bang Show; an hour long demonstration featuring some of the Department of Chemistry's favourite and most exciting practical demonstrations.
What is your favourite part of the Community Festival?
I'm definitely biased but I have to say the Flash Bang Show! Partly because it takes so long to prepare for, set up and pack down that I missed the entire rest of the festival!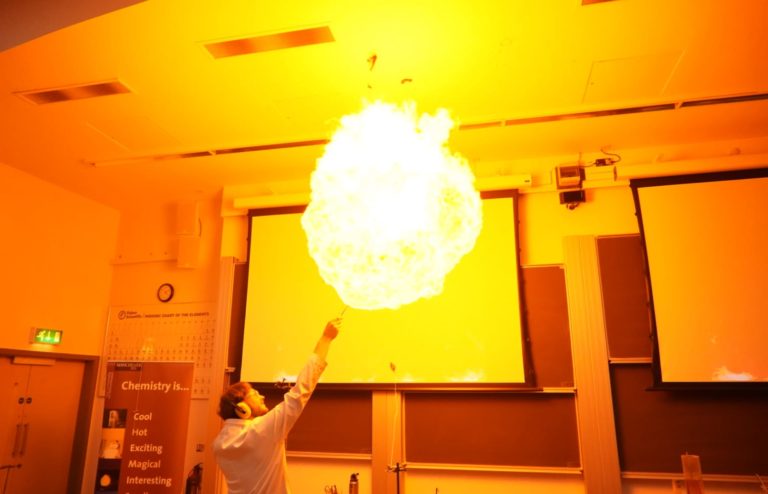 I absolutely love seeing the audience's reactions as I show them something new and then watch them realise that chemistry is much more than balancing equations in textbooks. As for my favourite demos, it's somewhere between liquid oxygen & the barking dogs, they're a lot of fun to perform. When I present the show it's basically just me having fun as I show some of my favourite bits of Chemistry! The Community Festival makes the best audience for enthusiasm.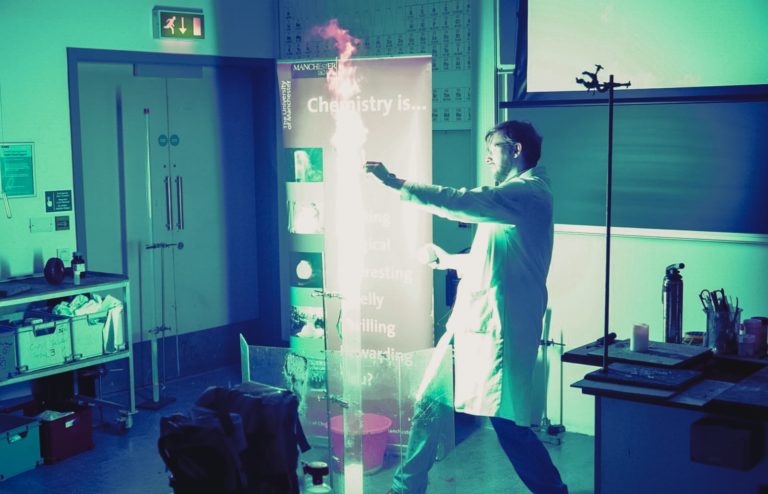 Hopefully next year I'll get to see the printing workshops from the centre for digital fabrication, they always have something impressive you can try out, like state of the art 3D printers.
What made you want to get involved in Outreach work?
I'll be honest, at first it was the explosions!
I started assisting with solids, liquids & gases demonstrations in schools across Greater Manchester with the help of some amazing student volunteers who had such a passion for them that I couldn't help but catch their enthusiasm. From there I ended up leading many shows, full day bath bombs workshops & got involved in polymer science days before eventually (after many years of training) working my way up to the full flash bang shows recently.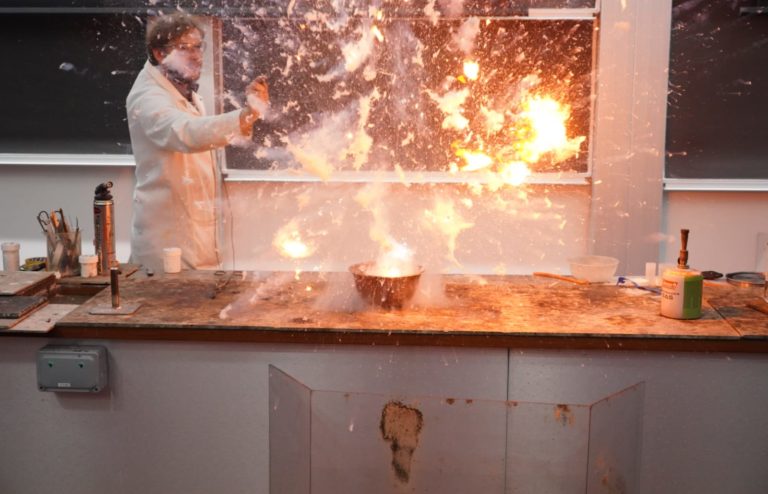 Being able to take these things into schools to show the students that chemistry is very hands on and fascinating is really rewarding for me. A lot of schools don't have the resources to do some of the simple experiments we can do, so you really are the first experience a lot of children have with practical chemistry. Seeing the students' change in attitude to chemistry when they realise they can get hands on or you can perform some amazing reactions is brilliant.
What advice would you give to someone considering volunteering for Chemistry Outreach?
Just give it a go!
It's a lot of fun, you'll meet some fantastic new people & gain some really rewarding experiences. There are ways to get involved for everyone, you don't always have to be centre stage in front of an audience unless you want to be.
The demos are good fun too. Normally if you have liquid nitrogen balloon filling races or set off hydrogen rockets in labs it's frowned upon, in outreach it's encouraged!
Photo credit: A big thanks to Stories of "I do" for the photos! 
Related posts