Outreach: Radhika's involvement in Chemistry Outreach
Chemistry in the real world 10th March 2020
My name is Radhika; I am from Lanzarote (Canary Islands, Spain). I am currently in the fourth year of my MChem (Hons) Chemistry degree. In my third year I joined Chemistry Outreach. I was really excited to be able to help at science fairs and shows to inspire young children to study chemistry.
Solids, Liquids and Gases show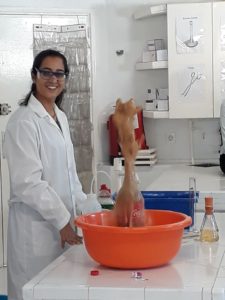 My first outreach activity was a Solids Liquids and Gases (SLG) show- it is a "lighter" version of the Flash Bang show and is taken to nearby primary schools. I started as an observer but soon decided to get involved in co-demonstrating shows. It has been amazing to see the children´s expressions after we show them something like elephant toothpaste, liquid nitrogen or the whoosh bottle. Many children will never have seen this in real life, at best, they will have seen it on YouTube, so it is a wonderful opportunity to share and deliver these activities to the future generation. They really appreciate our time and efforts and I am sure they will never forget this experience.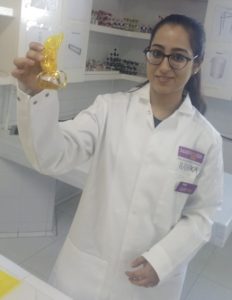 Doing these shows was a great opportunity for me, it gave me a break from being busy at university and I enjoy inspiring and sparking that science enthusiasm into young children. Being an outreach demonstrator is really rewarding because you can usually see the children learn new things from the shows/workshops. They will remember this forever unlike learning straight out of a textbook. I love doing all of the activities, no matter who the audience is!
Since school, I have always been enthusiastic about doing cool science experiments, from rainbow elephant toothpaste, the chameleon reaction or making golden rain! I always used to love anything with lots of colour changes or loud bangs even when it led to me being told off! Most of the experiments I have done are actually part of shows delivered to schools! Just imagine someone bringing liquid nitrogen and hydrogen rockets to your school!
Spectroscopy in a Suitcase
I have also demonstrated Spectroscopy in a Suitcase for the A-Level students. In one of the activities, we take an IR spectrometer and a small NMR instrument to school and the pupils have the opportunity to use these instruments. Usually, students learn about these from textbooks. It is just great to share my knowledge about the techniques that I struggled with at A Level, just like them. We also get the opportunity to help them with analysing spectra and share the extra tips we have learnt along the way.
Science-X festival
During my third year, I also demonstrated at one of the Science-X festival stalls. Science X is a festival to inspire the public about the possibilities of Science and Engineering. This was a different environment to working in schools and Science-X usually runs in museums, shopping centres and big events like the one I attended at the Trafford Centre.
The audience is completely different to schools, you can have curious parents/adults coming over to your stall, very young children and even grandparents so not everybody has the same science knowledge. You have to talk through and do each activity with each person/group that comes along instead of explaining once. This is by far one of the most demanding activities, because you have to stay standing for a few hours in a very busy and noisy area surrounded by lots of people. However, it is really satisfying because at the end of the day everyone has left learning new things, including me! Most of the adults love to have a chat and you can learn new things from them too.
What's next?
Unfortunately, this is my last year at The University of Manchester, so I will not be able to demonstrate any more outreach activities. However, I am applying for a PGCEi to become a chemistry teacher and I hope to take these activities to the schools I work in in the future. I have already done so in my childhood school in Lanzarote. The pictures in this post are from my previous school, Colegio Hispano Británico.
I would really encourage anyone who loves the colourful and fun side of chemistry or enjoys sharing their knowledge with others to join Chemistry Outreach. There is always space for new enthusiastic demonstrators! Don't be afraid if English not your first language, it is not mine but it is a great way to practice and learn new vocabulary.
Related posts