International Student Profile: Chisolm Egeduzu, Nigeria
International student profiles 21st February 2020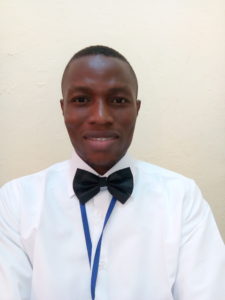 Name: Chisom Sampson Egedeuzu
From: Aba, Nigeria
Degree course:  PhD Chemistry
Supervisor: Dr Lu Shin Wong
PhD project title: Biocatalytic pathways to the synthetic manipulation of silicones
Year you started your PhD: September 2018
Please give us a summary of your PhD project.
Biocatalysis is a viable alternative to synthetic chemical routes for preparation and decomposition of small molecules (feedstock). Polysiloxanes (silicones) with Si-O bonds are seen as viable candidates for this study, as they find their application in consumer goods (e.g. electronics), and industrial components (lubricants) which rely on high energy, chlorosilanes and toxic catalysts for their production.  In this research, enzyme silicatein-α, from marine sponges, is used as a biocatalyst for the preparation (condensation) and decomposition (hydrolysis) of polysiloxanes (which hitherto pose environmental problems). This research aims to use silicatein-α to produce biodegradable, reusable and recyclable polysiloxanes.
 What did you do before undertaking your PhD?
I worked as an upcoming scientist at Abia State University, Nigeria for 4 years before undertaking this PhD programme.
Why did you decide to undertake a postgraduate course?
I decided to undertake this PhD research in order to increase my career prospects in the academia and industry. I also decided to do a PhD to properly train as a scientist.
Why did you choose your degree/project/supervisor?
I have always sought for ways by which we (scientists) can reduce the amount of environmental pollution and problems they pose to living things in the environment. Fossil fuels, synthetic chemical products, and polymers are the biggest culprits in this matter and any biological or natural alternative route to their production and decomposition can reduce the negative impact. This drove my search for research groups worldwide that are into green chemistry or sustainability research. That was how I spoke with Dr Wong from the Department of Chemistry and here I am in Manchester.
Why did you choose Manchester?
I chose Manchester because they have the facilities that would help me in my research. With a plethora of cutting-edge analytical equipment such as NMR, MALDI-MS, GC-MS, FTIR, HPLC, etc. at my disposal, research would be interesting and enjoyable.
What do you think of your PhD so far?  What do you enjoy?
My research has been challenging. However, my drive has been that this was what I wanted, and doing what one loves is the secret to fulfilment and success. I enjoy every bit of it.
What are facilities and resources like in the Faculty?
As mentioned earlier, The Department of Chemistry and by extension the Manchester Institute of Biotechnology have high class facilities for quality research.
What does the University offer international students?
Good learning and research environment; cutting-edge facilities, high employability potential (as Manchester graduates are highly sought after worldwide), and interracial integration – there are high number of foreign students, especially from China, Malaysia and Nigeria to name a few.
How do you think studying here will help your future prospects?  What are your future plans?
By the time I am through with my PhD, I will be a world-class scientist with in-depth skills and competencies. I will continue in academics for a long time before venturing into politics as a technocrat where I will bring to bear quality leadership and I hope to establish my research skills in the academia with Post-doctoral experience. I also hope to have high-level research collaborations and exchange programmes between Abia State University and the University of Manchester through my supervisor and other academics, that way my expertise would be into maximum use.
What do you like about the city of Manchester?
I like the football community. I also love the transport system: this is what I hope to establish in my home country if given the opportunity serve.
Is there anything else you would like to add?
I am happy to be in Manchester and I have no regrets coming here. I pray that the University of Manchester would set up full-funded scholarships for some young minds in Nigeria. University of Manchester has the capacity to that. Moreover, God has directed me to Manchester and I am grateful.