Meet the Department: Dr Ashok Keerthi
Chemistry in the real world Meet the Department 22nd February 2021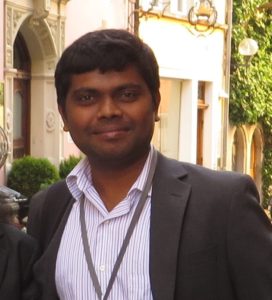 I'm Ashok Keerthi, currently a Ramsay Memorial Fellow in the Department of Chemistry at The University of Manchester. I graduated with a master's degree (MSc Chemistry) from the University of Hyderabad, India. In 2014, I obtained my PhD in organic materials chemistry from the National University of Singapore, Singapore. Until March 2016, I did my postdoctoral research at Max-Planck Institute for Polymer Research, Germany. Prior to joining the Department of Chemistry, I was a postdoctoral research associate in the National Graphene Institute at The University of Manchester.
Please can you describe your research, for the layman, in ten sentences or fewer?
I am a materials chemist and interested in building molecular architectures from bottom-up approaches. My research group is exploring the chemistry of confined 2D materials and molecular transport in atomic-scale capillaries. The first theme involves bottom-up synthesis of functional and edge-engineered nanographenes to study their optical, electronic, magnetic and supramolecular properties. The second theme uses ultra-confined 2D channel/pore devices to study the flow and dynamics of molecules (gases, ions and biopolymers) under external stimuli forces. We have developed synthetic strategies for making nanometre-wide graphene ribbons in solution, and thereby producing nanoribbons with well-defined edges 'decorated' with organic radical molecules that bear electron spins — a quantum property of electrons that is associated with magnetism. We have demonstrated frictionless gas transport and quantum effects in gas flows through atomic-scale capillaries i.e., wave-like nature of gas molecules, importantly, at room temperature. My research is highly interdisciplinary and involves collaborations in Chemistry, Physics, 2D materials, Materials science and Biotechnology.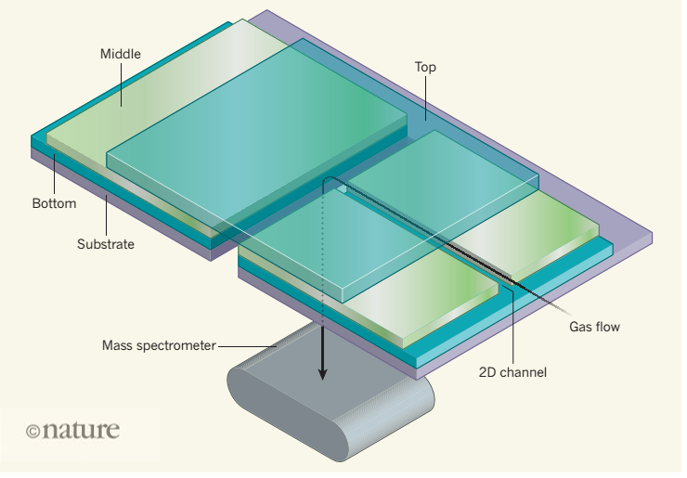 How can your research benefit the public?
As explained above, my research is very much into fundamental understanding of the structure- property correlations of molecules (such as gases, liquids, ions, polymers) at atomic-scales. But this new knowledge will lead to better design of materials and devises for applications in electronics to nanofluidics and molecular sieving. We design functional polymers and nanoribbons for organic electronic and spintronic devices. The highly nonlinear ion transport in 2D capillaries under molecular-scale confinement, offers new routes to actively control molecular and ion transport and design elementary building blocks for artificial ionic machinery, such as ion pumps. We make atomic-scale pores and tiny 2D capillaries to study molecular transport, filtrations and sensors.

How did you first become interested in your research area?
During the early days of my PhD, the term 'structure-property relation' in materials science had really drawn my attention. Initially, I was very much interested in synthesis of dyes for organic photovoltaics and field effect transistors to establish 'structure-property-performance' relationships and better molecular design strategies. Since then, I began applying it to my research on organic dyes, semiconductors polymers, graphene nanoribbons and our recent 2D capillaries to understand the architectural influence on their properties.
How does being here at The University of Manchester help your work and research?
The University of Manchester is a dreamland for many researchers (I was one of them), mainly because of its research facilities and world-leading scientists. Particularly, 2D materials research at Manchester, a birth place of Graphene, is further towering with recent expansion in terms of facilities and institutes (The Henry Royce Institute, Graphene Engineering Innovation Centre, Manchester Innovation Factory, etc.). My research on 2D materials is highly interdisciplinary and I have found collaborators at The University of Manchester as well at other institutions through Manchester connections.
Outside of your research, how else do you get involved with the University?
I teach the newly designed course unit, CHEM40711 – Nanoscience and Nanotechnology, to year 4 and MSc chemistry students along with two other colleagues. I enjoy the continuous learning process while interacting with students. I have been a part of departmental committees on research and health & safety. I was a seminar coordinator for graphene meetings at the National Graphene Institute that take place every Friday.
What do you enjoy most about Manchester as a city?
I like Manchester as it is a unique big city which is not very busy. It has excellent restaurants, eateries and shopping malls. I particularly like the transport system (bus/train/flight) and connectivity to other cities/countries.
Who or what first inspired your interests in science/engineering?
My high school mathematics and physics teacher has inspired me in science. Of course, there are many others during this research journey, supervisors, mentors, students and friends who continuously inspire me with their quest in science and way of thinking.
What would you say to people considering coming to The University of Manchester to study?
The University of Manchester is a wonderful place to study and to build research career.
And outside university… what do you get up to in your spare time?
I like to travelling and sight-seeing.