Being a Graduate Teaching Assistant: Zaid Rashid Saud AlAlawi
Student experience 8th March 2021
Zaid is a PhD student, currently studying in the Organic Materials Innovation Centre. Alongside his PhD he also works as a Graduate Teaching Assistant, or GTA in the Department of Chemistry. Today, Zaid tells us more about what being a GTA entails. 
What is a Graduate Teaching Assistant and what do they do?
 A Graduate Teaching Assistant (GTA) is a PhD student acting as a demonstrator in the practical or tutorial sessions of a certain subject studied by undergraduates, normally in a similar field to their topic of research, but, not always. The role of a GTA is normally to supervise a group of students and make sure that everything is clear regarding of the content of the experiment, proper handling of techniques, and safe conduct throughout the session. In addition to this, GTA has other roles such as marking and providing feedback to each student on a weekly basis. Moreover, to make sure that GTAs meet the minimum standards of teaching, understand the task the students are required to do, and ensure GTA are proficient in using different instrumentations, GTAs receive training at beginning of the semester by senior academic staff and online training.
How do GTAs help make the laboratory safe for undergraduate students?
There are several factors which contribute towards making the lab safe, such as weekly safety induction by the course leader and GTAs to update the knowledge of students about general and specific safety aspects and previous mistakes. Also, planning each practical class whilst ensuring safety aspects are stringently applied, which allows for completion of the experiment within a strict time frame with no accidents. In addition, GTAs do not allow students to enter the laboratory without personal safety equipment, such as safety goggles and laboratory coats; and they do not allow the student to start a reaction without filling in the risk and assessment form (Chemical Risk Assessment form).
A CRA form contains information about the name of substances used and produced, the quantity used and handled, the duration of potential exposure, hazard symbols,  physical and health hazard statements highlighting the primary hazard, workplace exposure limits, control measures, disposal route, and if the substance is extremely or highly flammable. In addition, it contains information such as the name of the student conducting the experiment and emergency contact details, the name of the building and lab in which the reaction being run, information related to actions in case of fire and in case of emergency, assessment date and review date and reaction scheme. All in all, Chemical Risk Assessment forms should contain all the information needed by researchers and non-researchers to make sure that all the details and possible outcomes are covered.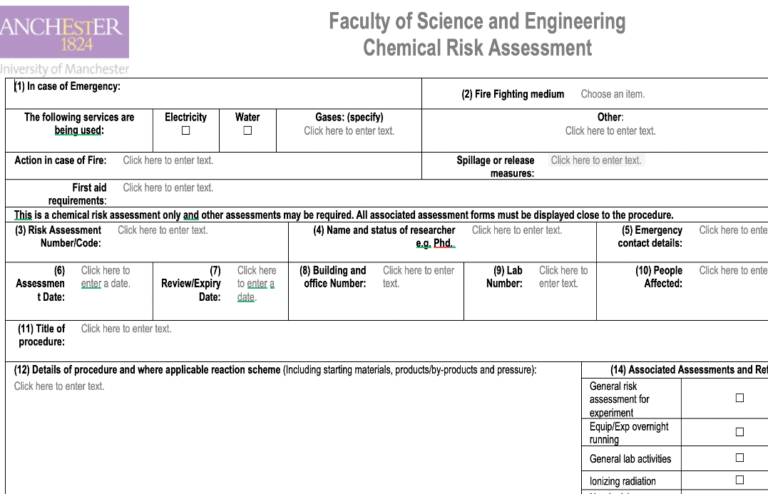 What advice would you give for working safely in the laboratory?
In order to work safely in the laboratory, it is recommended to follow the safety instructions provided by the laboratory convener, safety team, and laboratory manual as closely as possible. Familiarising yourself with CRA forms is good practice, as well as the laboratory area including the emergency exits, location of first aid kits, and a safety shower. I would advise students to apply what they have learnt regarding the disposal route of chemicals, broken glass, thin layer chromatography (TLC) plates, and contaminated filter papers, and ask GTAs and staff if help is needed. All in all, do not expose yourself or others to danger simply because you are doing an experiment.
How did you become a GTA?
As a member of a PhD program, notifications from my Department about the GTA positions available, which included preferences about areas of work and hours of work. Also, there are choices of whether you would prefer to work in a synthetic laboratory, measurements laboratory or a computer cluster where students run theoretical experiments. Moreover, some GTAs prefer to guide students in writing up their reports and some prefer providing feedback and marking. I wanted to become a GTA as it would contribute to my teaching experience and enable me to gain an international experience of teaching.
What's your favourite experiment to work on in the laboratories?
I prefer to do something related to my field of study (organic synthesis) so that I am confident when helping students and tackling their questions. Therefore, any experiment related to such fields like distillation, synthesis of aspirin, extraction, and so on is my preference! However, sometimes there is a need for a GTA in certain areas outside my specialization and I do not mind helping.
Is there anything else you think we should know about GTAs or the Chemistry Teaching Laboratories?
The Department of Chemistry recruits hundreds of GTAs per year from different specialisations of chemistry; organic, inorganic, physical and analytical; to look after the undergraduates and supervise them in their practical work. We have two main chemistry teaching laboratories: the synthetic laboratory and the measurement laboratory. The measurement laboratory is generally for analytical and physical chemistry-related experiments where students mainly do measurements with some simple chemical reactions. Thus, it has a few fume hoods, darkrooms, benches for titration, infrared (IR) and ultraviolet (UV) machines, a store of chemicals and glassware, and technicians. In the synthesis laboratory, students normally run organic and inorganic chemistry related experiments. So, all the synthesis will be done in this laboratory.
It is fully occupied with fume hoods where students normally run experiments.  Also, this laboratory has 300MHz nuclear magnetic resonance (NMR) machine, high performance liquid chromatography (HPLC), and gas chromatography (GC), specifically for undergraduate students. In addition, it has a store of chemicals, glassware and plenty of technicians to hand. In terms of how the laboratories run; they run in a specific order such that Monday 10 am to 4 pm is for the first year students; normally in groups of 10 and a total of about 20 groups. Some groups are in the synthesis laboratory, some in the measurements laboratory and some in the computer cluster for theoretical measurements and writing up. Tuesday 10 am to 4 pm and Wednesday 10 am to 12 pm is for the second-year students. Thursday 10 am to 4 pm and Friday 10 am to 4 pm is for third-year students. As students progress through their programme, they are able to do more chemistry.
Related posts