A Day in the Life of a Graduate Teaching Assistant – Pre and Post COVID-19
Student experience 20th November 2020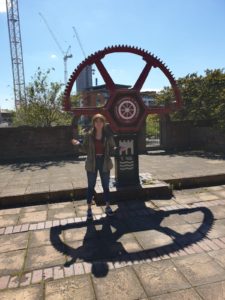 Rachael is a PhD student, currently studying in the Manchester Institute of Biotechnology. Alongside her PhD she also works as a Graduate Teaching Assistant, or GTA in the Department of Chemistry. Today, we catch up with Rachael as she tells us more about how her work has changed over the last few months and some surprising positives that have come from it. 
A major part of any university program is based around research. For a science-based course, research is often expected to be lab-based. A typical week before the lockdown for me was based mainly on my own research. I would set up my experiments, sample preparation or analysis in the lab and the rest of my work day would be spent reading or writing about my work. Once or twice I week I would get a break from this by having the chance to refresh my degree-level knowledge as a GTA in the undergraduate teaching labs.
This academic year, that has all changed. People across the country, including both staff and students in the University had to transition to working from home for several months. When the restrictions eased, some of the research labs were reopened. My typical work now consists of a week where I can work in the lab, followed by a week I have to work at home and as a result, a lot of my research is now theory/computer-based. Most importantly for some, the teaching labs have remained closed. I will still be doing GTA work in practical-based sessions but it will now be in the form of online workshops.
New workshops
The workshops I am involved in require students to describe the experimental and analytical processes and how they would physically perform these safely in the lab. No one can dispute that this is not representative of the physically learning experience normally occurring in the teaching lab. This adjustment made to practical learning is frustrating to many and it can be difficult to draw any positives from this, but there are some to think about. Firstly, the adaptability which both students and staff have shown is incredible, and a highly desirable skill requested by many employers which is not normally accessible for university students. Previously communication skills may only be assessed in the form of presentations, whereas now practicing communication skills are an essential part in an active learning environment. Finally, this has encouraged many students to consider broadening their skillsets, for example, many students have transitioned their research to be more computationally focused and have learned advanced coding and programming skills which may not have been done otherwise.
I am sure you are all sick of hearing how 'strange' these times currently are. It is undeniably challenging to adapt to what seems like the constantly changing 'new normal', but throughout your experience at university it is important to reflect on the positive outcomes and skills gained.
Related posts