Best foot forwards: a Materials Graduate's career at Adidas
Materials World 12th April 2018
Fashion and Textile Retail graduate Daisy tells us about her job as Materials Developer at Adidas, and shares how her time at the University of Manchester prepared her for the role.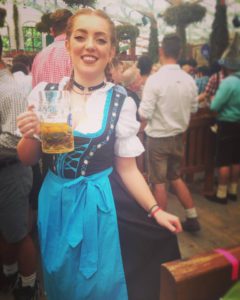 "I am going to try and fit in a whirlwind of two-and-a-half years into one blog post, so please stick with me!
I studied Fashion and Textile Retail (BSc) with a clothing pathway at the University of Manchester between 2012 and 2015. As Graduation Day approached, I was still working as a retail assistant, not sure of my future prospects. I had been turned down for a couple of positions, and I finally had a lucky break when I received a call from Adidas. They still had my CV on file and were interested in interviewing me for an internship!
This turned out to be the start of the craziest chapter of my life, as I did get the position… one day after graduation! And barely two months later, in August 2015, I packed my bags and moved to Germany to be a Product Development Intern at Adidas HQ, Herzogenaurach.
The first weeks were not the best – I was living in a pretty dingy apartment and feeling homesick. However, it only took making a few good friends and some German beer festivals to settle in properly. First impressions of Adidas HQ are ones that remain – it is truly like a university campus in scale, and I still find myself in awe of the modern architecture.
My first role was an eye opener – it was my first industrial experience and it was great to put into practice my knowledge of techpacks and the information they should contain, something we learned in detail during our Clothing Technology module at the University of Manchester. I also began to understand supply chain and sourcing from the perspective of industry. Highlights of the internship were that I was given the responsibility to develop a range of bags and printed t-shirts for kids. It gave me a feeling of pride to see these coming on to the market one year later.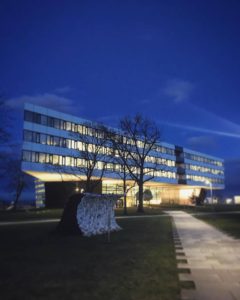 Fast forward 6 months, and I wasn't ready to leave after making some best friends and loving working life so much. I was delighted to get a one-year temporary position as a Material Developer for accessories and gear. By this time, I was pretty fluent in the systems and processes (of which there are many) and I had a lot of responsibility in this role as I was the only person in charge for accessories materials.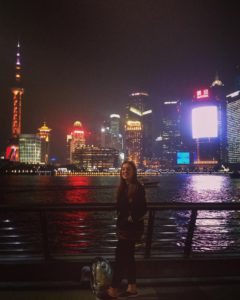 The number one highlight of this position was that I was able to attend a development trip to China to support the team with the first product sample round. We had several stops in different cities including Ningbo, Shanghai, Guangzhou, Dongguan and Zhongshan. It was of course hard work and also a real adventure.
This was where I learned the most about manufacturing. We got to see how the Tier 1 and Tier 2 factories operated, and it was great to see that the factories were super clean and well operated (Adidas recently won human rights awards thanks to their efforts in responsible sourcing).
Again, a quick fast forward, to December 2016. By this point I was conscious of my temporary position coming to an end. I had interviewed for a permanent position in August 2016 and in December (yes, sometimes it takes this long in a company of this size) I finally got the offer! I was elated to know I would be staying for the foreseeable future with more opportunities to advance in my career. My new position was and still is Material Developer for footwear for Adidas Terrex (outdoor). I had never seen myself as a footwear person, since studying garment technology I always imagined I would be involved in womenswear, however; after some time in a sports company, 'sneaker culture' takes over, and I was really excited to be involved in this area for a new challenge.
My basic responsibilities as a Material Developer are to answer to the needs of the designers. If they want a specific material, I will help them to find it or we will develop it with our suppliers. I am in charge of monitoring test reports and the 'lifecycle state' of materials. This tells us if the material is suitable for the purpose we want to use it for. In a performance category such as outdoor/terrex, this is of paramount importance.
The most fulfilling part of my job, however, is the work we do for sustainability. As raw materials and manufacturing account for the largest part of an apparel and footwear company's environmental footprint, it is important to take steps to reduce it. Adidas is a pioneering company for sustainability – for example all cotton used is Better Cotton approved; we made the first footwear from ocean plastic; we continue to grow the initiative with Parley for the Oceans, and we also increase season-by-season the percentage of recycled polyester in our product. There are many more initiatives, too many to mention! It is great to have a leading role in choosing more sustainable options and making a positive impact. This also puts into action another subject I learned during my time at university, which is sustainability and corporate social responsibility. It was my favourite then and still is now in practice!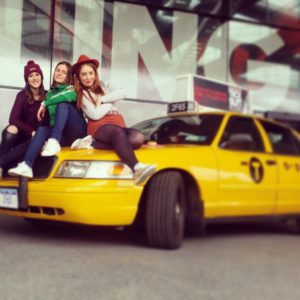 Although I never foresaw this path in my career as a Material Developer, it is definitely relevant to the material science we studied on our course. It is very useful to have the detailed knowledge about materials and their properties – this knowledge can be applied to any area of product. Although I do have to explain why Nylon has a better colour fastness than Polyester at least once a week.
So to sum up, I would recommend anyone to apply for an internship in your preferred area at Adidas. The working life and flexibility in Germany can be addictive, as I proved with my reluctance to come home! It may take a lot to get used to the strict rules and procedures of being a resident of Germany (crossing the road is a chore), but you are sure to have enough support and happiness around you to laugh through it – and it's never more than a few hours from Nuremberg to your next European city scape!
I look forward to seeing your faces around the world of sports! Please reach out to me if you are embarking on this exciting adventure for any help and guidance."
Words – Daisy Black
Images – Daisy Black
adidasFashiongraduateinternshipMaterialsmaterials developertextiles
Related posts