Elly: Product Engineer at M&I Materials
Alumni Materials science Women in engineering 10th February 2023
Hi Elly, it's great to meet you! Please tell our readers a bit about you….
My name is Eleanor Jones, (or Elly for short) I studied Materials Science and Engineering, and I graduated in 2016. I'm from Oxford originally, but I stayed in Manchester after graduating. I've had a few different jobs since uni. I currently work for M&I Materials Ltd as a Product Engineer for MIVOLT.
I'm involved in the WISE (Women in Science and Engineering) Societies Mentoring scheme. Which is really rewarding to be able to pass on what I've learnt since graduating.
I am dyslexic, which has bought with it some challenges during my education and career. Although mostly I don't see dyslexia as a disability, I find it allows for more creative thinking, problem solving and spatial reasoning. In my spare time I enjoy reading, painting, video games, and crochet.  
Can you tell us about your current role and what it involves?
MIVOLT is a dielectric coolant with can be used for the direct immersion cooling of electronics. My work in particular focuses on the cooling of EV batteries. I work on projects with customers as well as innovate UK funded projects. I am project manager for ATI project InCEPTion and technical lead for APC19 Project Zen.  It's an interesting and varied role, I'm involved in project management, business development, lab work, and writing marketing materials.  
As well as my role within the MIVOLT team, I am also on the company's sustainability steering committee. The committee works together to define the company's policies and to align ourselves with the UN Sustainable development goals. We generate ideas for new projects or goals within the business and ensure they are seen through. Sustainability is important to me, it's not only about reducing our environmental impact, but also reducing inequalities.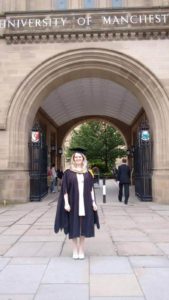 Studying Materials Science gave me a good base to build on. There are a lot of skills you learn during the course, such as report writing, data analysis, understanding of scientific concepts, project management, lab skills, working in groups, and presentations. All of these have come in handy at some point in my career and helped equip me for my role.
Why did you choose to study your course?
The first time I'd heard about Materials Science was on a year 9 school trip to Oxford University where we went to the materials science department and did some pretty cool experiments- we made our own slime, and they dipped various objects in liquid nitrogen.
My A levels were Maths, Chemistry, Physics and Art and I very nearly studied Art at University, but I decided to choose a science subject and keep art as a hobby. When it came time to pick what subject to study, I remember flicking through a university prospectus and seeing the page on Materials Science. I remembered the school trip, and it fit in nicely with the subjects I was studying. There was also a lot of hype about Graphene around this time as it had just won a Nobel prize. In fact, the two scientists who won the Nobel Prize for their isolation of graphene were from The University of Manchester!
And outside studying, what did you get up to in your spare time?
I love painting and drawing, and anything creative. Also I enjoyed the city, finding little independent cafes and shops, and visiting museums and art galleries. I loved wondering around Affleck's Palace and other little shops in the Northern Quarter. I was a member of the Japanimation society; we would meet once a week and watch anime together.
What advice would you give to young people considering a course or career in STEM (Science Technology Engineering & Maths)?
I think if you are considering a course in STEM, go for it. We particularly need more women doing these subjects. The more of us there are in this industry the less inequality we will see particular on issues such as the wage gap, maternity pay and promotions. Very few of the companies I've worked for have any women in senior management positions, the more women there are in this industry, the more that will change.
I enjoy studying and working in materials science, because it's such a varied and interesting subject area. It covers, maths, physics, chemistry, engineering, and design. There are many different paths you can take, and lots of career options when you graduate, which is such an exciting prospect.
Check out our website if you want to hear more about the exciting Materials Science courses we run here at The University of Manchester.