From Sydney to Manchester: PhD student Mia Maric
Student experience 8th April 2019
The School of Materials attracts students from across the globe, and today we profile a PhD student who has come to Manchester all the way from Sydney, Australia.
Mia Maric is 22 and studying a PhD in Materials Science and Engineering…
Hi Mia, why did you want to study your PhD in Manchester?
I have always wanted to do a PhD in the UK. After doing research about the metallurgy programmes at the different universities within the UK, I learnt that Manchester has a highly specialised and focused programme that combines both fundamental research and industrial collaborations. The staff at the University are not only highly qualified, but also personable and always willing to help where they can.
What do you enjoy most about the course?
So far I have really enjoyed the industrial relevance that my project has; not only does it involve using novel and cutting-edge analytical techniques, but the results from my research could have significant implications on improving industrial operations and processes. I am also really enjoying the support that is available from technical officers, postdoctoral students and academics within the School, which has made settling into a new place much easier.
…and the wider University?
From a research point of view, the University is equipped with world-leading facilities and equipment. This makes conducting cutting-edge research very easy and efficient. The campus itself is filled with so many nice cafes and lunch spots suitable for any craving and mood. The University offers so many free courses and training seminars to PhD students – these range from learning different languages to improving scientific writing and developing soft skills important for future success in any industry. Not only is this excellent for professional development, it is also a chance to meet new PhD students from a range of faculties and backgrounds.

What are your thoughts on Manchester as a city?
Manchester is a very modern, busy city, with so many trendy cafes, bars and restaurants to visit. The University is only a ten-minute walk from the city centre, which is always buzzing with people and events. I really like that Manchester is only a short train ride from other large cities, as well as national parks such as the Peak District. This means that the weekends can be spent exploring both the natural and man-made sites nearby.
How will your time at the University help with your career plans?
I think that the University will not only improve my technical skills, but will help me to develop professional skills that will make me a much stronger candidate for job seeking in the future. I also think that by being in such a highly specialised environment with so many industrial as well as research facility collaborations, my ability to network with potential future employers will be enhanced, which will hopefully make getting a job much easier.
What would you say to people considering coming to Manchester to study a Materials PhD?
It is a great, highly-specialised environment with so many opportunities to not only develop technical but professional skills. The students and staff are so friendly and welcoming and are always happy to help you learn how to use the lab equipment, analyse your results and find some great new lunch spots. Manchester is a great city filled with so many great things to do and exciting places to explore and even though it does rain a lot, it means that everything around you is always green and that the sunny days are always appreciated and often spent outdoors.
And outside university… what do you get up to in your spare time?
I really enjoy running by the canals and exploring nice cafes and dinner places around Manchester. I am going to sign up for a few half and full marathons in Manchester, which will be a great way to explore the city and feel part of the Manchester community. After a busy day of researching, I love going to the gym and eating good pizza (Rudys Pizza in Manchester is one of the best pizzas I have ever had). I also love hiking and when the weather is nice, my weekends are filled with finding new hiking trails and paths to explore.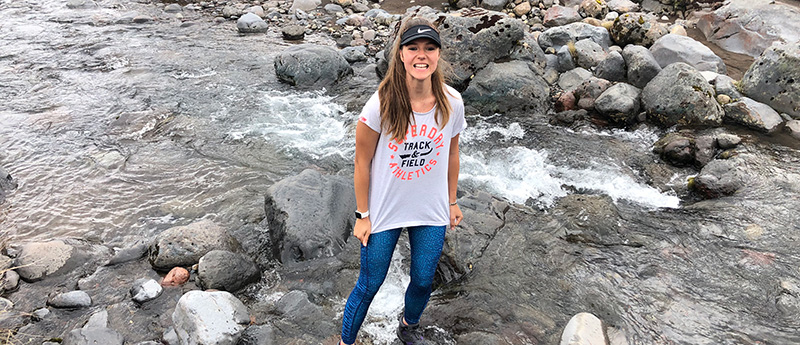 Related posts