#MondayMaterials Episode 8 – Dr Delia Vazquez
Meet the Department 14th September 2015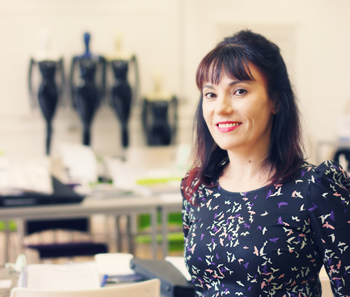 It's #MondayMaterials time again, and today we're chatting with Dr Delia Vazquez.
If you're particularly eagle-eyed and have the memory of an elephant, you might remember Delia's name from one of our very earliest episodes. She is the PhD supervisor of Sophie Miell, our second interviewee. What made Delia's interview all the more exciting for us was the fact that she was the first person to contact us and ask to be included in the series! Glad to see people like what we're doing.
Once we met Delia, we were glad she'd got in touch. Not only was she a fascinating person to speak to, but we're now in discussions over some exciting blog ideas with her, focusing on some of her alumni and the extremely impressive work they do today. Watch this space – but in the meantime, read the interview below:
Please describe your research, for the layman, in ten sentences or less?
My research is all about E-commerce in fashion online. I research customers' fashion consumer behaviour on online devices, increasingly on iPads. We're looking at WeChat, which is a Chinese social media application which is growing exponentially.
So, anything to do with E-commerce, anything to do with mobile commerce, social commerce. I also look at anything, any technological aspect that we use, that retailers use, on their website.
For example, I have a PhD student who is looking at virtual fit. One of the big problems for profitability in fashion retail is the amount of returns from retailers and consumers because products don't fit, they're too loose, they're too long. So anything retailers can do to make that fit more applicable to the consumer will save them hundreds of millions of pounds – I think £6 billion is the figure worldwide wasted on returns. So one of my PhD students is looking at whether we can use body scanning equipment to develop a personalised avatar and use that for fit.
I have another student who's looking at EEG machines and monitoring consumers' reactions when they shop for fashion online through they're mobile device!
How can your research benefit the general public?
My research benefits the general public by getting a better understanding of the interface between consumers and computers to buy products online.

It's useful for fashion retail, but also for all retailers. Getting consumers to be satisfied with their experience – to interact more with iPads, with their mobile, to feel less nervous about shopping online. It's about feeding back consumer responses to retailers, that's essentially what we're doing.

We're doing large-scale quantitative surveys. I've got a final year PhD student and she's just researched the ASOS website. And we look at blog pictures online, and research, in detail, how they influence the consumer purchase decision. The things they like about it, the things they don't like about it.

So we're part of that feedback loop, back to retailers, to improve the online experience.
How did you first get interested in your research area?
I first got interested when I worked as a buyer at the Co-op for five years.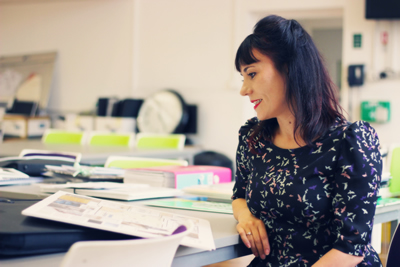 I was very lucky – I was based in Manchester and Manchester has had a strong heritage of computing. So, the Co-op was the first retailer to fully computerise all of its stores. Our warehouses were fully computerised.
I could see the power that computers brought to retailers. As a buyer I could see all my stats figures coming in every day. And you could see how it helped the stores order their stock more effectively, and how it connected us to our store managers.
So then, when I made the move – I was a researcher working in design management and in retail – I just knew. I was lucky, I was in the academic environment and we were the first people to have email. And you could see the power of email connecting researchers all over the world.
It just then seemed a logical step that computers were going to transform all of retailing. That the physical store was going to be just part of the network – that online, physical, and mobile was all going to merge and become multi-channel.
So, it was the power of computers really. And just taking it through every level. I got excited by computers, I think!
Was there something or somebody that was the original inspiration for your career?
I had two areas that inspired me.

My parents inspired me to go into my retail career. My parents ran their own business, a very successful small business, and I was really intrigued to see how big business operated. So a lot of the skills that I learnt from my family business, interestingly the Co-op were putting through with the power of computers that enabled them to have that network that my parents had in their own heads.

So, my parents inspired me for my industrial career. But increasingly as I worked as a buyer I met people like Procter & Gamble, I met all these big FMGT companies, and I could see how they were marketing their products and the understanding they had of the market. I just thought – I really want to go back and study.

So I applied for a researcher job here at The University of Manchester, and I was very lucky. There was Professor Carey Cooper there – he's back now which is really nice. He really inspired me, as did all the professors in that area: they were so dedicated about translating research to businesses, making that link, that knowledge transfer, seamlessly backwards and forwards between industry and academia. And I really felt that I could make an impact and that this was somewhere I belonged!

I was lucky enough to get a job here as a lecturer in 1997 – quite some time ago – and again the whole environment, the whole of EPS (The Faculty of Engineering and Physical Sciences) is very much about technology and about driving your research back into industry.

So I've been inspired by a lot of the professors that I've met here – I'm thankful!
What are your interests outside of work? What do you get up to in your spare time?
Well, I have a seven year old daughter. I take her to dance classes, and ballet and tap and it's the cutest thing ever!
I also enjoy travelling and buying fashion, obviously. It's kind of research, going into clothes shops. I travel quite a lot – my family's Spanish, so I visit all my family in Spain. And interestingly as well, Intertex is one of the largest global retailers; I'm happy to say a Spanish retailer has been very successful globally. So, I like to go and keep up with what they're doing and meet up with family members.
How has Manchester benefited your work and research?
The University of Manchester has always been very multidisciplinary.

We don't have blocks or walls between different departments. We cross disciplines really easily – it's a very open learning environment.

People are very encouraging, people enjoy sharing their research. Certainly one of the big themes in the whole of EPS, and certainly in the School of Materials, is that we have a deep, geeky love of technology. We love new technology, we like to see where it's going to go.

I've been fortunate – you go to have a coffee in this building, and you'll bump into people who are developing smaller and smaller chips and memory to go into mobile phones. I talk to them two years ahead of when the retailers are going to.

So you're in this constant kind of melting pot where people will share their ideas – and that's been really useful.

Thanks, Delia – what a great insight into an impressive career at the Uni. Thanks for sharing. Readers, if you want to her more from Delia, you can find her at SpacePortX in the Northern Quarter on Thursday September 17th, discussing her inspirations with SheSaysMCR. 

We hope you all enjoyed Episode 8, and that you're enjoying the series so far. If you have any thoughts please let us know in the comments.

And please come back for Episode 9, where we'll be talking with metallurgist Dr Joao Quinta da Fonseca.

ComputersE-commerceFashion buyingFashion onlineMobile CommerceOnline retailSchool of MaterialsSocial commerceThe University of Manchester
Related posts