National Women in Engineering Day
Welcome to Materials 9th July 2015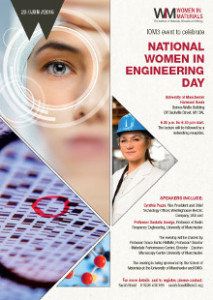 On June 23rd, or National Women in Engineering Day to those in the know, I attended a Women in Materials event, co-hosted by the School of Materials and The Institute of Materials, Minerals, and Mining (IOM3). Grace Burke opened proceedings, discussing her career so far and the decisions that have led to her role as Director of the Materials Performance Centre here at UoM. She also told us that she was the only woman studying Metallurgical Engineering during her degree. That fact, as well as her currently being one of very few women researching in her field, instilled her with a desire to increase numbers of women in STEM roles. As she said in her talk, 'Engineering is not just for boys': we must encourage more girls and young women to explore engineering and science.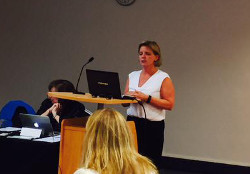 This was a theme that would carry on through the evening. Cindy Pezze, Vice President & Chief Technology Officer at Westinghouse Electric Company, was up next. She had a plethora of attention-grabbing stats for the audience: women fill more than half of the degree places across the globe, she told us, but only 30% of those in science and engineering; on a global scale, the amount of companies with gender balance among their leaders falls somewhere between 10 and 19 percent; of the worldwide working population, 72.2% of employment-ready men are working, while the same applies to only 47.1% of women.
Those are some staggering statistics. More than anything I've heard since joining The School of Materials they made me think about the challenges facing some of our students as they move on to the world of work. Cindy had some encouraging and inspiring words for these people: 'Women are different', she said. 'That's a good thing. Diversity is important. Your journey will only begin when you accept and understand who you are, so do that and go for it.'
Following on from Cindy was the Faculty's very own Associate Dean of Teaching and Learning, Professor Danielle George. Danielle's talk started with a laid back and gradual approach, but as she came towards her conclusion it was clear that she had inspired just as much excitement and enthusiasm as those who preceded her.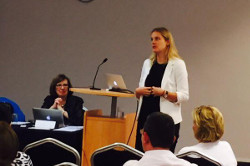 Having spent most of this year on maternity leave, Danielle had some important recent experience of the issues faced by women in the workforce. She began her talk with a humorous and insightful consideration of her 'year of the 3 Ps': Professorship, Pregnancy, and Presenting the Christmas Lectures. She told us how these three events intersecting caused her a huge amount of stress and she had to strongly consider whether or not to take on the job and the presenting work. Now that she was pregnant, she thought, would she still be able to do everything else?
In the end, she decided that she would. That she has simultaneously achieved so much in both her personal and professional life deserves a great deal of admiration, and Danielle hopes that her example can inspire other women who find themselves in a similar position.
To bring home the theme of the night Danielle closed her talk by questioning why only 4% of professional engineers were female, and why that hadn't changed in 7 years. On a personal level she aims to do her bit by encouraging more women to dare and take risks, by acting as a mentor, and by nominating women for the prizes and recognition they deserve.
The event opened my eyes to the extensive issues which face women working in STEM. But I also came away encouraged by the people who are making a sustained effort to improve the situation. Events such as this one, celebrating the achievements of people like Grace, Cindy, and Danielle, are a great example of the strides being made towards a better future for women in engineering.
For more from those involved in the night, catch the video below (courtesy of IOM3):
EngineeringMaterialsSchool of MaterialsSTEMUniversity of ManchesterWomen in engineering
Related posts