Our alumni in Amsterdam (Part 1)
Materials World 16th September 2015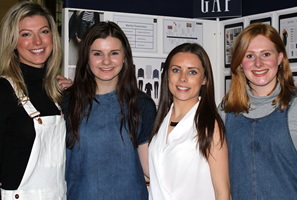 If you can cast your mind back a couple of months, you might remember me taking a little trip to the Design, Fashion, and Business Degree Show. I met a lot of interesting people that day. One of them, and perhaps the one I'm most jealous of, was Charlotte Lowther. She had just landed herself a graduate role in Amsterdam, working with one of the world's premier fashion corporations. That's a little bit exciting, right? Well, she's agreed to keep us updated about her life while she's out there, and here she is with a little introduction. Enjoy: 
"Hi. I'm Charlotte, a recent graduate of The University of Manchester's School of Materials. I have just relocated to Amsterdam, 'the city of Freedom', to begin my career in the fashion industry.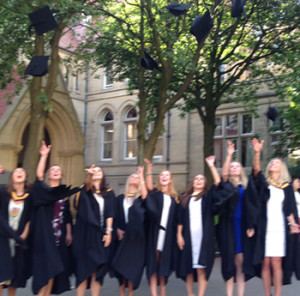 I spent the last four years studying Management and Marketing of Fashion Textiles (Ed: our course titles recently changed, but you can find similar programmes on the study pages of our website) in the beautiful Northern Campus; gaining an impressive understanding of the fast paced and powerful fashion industry through the combination of business and material science modules.
Throw in an industrial placement year at Manchester based plus-sized retailer JD Williams, during which I created TV and Press adverts and went on holiday with Freddie Flintoff (yes, really), as well as a stint on the University snow sports committee, and you have quite the university experience. And this was all topped off pretty nicely a couple of months ago, with a First Class Degree and the offer of a graduate role!
Following a lengthy and intense interview process, which involved a day trip to Amsterdam, I was successful in achieving a graduate role with PVH – the parent company of world famous fashion brands Tommy Hilfiger and Calvin Klein. My role will involve rotations across the main business functions such as CRM, Ecommerce and Strategy, and Insight – I'd say it might just be my dream role.
But even with such an exciting job to look forward to I needed a bit of a break after a fantastic, but sometimes stressful, final year. With the role accepted and my relocation planned I spent the summer celebrating with friends, exploring all that Thailand and Bali have to offer, and relaxing in the English countryside.
I made the big move to the Netherlands last weekend. I'd love you to follow me on my journey as I reveal what its really like to set up home in a new country, work within the fashion industry, and undertake the journey from student to professional. I'll be back in a few weeks' time to tell you all about my first month!"
AmsterdamCalvin KleinDegree showFashionJD WilliamsMarketingPVHThe University of ManchesterTommy HilfigerTravel
Related posts