Our Alumni in Amsterdam Part 3
Alumni 8th June 2016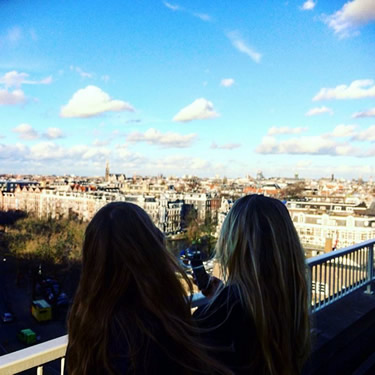 It may be a while since we heard from her, but I'm sure you'll all remember Charlotte Lowther, our alumni in Amsterdam. If not, you can check out her previous guest blog posts here and here. When I met Charlotte at the DFB Degree Show just over a year ago, she had recently bagged herself an exciting graduate role with PVH Europe in Amsterdam! Now, around nine months after she started, she's back to tell us all about her experiences. And we're jealous; very, very jealous!
Hi Everyone,
I am back to give you an update on how I have been getting on living and working in Amsterdam as part of my graduate scheme with PVH Europe. Since my last blog post I have completed my first eight-month rotation of the scheme with CRM and have now joined the Business Development team; the company's in-house consultants. The job is to drive change throughout the business and across all functional areas – and I love it so far!!!
Now back to CRM and a reflection on what I have been up to… during my time there I worked mainly within the email team, while also supporting in providing customer insights for the business; such as who our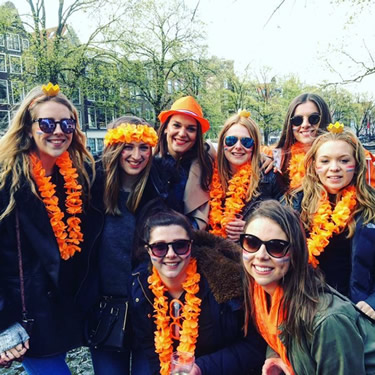 customers really are, how much they spend, how they like to shop, and how this differs between countries. As I mentioned in my last post, I was given three projects to manage and drive with clear goals and expected outcomes; this provided me with a great opportunity to develop my project management skills while also gaining a deep understanding of CRM and the activities it involves.
The projects covered all aspects of email marketing and CRM; the first, and largest, of the three involved introducing a new process in which emails should be designed and delivered to html builders in order to increase efficiency and flexibility while ensuring all emails would become mobile responsive, something that was not in place before my arrival. I also proposed and developed a new lifecycle email marketing campaign with the aim of increasing the number of customers making a repeat purchase. The pilot went live in my final month with the team and saw impressive customer interaction and engagement across Europe. The final project was to provide test plans for Tommy Hilfiger emails, allowing us to better understand how our customers interact with our communication, for example what subject lines, content, and time of delivery result in the best engagement and purchase rates – with a consistent focus in driving both of these KPIs.
During my eight months I have also had the opportunity to develop my personal and professional skills, alongside those in CRM, through personal coaching with a HR advisor. We have worked on subjects such as influencing and negotiation.I have also taken part in several training sessions with our PVH University. My particular favourite was the cultural awareness course where we were introduced to and interesting theory called the Hofstede Model. This helped us to learn why people of different cultures react differently to the same situation, something which has been very important in my time working with different cultures in my one team. The path along my learning development program continues and I am enrolled on a Project Management session next; a critical skill as part of my new team.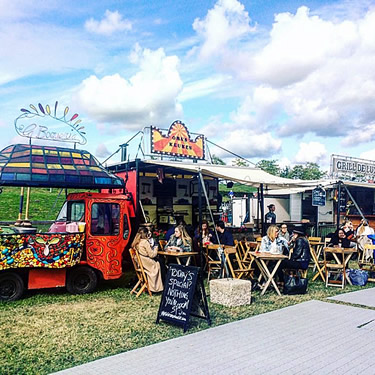 However, it hasn't been all work and no play!! I have very much fallen in love with Amsterdam and the Dutch culture and have loved exploring the amazing restaurants and cafes (bars) the city has to offer, particularly enjoying the truck food festivals that pop up every couple of months in a new location around the city offering tastes from around the world. Joining the meetup group 'Girls Gone International' (also present in most UK cities) has also allowed me to try a new restaurant or brunch spot each week whilst catching up with young, professional women in a similar "expat" position as me. This has provided a great excuse to try somewhere new while meeting some of my closest friends in the city.
I have also been making an effort to get to know the Dutch culture; partaking in some Dutch traditions such as celebrating Kings Day, which is where the whole country has a bank holiday to celebrate the King's Birthday (and mine). This involves a morning of flea markets followed by an afternoon of celebrating in the streets or on the canals, all whilst dressed in the nation's favourite colour; Orange. I have also been exploring different areas of the Netherlands with weekend trips to the political capital Den Hague, the largest student city (and the most beautiful in my eyes) Utrecht, and finally the ultra-modern Rotterdam.
So that brings me to the end of this update, it's been a great opportunity to reflect on the past nine months – I have learnt so much not only professionally but personally too, adapting to a new culture and meeting some incredible people from all around the world.
I hope to bring you more updates soon,
Charlotte
Related posts