Fleur's industrial experience at GlaxoSmithKline
Chemical engineers at work Industrial Experience Student experience Undergraduate 7th April 2021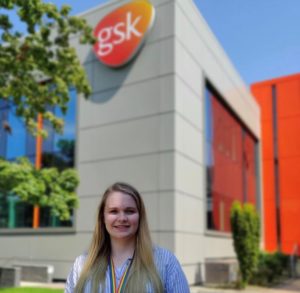 Hi, I'm Fleur and I am in my fourth (and final) year of the MEng in Chemical Engineering with Industrial Experience course. Last year in my third year of study I undertook a placement at GlaxoSmithKline (GSK) Barnard Castle (I even had an eye test at the renowned Barnard Castle Specsavers), a secondary pharmaceuticals manufacturing site (where the active pharmaceutical ingredient is turned into the final product). My role was based within the capital projects team acting as a process engineer, this team is involved in the execution of the full project lifecycle of high value projects.
University course requirements
During my year at GSK I completed several reports related to my work on placement and completed distance learning modules and attended exams. This included a detailed logbook of the work carried out, a skills portfolio detailing transferrable and technical skills learned and a dissertation based on the waste solvent storage project. Distance learning modules included Advanced Engineering Separations and Catalytic Reaction Engineering, for which I completed exams in January 2019. The results of these contribute towards my degree.
Technical work
The role provided me with the opportunity to develop technical and transferrable skills that I have applied whilst back at university and will continue to apply in future job roles. Due to the nature of the team I worked in, I was able to gain experience in different projects in various stages of development, which included:
Design and procurement of dispensing systems
Safety assessments of existing installations and resultant risk mitigation
Installation and commissioning of alarm systems
Decommissioning of obsolete equipment
Prior to starting my year in industry I had a keen interest in process safety and I expressed this to my line manager when starting the role. Several of my projects were based around the process safety initiative on site, including: asphyxiation reporting, oxygen depletion system installation and commissioning, What-if, Hazard and Operability Study, Hazard Identification study, bow-tie and as low as reasonably practicable studies of identified safety risks on site.
Carrying out these safety assessments identified the waste solvent store as needing replacement, and this became the focus of my dissertation project that I completed whilst on placement. The objectives for the project were:
Primary objective: to reduce the risks identified on the site HAZID posed by the solvent storage system to ALARP.
Secondary objectives:
Prevent exposure of the flammable vapour headspace when connecting and disconnecting the IBC from the system
Provide a new unit with a suitable bund and appropriate ventilation to prevent the build up of a flammable atmosphere and the risk posed by loss of flammable materials
Reduce the risk of piercing a full vessel when removing it from the system
Eliminate ignition sources and implicate suitable protection measures to minimise the risk
Decommission the existing obsolete system
Assess the required waste solvent inventory
Obviously, this was a large project to complete within my year long placement, so the main focus of my work was developing the design from a technical perspective. This including assessing the required vessel sizing, flammable atmosphere calculations, ventilation calculations, material of construction selection and pipeline design.  Once I had developed the design I created a specification for suppliers that outlined all of the system requirements in line with company regulations.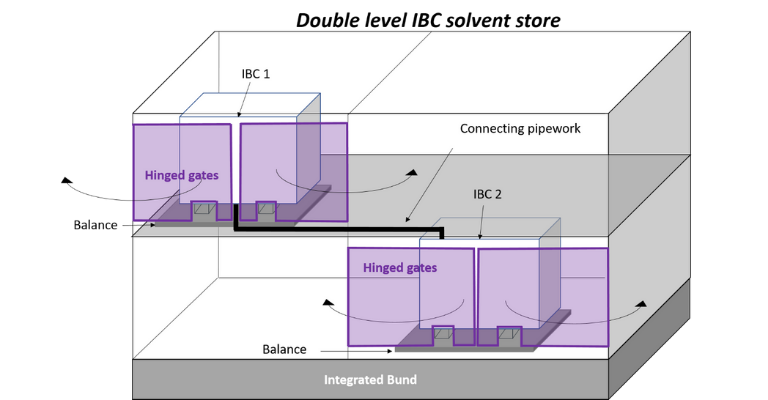 I then hosted these suppliers on site and worked with them to develop a design and secure a quotation. Upon confirming quotations, I created a project proposal. This proposal was approved towards the end of my placement meaning I could not proceed any further with my project. However, I am still in contact with my previous manager who has continued with the project, and there have been some further delays due to COVID-19, but it is finally under construction! So, I feel like my project has been a big success, especially after there had been several previous attempts to complete the project that did not progress this far. To me this feels like a huge achievement as I have managed to develop a design for something that will reduce a safety risk on site considerably, and knowing that it is being brought to life is really rewarding.
Personal development
To enable personal development, I also sought opportunities to develop my knowledge of how a business of this scale and scope functions. Generally, this was done by attending a range of meetings to understand different areas of the business and how decisions are made and progress is tracked. I also had the opportunity to visit GlaxoSmithKline Montrose site, a primary manufacturing site, the purpose of this visit was for both business awareness and to visit a large-scale solvent disposal system.
I was also keen to share my experience and represent the company, and I had the opportunity to do this at STEM events and careers fairs. I was also able to help organise an assessment centre and sit in on interviews, as well as assist the year 10 work experience students visiting site providing some experience of event hosting and people management.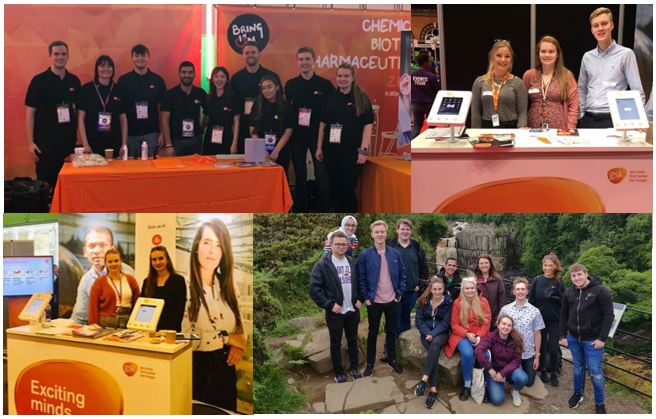 Outcomes of my experience
It would be hard to say what I think was the best part of my year in industry, obviously it would be easy to say it was nice to be paid, but when you are helping to produce lifechanging pharmaceutical products the money seems irrelevant.
The year has provided me with the opportunity to explore the pharmaceuticals industry and the roles it has to offer. Before starting the year, I did not believe that I would enjoy the pharmaceuticals industry due to the relatively small scale of engineering and the kind of projects it would include. However, over the course of the year I was made aware of the range of jobs that pharmaceuticals has to offer, in different projects and on different scales. But, I think the most invaluable thing I gained from my year is knowledge and experience! This has helped me in my university work and decisions regarding my future career. Enabling me to reaffirm my interest in process safety as a career, something I had briefly studied at university.
Not only did the year in industry help me with my prospects, but it has aided me whilst I am completing my design project. The experience of technical report writing, design calculations and project work have provided a good foundation of knowledge and improved confidence in completing this work. It also enhanced my transferrable skills including teamwork, communication and time management, all of which have been vital to group work (including the design project) executed during my final year.
Visit our website to find out more about Industrial Experience placements on Chemical Engineering courses.
CEASChemical EngineeringGlaxoSmithKlineIndustrial ExperiencePharmaceuticalsProcess EngineerUndergraduatewomen in engineeringWomen in STEM
Related posts