Our @csmcr students – Angela Popovska
Student experience Welcome to Computer Science 28th April 2020
Angela is an 18 year old student from Macedonia. She is currently in her first year of BSc Computer Science with Industrial Experience.
Why did you want to study Computer Science at Manchester?
The course that I chose to study, Computer Science with Industrial Experience, offers an education that will equip you for future success and experiences that will inspire you to make a difference in the world, helping you undergo a true change and growth as a student in order to become the best graduate you can be.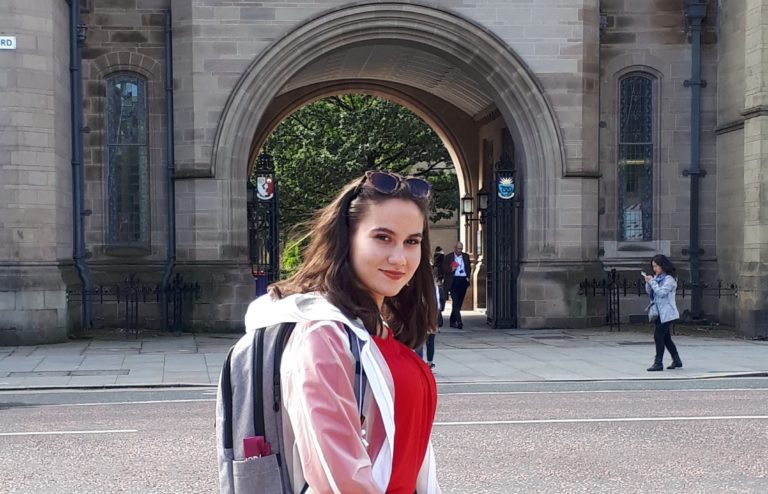 What do you enjoy most about the course?
I enjoy the days spent at the Kilburn Building. There is a great atmosphere to study in teams between lectures. Every day you feel one step higher, you learn new things from everywhere. Each student is free to talk to older students, to gain some tips and tricks for university life. I am surrounded with friendly colleagues with whom I widen my knowledge and with approachable lecturers who are always happy to help.
And the wider University?
The first thing that springs to my mind when I think about University of Manchester, is that you don't need to fit into the student stereotype. At times I have lost sight of what it all means, to be part of the traditional school system. It is a university that has broken the mould. It is open to new opportunities and welcoming to international students. A place that enabled me to reach the ultimate goal: a balanced life, with time for studying, relationships, relaxation, and fun, as well as the resilience to hold up under pressure and meet challenges head on.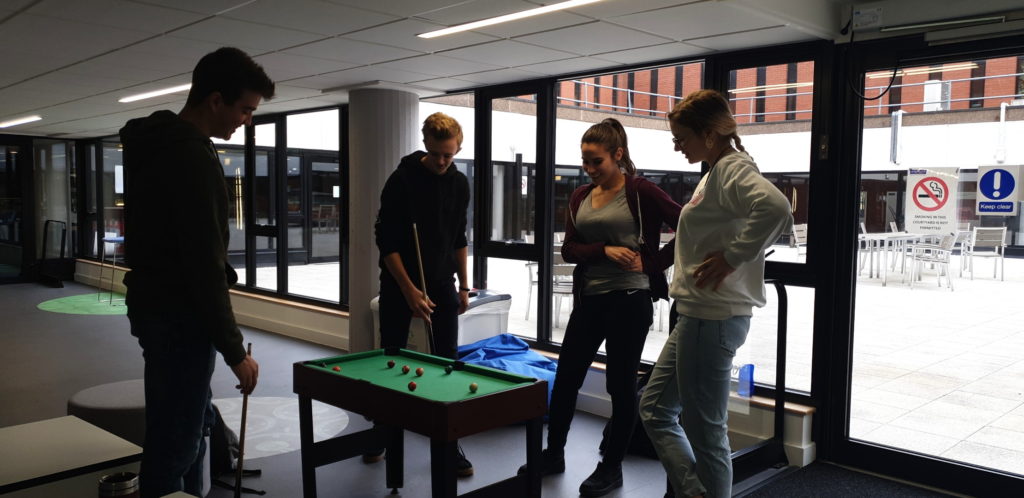 What are your thoughts on Manchester as a city?
Flicking back through my memories, the best moments happened unplanned, when I least expected them to. Manchester gave me the chance to take every opportunity to be spontaneous. It has so many events to attend, numerous places to visit and uncountable positive minds to meet. I more than happy that I met special people that made me realize that life is too short to spend time on sleeping!
Which accommodation did you choose and what the area was like? What would your advice be to a new student trying to decide somewhere to pick?
A place is only as good as the people you know in it. Honestly, it's the people that make the place. No matter which accommodation you choose, if you enjoy the good company of your flatmates you will have a great time.
I am living in the university accommodation Denmark Road. It is situated in the City Campus and it is a mixture of home and international students that will make you feel comfortable and homely. Another advantage of living here is that you are both close to the University's academic campus and at the heart of city life. Furthermore, the residential team is providing social support, cultural and leisure opportunities, so halls here are the ideal place for both academic and social activities.
How do you see your time at The University of Manchester helping with your career plans?
Opportunities for young enthusiasts in Manchester are not few. The University has excellent links with industry which are essential for my further academic pursuits. The spring and summer Internships, as well as the placement year are something that I am looking forward to now. They provide you with an insight into the company and a chance to solve topical issues about real world problems. That is exactly what employers are looking for, candidates who show a grasp of concepts in the real word, not just theoretical.
Has your time studying at The University of Manchester caused you to rethink or alter your career plans?
I have not once regretted my decision to choose Manchester. A place that I am now grateful to call home. Not only because it stands out from the others on an academic level, but also because it gave me a new lease of life.
What would you say to people considering coming to Manchester to study Computer Science?
Do not hesitate for a second. It is a perfect course for you to take a proactive role in your learning. You will gain a skill set that includes interpreting complex information, communicating ideas to a variety of audiences, analysing problems and creating novel solutions; ideal whether you have a firm career plan or not. You can also get involved with outreach activities and adding new expertise to your CV.
And outside university… what do you get up to in your spare time?
One of the amazing things about this university is that it allows you to make the most of every day. For instance, the extracurricular activities such as hackathons, workshops and volunteering activities are some of the ones that suit my interests and needs, and at the same time contributed to enrich my knowledge.
Moreover, you can always find yourself in societies that make your university life fulfilling. Adrenaline seeker? The skiing society is definitely for you. If you are a book lover then The John Rylands Library is the best bet! It is one of the finest collections of rare books, manuscripts and archives in the world. If you are a hiking lover you will be bewitched by the North Lake District or the Peak District National Park.
Related posts