Our @csmcr students – Raluca Cruceru
Student experience Welcome to Computer Science 6th May 2020
Meet Raluca Cruceru, she's 21 years old and originally from Romania and is studying Computer Science – Human Computer Interaction.
Hi Raluca, why did you want to study Computer Science – HCI at Manchester?
Being enthusiastic about Mathematics, Informatics and Technology, I have always wanted to study Computer Science, but choosing the right university was a longer journey. However, after a detailed search, I decided that The University of Manchester was the right place for me. From course organization to the beauty of student life, this seemed to me the perfect university, and I was totally right. The time spent here was filled with great experiences and lovely memories, and I am still counting.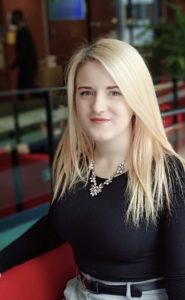 -What do you enjoy most about the course?
The range of skills I achieved here offered me the chance to work at CERN – The European Organization for Nuclear Research, situated in Geneva, Switzerland. My industrial placement lasted 14 months, during which I was a software engineer in the Electrical Engineering Department.
Some of my responsibilities included maintaining the applications, monitoring the cabling and fibre optics projects, using different tools to generate statistics and also work on the complex database containing the electrical cables and racks around CERN sites. This was definitely a significant amount of work, but fortunately I received help from my supervisor, who guided me throughout the process. Moreover, the courses taken at university had prepared me for this kind of experience. I was already trained to deal with several tasks at a time, acquire brand new skills and organize my work in order to achieve my goals and provide good results.
Working at CERN offered me the opportunity to go underground and explore amazing machines and laboratories: for example, LHC – Large Hadron Collider, which is the world's largest and highest-energy particle collider, CMS – Compact Muon Solenoid, which is a great particle physics detector and also ELENA – the antimatter factory. I was proud to notice The University of Manchester logo around CERN sites, reminding me how being a student here was the reason why my dream to work at CERN became reality. This was definitely the most exciting experience and I am considering returning and continuing my journey at CERN after graduation.
-And the wider University?
The good thing about our university is that there are opportunities all around. For example, UniCs is the Computer Science Society and being part of it means organizing amazing social events and also hackathons, which became our favorite gatherings. It's where enthusiasts get together to develop software projects in a short period of time, then sharing our work with the rest of the participants. This also brings the chance to get in touch with the industry, as several companies usually come and support the event.
And there are several other societies you can get involved in. No matter what kind of person you are and what are your hobbies, you will find your place here.
What's more, if you like talking to people and sharing your experience, being a student ambassador is also a great idea. This year, I am attending different events, chatting to prospective students and giving insight about student life at our university. It is a pleasure for me to be able to help and I am meeting amazing people on the way.
-What are your thoughts on Manchester as a city?
I believe that Manchester is a great city for students. I like it especially because as a young person, I am always full of energy and keen on taking part in different activities. And Manchester checked it all for me, it is so alive and there is an event taking place all the time.
-Which accommodation did you choose and what the area was like? What would your advice be to a new student trying to decide somewhere to pick?
As I knew three other Romanian students in Manchester, we decided to rent a house together. This worked well for me as I had the feeling of having my own place and also the area around was very calm. However, I realized that student accommodation is usually a better choice, especially in the first year, when it is also guaranteed. This is because it makes it easier to know people and make friends, which is very important, especially when you are just starting your student life.
-How do you see your time at The University of Manchester helping with your career plans? / Has your time studying at The University of Manchester caused you to rethink or alter your career plans?
My career plans were basically shaped by my experience at The University of Manchester. I started university by thinking I may not be good enough for great plans, but the time spent here made me realize that I am actually able to achieve impressive things, with work and determination, and provided me with the skills to do it. Moreover, my industrial placement at CERN made it clear that I would like to work in building technology used for scientific research and also for medical applications and robotics.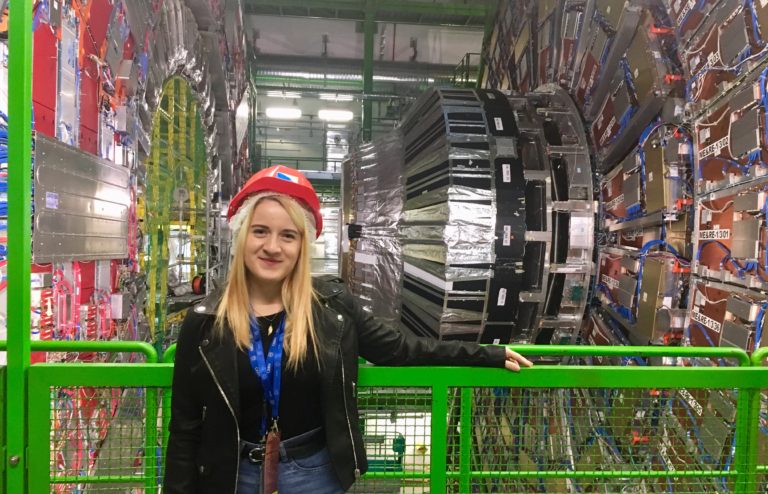 -What would you say to people considering coming to Manchester to study Computer Science – HCI?
If you like challenges and want to become a computer scientist who also understands the interaction between humans and technology, then CS – HCI is the perfect course for you. You will discover why this interaction plays such a great role in the success of an application.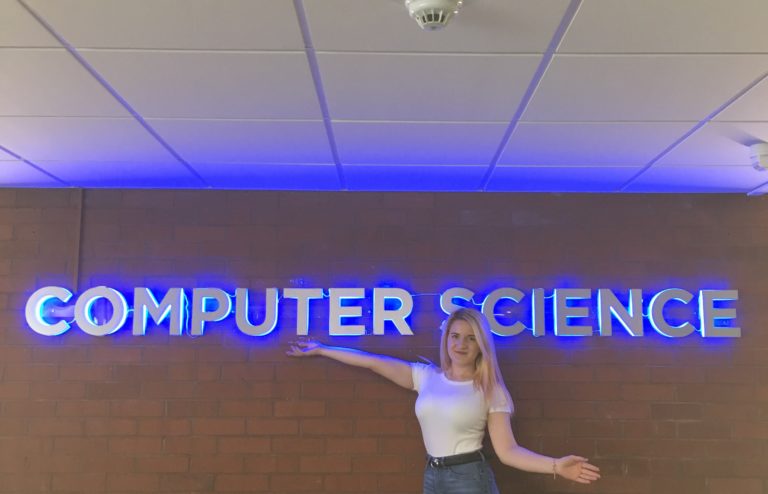 -And outside university… what do you get up to in your spare time?
I am part of the CanSat project, where we are learning how to build a simulation of a real satellite, integrated within the volume and shape of a soft drink can. We are having weekly workshops, learning the necessary skills step by step, aiming to participate in a UK competition this year. Space exploration always amazed me, therefore this matches perfectly with my interests.
Then some of my free time is dedicated to gym training, which I am trying to do regularly in order to train my body and mind. Also, I recently started learning to play the electric guitar, slow at the beginning, but getting there.
Finally, this being my last year at The University of Manchester, I am trying to get the best of it. I am spending as much time as I can with my friends, and I am enjoying this beautiful community that I will be so sad to leave after graduation.
Find out more about Raluca and her story on her UoMCompsci Instagram takeover!
Related posts