3D printing visors for the NHS with CS alumni, Tom Macpherson-Pope
Life after study Research and impact Student experience 7th May 2020
Introducing Tom Macpherson-Pope – a Computer Science alumni who started at The University of Manchester by taking one of our Foundation courses. Today, he is Lab Manager at The Making Rooms. During lockdown, he has been 3D printing visors for NHS staff working on the frontline of the COVID-19 battle. Tom tells us more:
Hi Tom, can you tell us what course you studied at The University of Manchester?
I studied Computer Science at degree level, having completed a foundation access course also at The University of Manchester.
My favourite course unit was Microcontrollers in 3rd year. Despite having struggled with assembly code (tough stuff) in 1st year, I found having the tangible inputs and outputs of physical hardware helped us reconcile our differences.
I also loved the freedom to explore for my 3rd year project. I finally had the time to make something I had wanted to build for years – an interactive LED games table! This gave me the green-light to go down all sorts of rabbit holes of learning that may have otherwise lain undiscovered.
More generally I loved to involve myself in everything the Department had to offer. I did demos for prospective students, talks, the Animation Festival – I've found I always get tonnes more out when I put a bit extra in.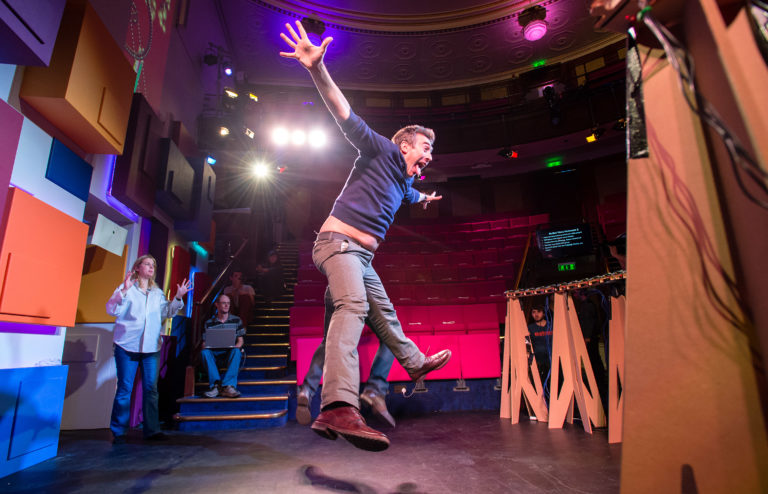 -What are you up to now?
I am the Lab Manager at The Making Rooms, a creative and technical hub in Blackburn.  At The Making Rooms, we: help entrepreneurs and small businesses to develop new products and processes with advanced prototyping machines such as 3D printers, CNC routers and laser cutters. We also run accelerator programmes and workshops to help people start businesses and provide a co-working space servicing entrepreneurs and small businesses.
For the past three years, I've also had a small electronics development company, The Invent Hive. Me and my business partner, James Fletcher (also a UoM Alum), prototype circuit boards and systems for a range of industries. We've had quite an odd selection of projects, from bike light alarm systems to educational electronics (and everything in between).
-You have your finger in a lot of pies! Can you tell us more about The Making Rooms, The Invent Hive and CodeBug, and the role you play in each?
CodeBug is a programmable badge, unsurprisingly shaped like a bug. It has been the love of my life! CodeBug teaches people age 5 to 100 how to code and experiment with electronics, and I am so proud to have been 1 of its 3 fathers. We developed CodeBug to make programming more accessible. We made the device affordable and easy to use. It's always amazing to see CodeBugs in the 'wild'. I love to see the lightbulb moment when a kid programmes with CodeBug for the first time, and even better when they then teach the person next to them.
I became involved with The Making Rooms because of Fab Lab Manchester. Fab Labs are 'Maker Spaces' where anyone can go and learn how to make wacky inventions or beautiful art, usually for free!
I find maker spaces fascinating and try to visit the local labs whenever I'm on holiday. So far I've visited 25 labs in 7 countries, and no two have been the same. Every lab I visit, I try to learn something from the way they do things.
The Invent Hive has likewise been a great experience. We started out working from James' living room and coffee shops (his garage was full so we had to diverge from the Apple founders' story). For the last couple of years we have been working from our little office in Federation House run by the Co-op. It's been great having a place to spread out your work without having to order a coffee every couple of hours. We've designed small parts for big projects for some huge companies And we've also designed complete products for individual entrepreneurs.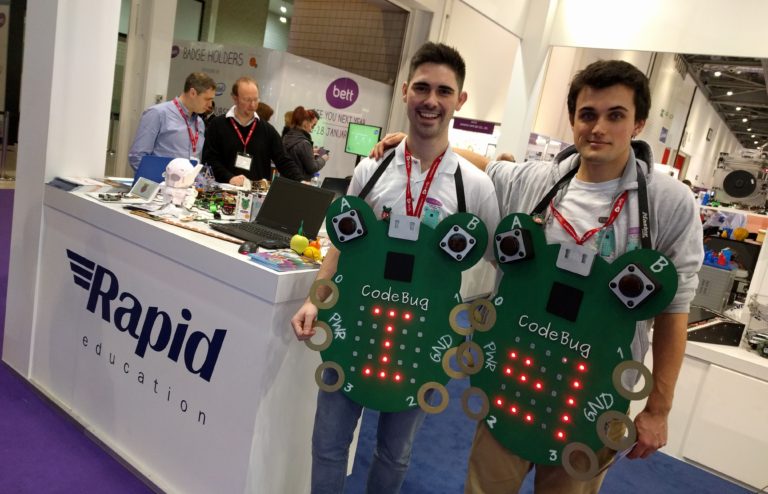 -They're very different experiences, how has your time at The University of Manchester helped with these achievements?
Beyond the advantages a degree from a world-class institution like The University of Manchester can afford you, my time in the Kilburn Building (which houses the Department of Computer Science) has been directly responsible for the connections that have influenced my adult life.
-The Making Rooms is a unique crossover of art and technology. Have you always been interested in the relationship between these two seemingly clashing disciplines?
The thing art and technology have in common is creativity. People rarely think of technology as creative, but to explore and develop new technologies, you have to get in-touch with your inner artist.
With The Making Rooms, the key thing was to make it accessible to all. Maker spaces have historically been engineering heavy and that can lead to certain demographics being over represented in the visitor books. That's not just bad for reasons of fairness and inclusion, but it also can limit ideas to being exclusively functional and frankly, beige. The best results always come from mixing people and disciplines. This is why our lab has a potter's wheel next to our 3D printers and a sewing machine next to our laser cutters. I'm glad to say that the statisticians among you will struggle to find many commonalities within our visitor base, beyond a delightful sense of curiosity and living near the North-West.
-Right now you're working on a very different project – printing visors for NHS staff fighting COVID-19 on the front line. Where did the idea come from?
I'm part of a European group of makers called Vulca. A couple of weeks before the UK was seeing a sharp rise of COVID19, members from countries affected earlier by the virus like Italy were sharing photos and links to their efforts to help health services and people in their countries. Their efforts inspired me. I was concerned that UK key workers would be in need of similar equipment, so I started buying the materials I would need and getting machine files ready.
I used designs by a company called Prusa in the Czech Republic. Prusa have made tens of thousands of visors themselves. They've also open-sourced their designs for makers around the world to produce even more.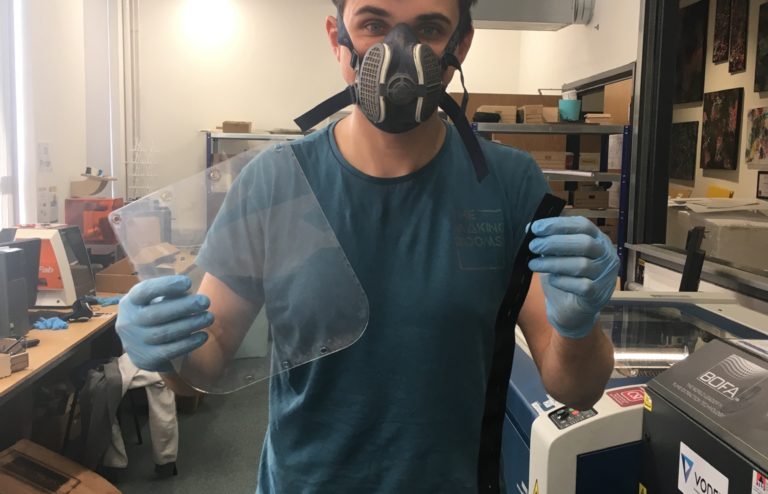 -How did you approach the NHS to offer your services?
I didn't. From seeing the demand for visors in other countries, I knew that health workers in the UK would need them. I just started to make them. I posted a photo on Facebook and since then I've had dozens of requests from healthcare workers. I've also had lots of requests for radio and newspaper interviews, which has helped to spread the word. Many makers (and soon-to-be-makers) are also getting in touch to ask for advice on producing visors themselves.
My advice to anyone wanting to start making and donating visors? Join the national effort on www.3dcrowd.uk . They have heaps of advice and regional hubs to help people get visors onto the faces of people on the frontline.
The visors I've been making have been made by myself, my girlfriend and a nearby friend. In the 3Dcrowd group, there are over 8,000 people in the UK making visors, so well over 10,000 in total in the UK and hundreds of thousands of makers worldwide.
-How many visors do you hope to make?
I'm currently making a batch of 150. This batch has taken a while to produce because I've been using a material that I've not 3D printed in before, PETG. This material is being used for making visors because it's strong and slightly flexible, but mainly because it's chemically resistant, so it can be disinfected between uses (though it can be rather hard to print!). I am also planning to switch to a different design that includes smaller 3D printed parts, so takes a lot less time to print.
-What else have you been working on during this period of social distancing?
I have been advising other makers on how to join in the PPE effort to make visors, and helping friends who want to get involved with the effort but are new to 3D printing to buy and set up their first printers.
Beyond the visors, the current crisis has made me reflect on what we can each do for the world and society, so I've been researching the homeless crisis and the tiny-house movement to see how maker spaces can provide the most vulnerable in our society with skills and shelter.
-What are your hopes for the future?
I hope that once we are all through this, we collectively remember that as a global society we need to prepare for the challenges we are going to face. Universities and Maker spaces are where new ideas are born and developed, and we need them all. I am hopeful for the future. This current crisis has shown how quickly we can adapt and start solving problems. We have a lot of challenges ahead, from global warming to feeding a growing population, but humanity's ingenuity and machinery has meant that each generation can devote more hours and careers to better understanding our planet and its people.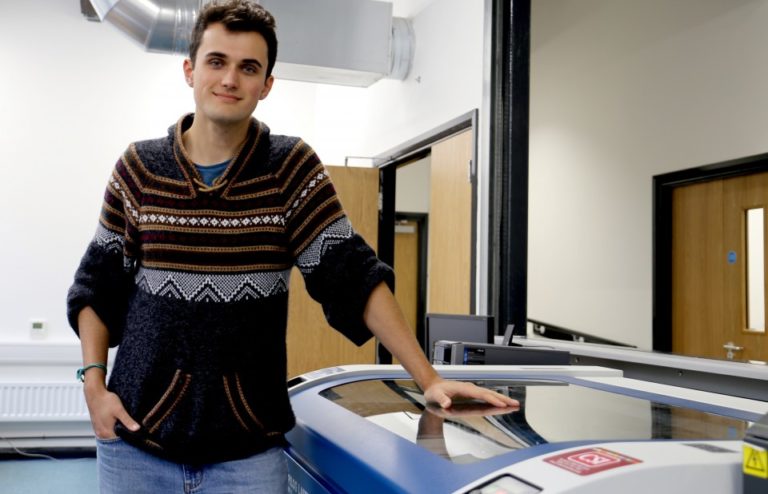 -What would you say to someone thinking of coming to The University of Manchester to study?
The University of Manchester has so many opportunities – notwithstanding the courses delivered by world experts, there are projects, talks, funding, and you must take full advantage of these benefits. You will be shocked at what you have access to if you just ask. I should also mention that the city of Manchester is quickly becoming the technical and economic powerhouse of the North. There has been so much development in the city in the last decade, and it doesn't show signs of slowing. There are so many Meetups and talks to attend; coworking spaces hosting hackathons; a Google Digital Garage in the city centre – endless opportunities.
Related posts