My internship experience with Barclays – Sam Joynson
Life after study Student experience 29th April 2021
Hello, my name is Sam Joynson and I am 3rd Year BSc Computer Science Student. During the unforgettable year of 2020, between my second and third years of studying, I spent part of my summer on an internship with Barclays, a post I had acquired through a series of interviews and a 'Spring Week' during my first year here in Manchester.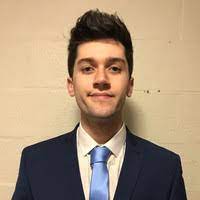 The original intention was for me to work down in South Manchester, where Barclays's vast technology campus is based outside of a small town called Knutsford, for approximately 9 weeks. However due to the pandemic, my face-to-face internship was completed virtually for the shortened time of 6 weeks. Initially I was pretty disappointed that I wouldn't be able to work within this gorgeous campus and that I'd be desk bound for the whole experience, but then I was also extremely grateful that Barclays had still decided to honour the internships created, and that they had gone to the effort of restructuring the whole programme for us instead of just cancelling everything.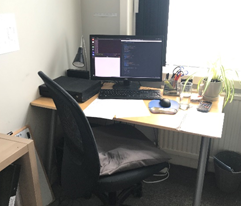 So, July eventually rolled around (after some very strange and long months) and I returned back to my student home in Manchester to start this internship, whereby the extent of my commute, depicted to the right, was getting out of bed and walking a metre to my desk (something I very much appreciated from time to time). The first few days of the internship were very strange for me, as prior to commencing, I had no real idea of what I was actually going to be able to do now that I wasn't going into the offices at all – and the new setup was equally unfamiliar to the staff at Barclays! The first days were packed full with massive Zoom calls where everyone on the internship scheme was welcomed into Barclays by a range of staff and a 'roadmap' was set out for our next 6 weeks. This was followed by a range of virtual team building exercises such as a 'Pub Quiz' and 'Picture Bingo' just to break us in easily and get us used to this the world of 'online working'. These online activities might have looked very similar to the image on the left if it were a face-to-face internship as originally planned.
During the initial week of the internship we spent a lot of time creating accounts to access the Barclays's virtual systems, acquiring the software of which we'd need for the remaining duration of the scheme and getting to grips with all of the secure processes that run within the bank and how we can make the most of them. Just like any other Technology Department, I was bombarded with a plethora of technical issues where I couldn't access certain services, authenticate myself or download anything on my own virtual computer. I was definitely not the only one out of the 1,200 interns who had started the internship with Barclays across the globe who was met with technical problems, and the progress I made during my first week was initially slow. In fact, it wasn't until my fourth week (so over halfway through the experience) where I actually managed to flatten out all of these initial issues!  
Despite such initial setbacks I was quickly welcomed to my assigned department which was Shared Technology: this department is concerned with the vast range of technology that is present across a multitude of branches within Barclays, whether Online Banking, Mobile Services, FinTech or BarclayCard to name a few. Within this department I was integrated into the API (Application Programming Interface) Development team where I took on the role of a RESTFUL API Developer. The role required me to quickly learn and understand all of the programming practises and software standards used across the bank. Alongside this I also learned about the typical lifecycle of my department and the range of roles which were available, all of which I found very useful and interesting.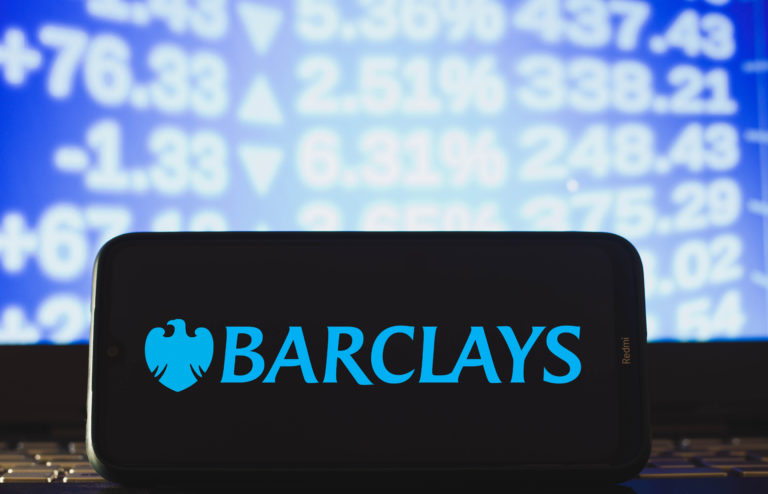 A normal day for me during this internship consisted of 3 key parts: calling and working with my team to enhance my knowledge and practise my coding skills with regards to API Development, personally arranging and speaking with a range of well experienced Directors across the bank, and, large calls/workshops with the rest of the internship cohort. Besides all of the scheduled calls and activities, which normally consumed about 2/3 hours of my day, the day itself was mine to fill. I was set a lot of self-study work by team, alongside a range of interesting facilities provided by Barclays for to me to greaten my knowledge and understanding of how the many arms of a bank actually work. Aside from a bank being a place where I store my money I had no clue how they're actually structured (I now realise just how complex and extensive their business is!).  
However, despite Barclays's best intentions and attempts to still carry out this internship with regards to the pandemic, of which I'm endlessly appreciative of, I do believe that my virtual experience of an internship wasn't as exciting and beneficial as it would have been if it was to have been carried out within a normal face-to-face working environment. And before I explain why this is the case I just want to emphasise that this was due to no fault of Barclays whatsoever,  it was merely just the result of the uncomfortable situation that we had all been placed in during 2020 and 2021. Undeniably I think the main problem that I experienced was that meeting a vast range of new people across Barclays and being welcomed into the company purely over a webcam and microphone was an extremely challenging and difficult social situation to be in. And, although I happily met at least 50 or so lovely people across arranged meetings and workshops, I never felt as though I knew these people on a personal level: as such welcoming interactions are fairly challenging with people that you've never seen in the flesh before. So as you can imagine, I never felt as though I had properly bonded with anyone within this team or that I really knew them, something I would have done if I was physically in the office with them.  
For me there were a lot of things I took away from my experience during the summer. First of all, it made realise how vast a massive bank like Barclays is and how many amazing job opportunities there are out there for so many different career paths. I also developed new skillsets ranging from knowing how to code using industry standards to socialising and interacting with others over a virtual environment. It also made me appreciate how big businesses are effected by the current pandemic and how they're handling the consequential effects.  In light of this, I would really recommend that current students look for some sort of experience within a large national/global company, whether it be for a week, a summer or a year, just so that this massive side of our modern world is opened up to you, as I found it a very interesting and enlightening experience.  
The internship has also made me realise what challenges may lie ahead for students such as ourselves, as meeting anyone within a new place of work has proven to be quite a difficult experience, although in ways it can also be rather rewarding! 
I had an amazing time during summer on this internship and it will be something I'll never forget for a plethora or reasons. Luckily, I also managed to land myself a place on the Barclays graduate scheme which commences upon my graduation during this summer, so I'm very much hoping that at some point in the near future I will have the ability to commute to the technology campus and meet my unknown colleagues along with those I met during my spring week all those years ago!  
Thank you for your time!  
Sam Joynson 
Related posts