Chris: a MACE graduate at Jaguar Land Rover
In the real world Student experience 15th January 2020
We caught up with Chris Platts, one of our Aerospace Engineering graduates, who was offered a fantastic job at Jaguar Land Rover after completing a placement year in industry with them. He tells us more about his time studying in MACE, the importance of his year in industry and what advice he would give to others who are considering an engineering degree…
Where it all began
Chris: My childhood passion was always for how things work. From as young as I can remember, I was always fascinated by machines of all kinds and how people invented them in the first place.
Engineering was the natural choice for me and I never faltered in my conviction to study it. I chose aerospace in particular because I saw it as an incredibly inventive field and knew there would be so many interesting things to learn about.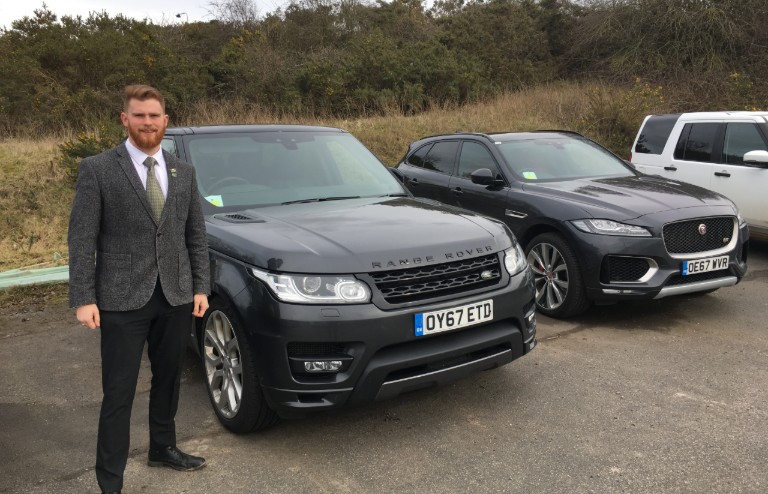 I chose The University of Manchester because of its reputation, both as a top university generally and specifically for engineering. The quality of the tuition and the knowledge in the Department of MACE mean it provides a very high level of education and the recent graduates I know all said how they were often at the top of the pile for jobs after their degree.
"I chose UoM because of its reputation specifically for engineering"
My current role at Jaguar Land Rover
I took an atypical route to my current position. After my third year I went on an industrial placement for a year with Jaguar Land Rover, at the end of which I was planning to return to Manchester for my fourth year of study.
However, as I had already achieved a BEng degree, JLR offered me a full-time position and effective double promotion to stay with them. I accepted this and started my new role straight away. The University was really supportive and helpful in advising me and processing the paperwork after I made my decision.
I am currently the Geometric Integration Zone Leader for interiors at JLR. I am responsible for delivering an interior that matches the feature content that marketing request and that also fits into design sketches.
"JLR offered me a full-time position and effective double promotion to stay"
Component engineers do detailed work on their specific part and I take the system-level view to integrate it all together.
I am also responsible for performing the CAD-based checks that ensure our cars meet all of the legal standards and requirements they should. I perform these checks to make sure the design meets the targets we set ourselves and to ensure our car delivers above and beyond our competitors.
My time at Manchester
Meeting new people and experiencing other cultures was a highlight of my time at Manchester. The course is very diverse and working so closely with people from other backgrounds is great.
The city of Manchester is a fantastic place to live. It is very multicultural and always interesting. There's always something happening.
If you are a person who wants to learn new things and have new life experiences then Manchester is as good as it gets. The University of Manchester is so central to the city that you are naturally a part of all this and that is a great way to spend your student years.
"Manchester is a fantastic place to live. There's always something happening"
Alongside my studies I was an active member of the rugby club and I was involved in organising the campus leagues and refereeing. This led to a position working part-time for the RFU, which I continued throughout my time at Manchester.
My advice to others
During my degree, I often questioned the necessity for studying the management course units. However, I now believe that these were some of the most important things I learned.
I use the skills and processes that were taught in those modules on a daily basis in industry and being able to come into my job already knowing about them was a big help. Also, good CAD skills are extremely valuable for this kind of career.
"If you want to succeed in engineering, you have to go above and beyond, daily"
However, I would put three other skills above any technical skill.
Communication – there are many brilliant engineers but few who can properly and efficiently communicate their work to non-technical personnel. That is a huge part of any role.
Systems approach – being able to maintain a whole-system-level view when solving a problem. You may be making a great part in isolation, but how does it impact the product as a whole?
Dedication – if you want to succeed in engineering in the private sector you have to go above and beyond, daily. You need to be able to motivate yourself to do this, so pick a job you actually want to do and not just the best paid.
Engineering is a fantastic field to work in, but it is also extremely tough. Doing your degree at Manchester will prepare you for this very well. If you want to kick start a big career then I could not recommend The University of Manchester enough.
Want to find out more about the undergraduate courses that we offer? If you have any questions about our courses or about applying, please do contact us at ug-mace@manchester.ac.uk and we would be very happy to help you!
Hear more from our current and past students on the MACE blog!
Related posts