Student-led engineering societies: CanSat team
Student experience 10th February 2021
We caught up with Aerospace Engineering student May who is one of the technical advisors for the award-wining Manchester CanSat Project….. let's hear more from May!
"Hi, I'm May Ling! I'm currently in my 3rd Year of Aerospace Engineering, and I'm a Technical Advisor for Manchester CanSat Project. I have been involved in the Project since my Foundation Year in the 2017/2018 academic year, and I was the Project Leader and American Astronautical Society (AAS) Competition Team Chief Engineer in the 2019/2020 academic year.
Manchester CanSat Project (MCP) is a student-led project under Manchester Satellite Development Group. It focuses on the design-build-launch of CanSats ('can-sized satellites'). These small satellites are typically equipped with electronics for remote atmospheric sensing and are dropped from drones or launched with rockets. Our core activities are participating in the annual AAS CanSat Competition held in the USA and directing the self-founded annual UK University CanSat Competition. Each year, we aim to achieve a Top 5 position in the AAS CanSat Competition while continuing to expand on the UK University Competition.
"Manchester CanSat Project (MCP) is a student-led project under Manchester Satellite Development Group"
The AAS CanSat Competition is run annually by the American Astronautical Society and is sponsored by numerous organisations such as the US Naval Research Lab, NASA Goddard, and Siemens. With its multiple deliverables throughout the academic year, it aims to simulate the end-to-end life-cycle of a complex industry project, from the preliminary design stages through to the post flight review. The mission and its requirements change every year, and this year's was to design two autorotating maple seed payloads which would monitor altitude, pressure, temperature and other atmospheric data on its descent.
"The team won 1st place in 2018 and 3rd place in 2020!"
The AAS Team is set up every year to compete in this event, and have attained very high rankings including 1st Place in 2018 and 3rd Place in 2020! The team that we enter into the Competition always consists of students from a variety of courses, including Aerospace and Mechanical Engineering to Computer Science and even Materials Science and Engineering.
Fig. 1 – MCP's delta-wing glider payload for the 2020 AAS CanSat Competition.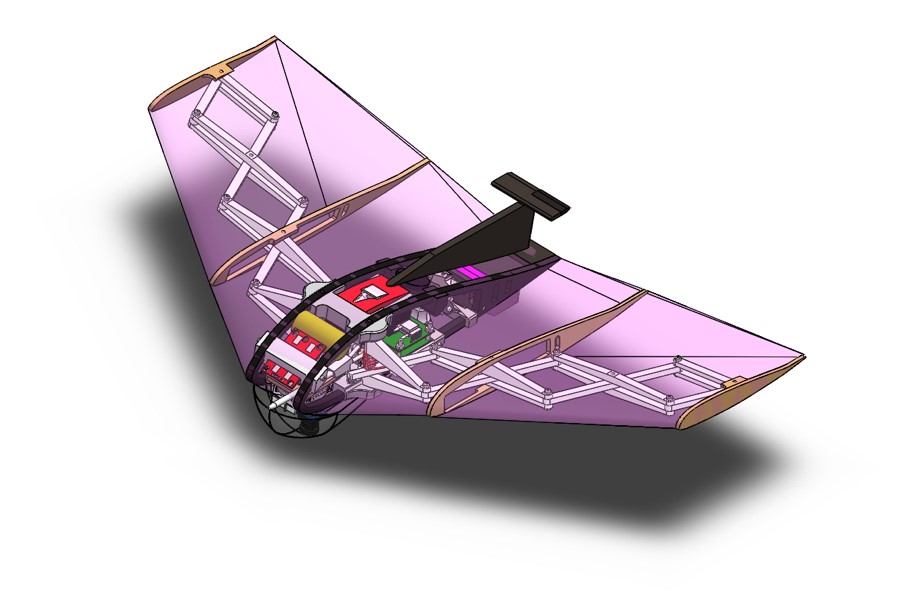 Fig. 2 – 2019/2020 AAS Team.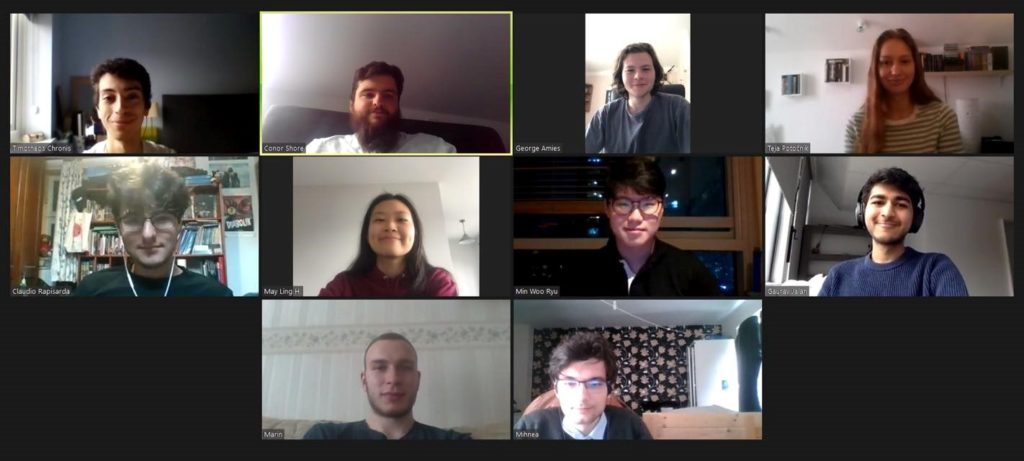 The UK University Competition was founded by the Project in 2018. It is a competition open to all universities in the UK and follows a similar aim to its AAS counterpart — to simulate the engineering project life-cycle in the form of a competition. This year, we have 10 teams from universities across the UK, including Imperial, Southampton, Bristol, and of course, Manchester.
"Each team is multidisciplinary with students from different departments in the faculty"
To join a team representing the University of Manchester, students are able to register their interest in the competition at the start of each academic year and they are then placed into teams of 6 to 8 students. Each team is multidisciplinary with students from different departments including MACE, EEE, Computer Science and more. To support these teams, we run weekly workshops to teach the skills and knowledge needed to build a functioning CanSat, for example, CAD, PCB design, descent control design, and object-oriented programming. Towards the end of the workshops, students build and test their designed CanSats in our George Begg laboratory for the competition!
Fig. 3 – A team preparing to launch their CanSat at the 2019 UK University CanSat Competition.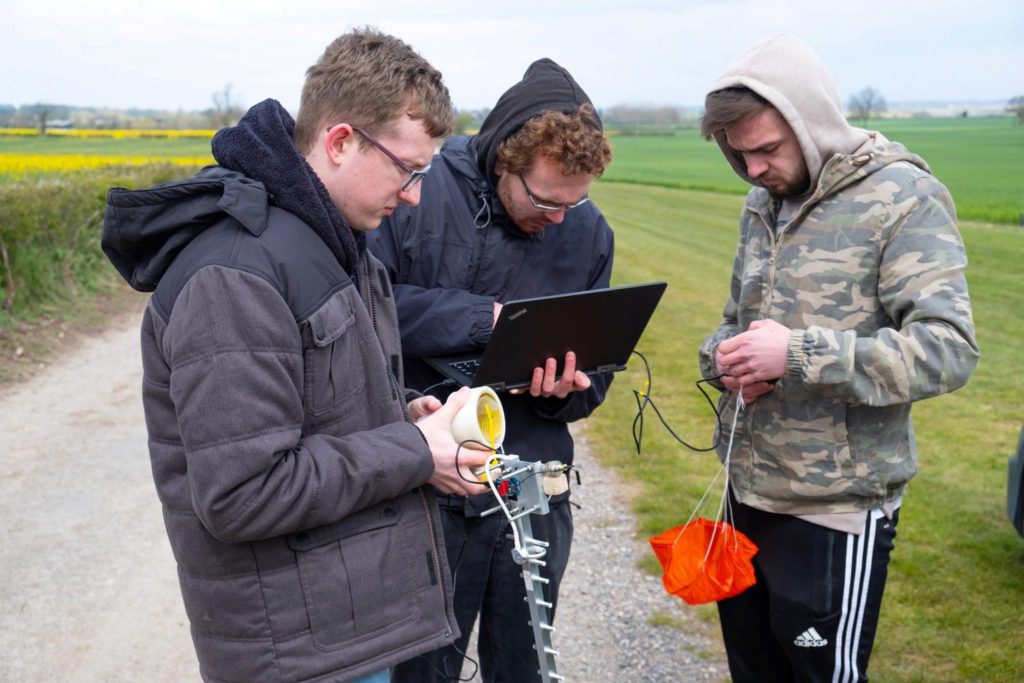 Joining a competitive engineering project or society such as Manchester CanSat Project brings many benefits! Firstly, due to the typically multidisciplinary and diverse natures of engineering projects, you are able to learn topics that are not covered in your own course. For instance, as an Aerospace Engineering student, I was able to gain knowledge about electronics and electrical systems. Some of the knowledge I had gained definitely helped in my understanding of my own modules.
"Joining a competitive, multidisciplinary engineering project or society brings many benefits!"
Furthermore, participants are able to meet students from other courses who share the same interests and work towards a common goal. Often, students never meet others from different departments; societies serve as a great opportunity for students to find friends across the whole university! Some of my closest friends from other courses are those that I have met through societies, and we would not have met otherwise. Moreover, joining a society allows for you to practice and develop your interpersonal skills. These skills range from time management and organisation to teamwork, communication, and leadership; all of which are extremely essential to succeed in any engineering job and industry.
"Getting involved in student-led projects also enhances your employability and CV"
In addition, student-led projects also work to bridge the gap between theoretical knowledge learnt in lecture theatres and the practical skills that can only be gained with hands-on experience. This helps in enhancing your employability levels and your CV, which would definitely set you apart in internship or job applications and interviews. Personally, having had my experiences in the Project, I was fortunate to have received internship offers from Rolls-Royce and Airbus for 2020. Both companies cited my involvement in Manchester CanSat Project as something that differentiated me from other candidates, and they were impressed by the work I had undertaken.
"I would definitely encourage students to get involved in an engineering society!"
Finally, my favourite benefit of joining a competitive engineering society is being able to travel to different places, both in the UK and internationally! In 2019 I visited many different places for the very first time; I went to Epsom and Twycross in the UK, and Texas in the USA and got to meet and befriend so many people from all around the world. One of the highlights of my time in MCP has got to be arriving at the Dallas Fort Worth Airport after an 8 hour flight from London and going on a 3 hour road trip to Stephenville where the 2019 AAS CanSat Competition was held. It was my first time in the USA and experiencing their food (everything is bigger in Texas; their large drinks were the size of buckets), their accents (I once heard "y'all" being used five times in a single sentence), and their weather (it was very hot and humid) is something I'll never forget!
Fig. 4 – The 2019 AAS Team in Texas, before our CanSat was launched!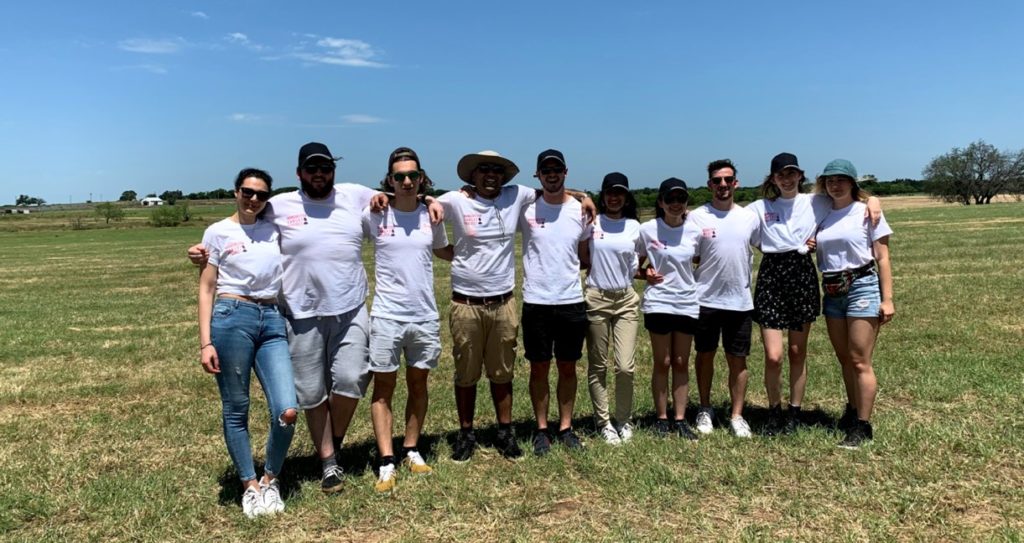 Fig. 5 – At Midlands Rocketry Club in Twycross, where we tested our rockets to be used for the 2020 UK University CanSat Competition.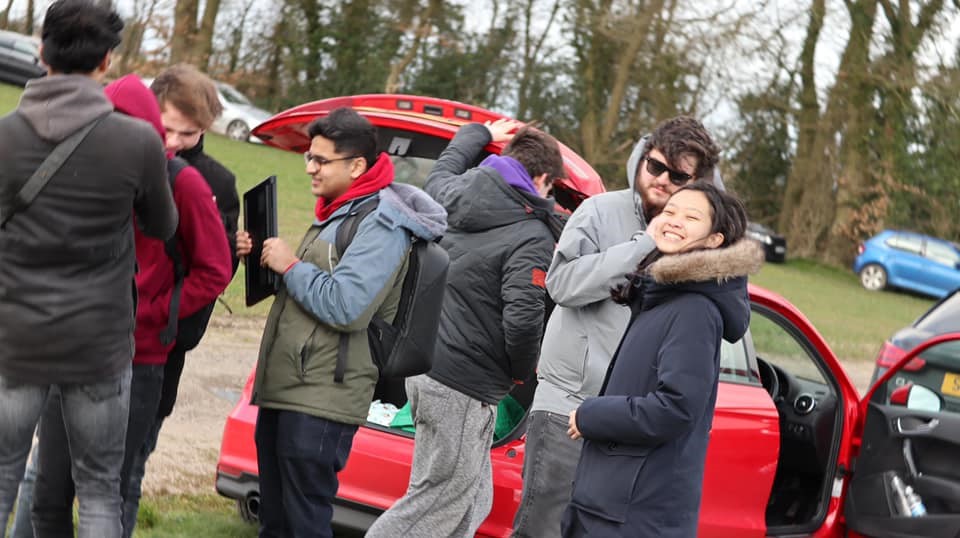 Currently, due to the pandemic all of the Project's activities have been moved online, including preparation for the 2021 AAS CanSat Competition. However, all efforts have been made to ensure that activities are run to a high standard. Of course, as majority of the Project is practical, the MCP and MSDG leaders are constantly looking for ways to allow participants to experience and gain practical skills in a safe way.
All in all, my time in Manchester CanSat Project has been invaluable, and I would definitely encourage other students to join a competitive engineering society! Feel free to also check out Manchester CubeSat Research Group, another student-led project within Manchester Satellite Development Group, and other societies that participate in competitions, such as the UAV Society, the Flight Simulation Society, and Manchester Stinger Motorsports (formerly known as Formula Student).
Hear from more of our students in the student experience section of our blog.
And read more about the CanSat team's success on a previous blog post.