Manchester Mathematics student's extraordinary drive recognised at House of Lords
Student experience 11th August 2022
University of Manchester mathematics student, Jesy Luyengi was part of 22 students who were recognised at the fourth annual Student Social Mobility Awards for defying the odds to achieve outstanding success as they prepare for life after university.
Jesy is studying mathematics with financial mathematics in Manchester and was recognised with this award win due to a raft of high-profile activities undertaken whilst studying.
Each year, the Student Social Mobility Awards are organised by the social mobility charity upReach to showcase the incredible achievements of undergraduate students alongside the contributions of organisations and individuals striving to improve social mobility across the UK.
This year's awards were announced during a prestigious ceremony at the House of Lords, which was hosted by Baroness Helena Kennedy QC. The winners were celebrated for their grit, resilience and determination to succeed.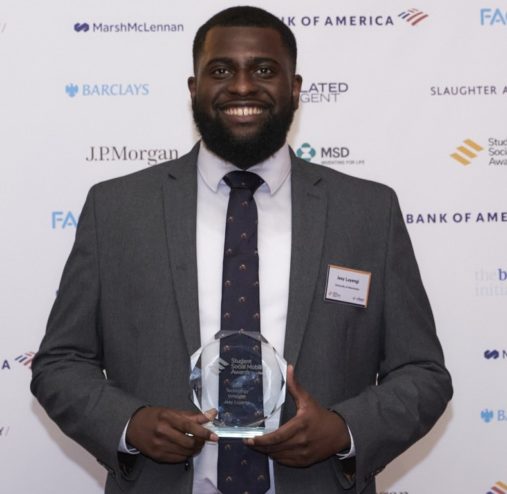 Speaking on his award success, Jesy said: "In terms of how I feel, I feel proud and overjoyed. I am grateful for the recognition of my work and blessed to have the opportunity to attend the House of Lords and connect with fellow change-makers within the social mobility scene.
"What comes is next to take the opportunities that follow with an open mind and see what comes out of them. I will see where I can help support people that look like me and come from similar backgrounds to myself. I am involved in several projects this coming academic year and I am excited to see how they unfold."
As well as his studies Jesy has acted as the National Finance Director of The 93% Foundation, the largest state-educated social mobility network. Jesy also the participated in the pilot for The University of Manchester's 'Manchester 10/10' programme where we look to narrow the attainment gap at the university between Black students and their peers.
Jesy was also awarded the prestigious Stephen Lawrence Scholarship by Freshfields Bruckhaus Deringer law firm, which is designed to address the disproportionate under-representation in large commercial law firms and other City institutions of black men from less socially mobile backgrounds.
All student winners and nominees have managed to find success despite facing socio-economic challenges, such as limited professional networks, juggling multiple responsibilities alongside studying, reduced access to careers support and living in areas with low job prospects. 67% of nominees were the first in their family to attend university, 21% had caring responsibilities and more than half were eligible for free school meals.
Stephanie Lieber, Acting CEO at upReach said: "upReach is proud to have hosted the fourth annual Student Social Mobility Awards and shone a spotlight on both students who have excelled, and the organisations that have paved the way for them to do so. Having overcome significant socioeconomic barriers and mitigating circumstances, these winners and nominees serve as inspiring role models for those from similar backgrounds, encouraging them to set their ambitions high and realise their full potential."
This blog was originally posted on The University of Manchester central website. Click here to view the original article.
department of mathematicsmathematicsstudent experiencestudent successundergraduate
Related posts