Meet our alumni – Hannah
Making it count 15th February 2021
Hannah Levell from Newcastle-under-Lyme, graduated from the Department of Mathematics in 2018 and is putting her degree into practice by training to be an accountant at PwC.
Hi Hannah, can you tell us about what you studied at the University of Manchester?
I studied Mathematics with Financial Mathematics. The majority of my modules were maths based, with a couple each year focused on finance and accounting.
What did you enjoy most about the course?
I really enjoyed the breadth of content as well as the choice available on the course, especially being able to choose the majority of your own modules. After completing fundamental modules, you get a feel for the type of maths you enjoy and can focus on that area. The ability to do practical courses such as maths in education, applying and teaching maths in real situations as well as programming (learning R and Python) were also really big positives for me.
And the wider University?
Living in halls during my first year was a great experience where I met so many lovely people. The Uni is really open with lots of green space, which is great in summer, and the museum on campus is definitely worth checking out.
With so many concert venues and clubs both on and off campus there is always events on and something to do. There are also so many societies, both educational and for leisure, it was great being able to try some new activities which I'd never had the opportunity to do before.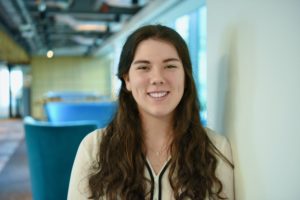 What are your thoughts on Manchester as a city?
I loved living in Manchester during Uni and ended up deciding to stay. Manchester is an amazing city, there are always so many events happening and new things to get involved in. The city is filled with great restaurants and shops, as well as an abundance of entertaining nightlife venues from Jazz and cocktail bars to clubs.
Can you tell us a little about your career post-university, and the role you're in now?
I started in my current role shortly after graduating. I work at PwC in Audit, specialising in Pension and Share Based Payment schemes, where I'm currently training to be a qualified accountant.
How did your time at The University of Manchester help with this? (course, careers team etc.)
In my final year at Uni there were many events held with the careers team where we were able to meet and talk to professionals, getting an idea of the types of jobs available as well as what they entailed. This really helped me in deciding what I wanted to apply to.
The careers team were also amazing in helping with interview preparation, allowing me to practice interview technique and gain confidence for my applications.
What would you say to people considering coming to The University of Manchester to study?
It's a great University with lovely people in an amazing city. I absolutely loved my time at Manchester and would definitely recommend to anyone considering it!
Connect with Hannah on LinkedIn
accountinaccountingcareercareerscityfinancialfuturegradautegraduatinghannahlevelllifeManchestermathematicsmathsopportunitypensionpwcqualificationsschemesstudent lifestudentsThe University of Manchesteruniversity life
Related posts