Barrie Chaplin: Remembering a prolific Manchester alumnus and electronics pioneer
Heritage 13th January 2022
The aftermath of the Second World War is widely considered a golden age for modern electronics – and some of the brightest sparks were found here, in Manchester.
It was here that Tom Kilburn, FC Williams and Geoff Tootill built the world's first stored-program electronic digital computer, the Baby, and where the 'father of modern computing' Alan Turing worked on software for one of the earliest true computers: the Manchester Ferranti Mark 1.
It was also where G B B 'Barrie' Chaplin – who passed away last year, age 96 – would become another leading light in modern electronics.
Here we take a look at his creativity, inventiveness and prolificacy – and remember his enduring impact.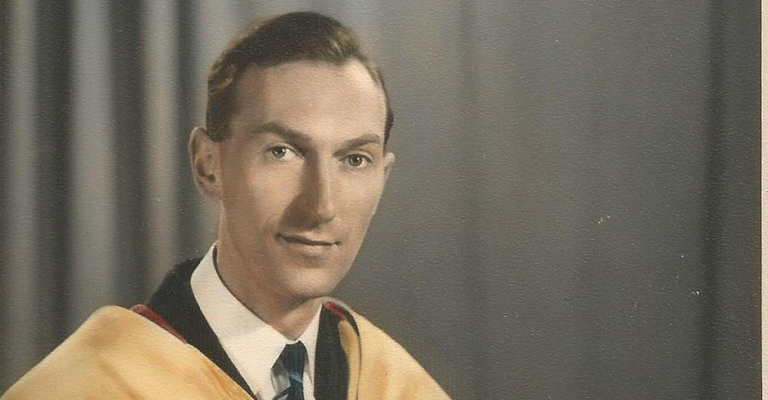 Made in Manchester
Born in 1924 and raised, similarly to Williams, in the Stockport village of Romiley, Chaplin first arrived at the University in 1947. He would go on to receive a first-class honours BSc in electrical engineering here in 1950, followed by an MSc in 1951, and PhD in 1953.
During this period, Chaplin benefitted from daily contact with those giants of modern computing – Williams, Kilburn, Turing – who supported his innovative research into transistor circuits and computer design. The output of this pioneering work would be the creation of the world's first transistorised digital computer.
He was at the University as it blazed the trail in modern computer development. This was an evolution that moved from the Baby design to the Manchester Mk 1 (commercially manufactured as the Ferranti Mk 1), and to the Manchester Mk 2 (better known as Meg, or Megacycle Machine, and commercially produced by Ferranti – a company with which Chaplin had a strong association – as Mercury).
Manchester was a real hotbed of invention – and the young Chaplin would continue to generate important breakthroughs of his own.
Tomorrow's world, today
He was granted a great many patents throughout his life (55 identified to date) with several featured on TV, including on the massively popular, long-running science magazine show Tomorrow's World.
Having served in the Royal Air Force as a radar mechanic during World War 2, Chaplin was able to create early crude transistors at Manchester using the point-contact crystal diodes he salvaged during his service. He also had the foresight to spot the real potential of the transistor: that it could lead to the creation of integrated circuits.
These circuits remain vital to our everyday lives. Your computer? Phone? TV and radio? Many still use them today.
Another key breakthrough was the development, throughout the 1980s and during Chaplin's time at the University of Essex, of electronic self-adaptive sound and vibration cancellation techniques. Again, it's a technology widely used to this day – especially in noise-cancelling headphones – and remains invaluable across many environments, not least on ships, submarines and aircraft.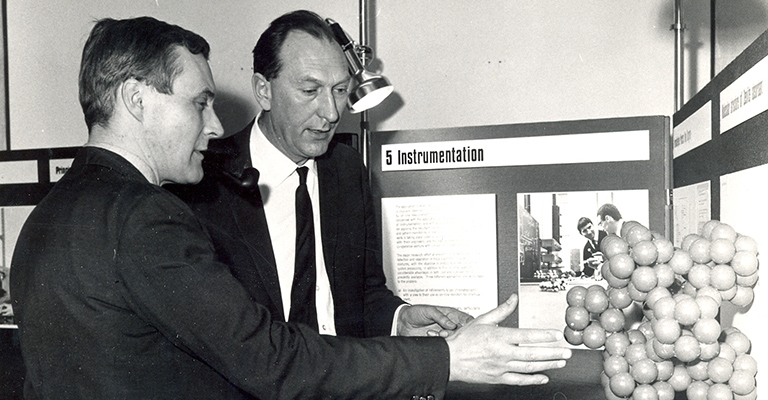 Known and sought
Chaplin's life was packed with notable achievement, and his expertise was sought by institutions and businesses around the world.
He consulted for the Ministry of Defence, for example, on various applications linked to sound and vibration cancellation. They included efforts to reduce the sound and vibration signatures of submarines and torpedoes, and to limit the mechanical vibration of helicopter rotor heads.
Another invite arrived from eminent science fiction writer Arthur C Clarke. Known as 'the prophet of the space age' and co-writer of the screenplay for the hugely influential Stanley Kubrick film 2001: A Space Odyssey, Clarke wrote to Chaplin after hearing about his anti-sound research.
In the letter, Clarke explained how he had previously written a short story about an anti-noise machine used by a concert audience member to silence an orchestral performance, and even invited Chaplin – who was unable to take up the invite at the time – to his home in Sri Lanka.
In 1979 Chaplin's knowledge was sounded out following the tragic Air New Zealand Mount Erebus disaster, in which 257 people were killed. He and his team analysed data from the aircraft's black box, providing invaluable support to the crash investigation.
His diversity of invention also saw Chaplin develop (from initial ideas conceived alongside colleague John Gedye) an electronic system for detecting and mapping glaucoma eye disease in hospital patients. His work with the Atomic Energy Research Establishment (AERE) in Harwell, moreover, saw him and Manchester colleagues Alwyn R Owens and Roy E Hayes apply transistors to electronics and computing in the UK's evolving nuclear energy programme.
This early work would establish an important relationship between Manchester and AERE Harwell that has gone from strength to strength, and is represented today as The University of Manchester at Harwell.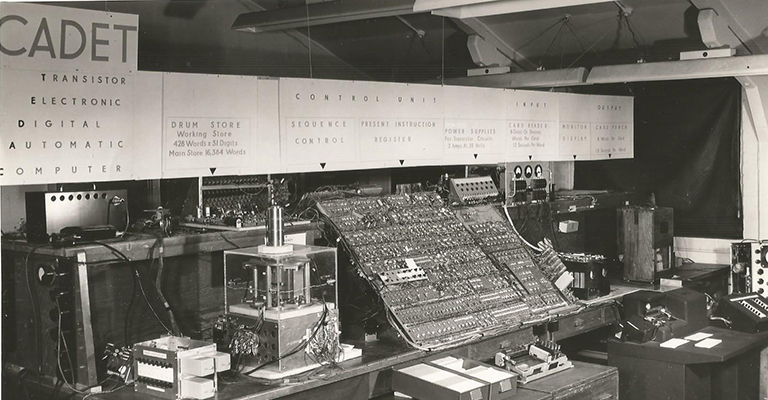 Inspiring young engineers
Just as he promoted greater collaboration between academia and industry, Chaplin also encouraged the skills development of young people – hoping to realise the huge potential of electronic engineering.
After devising an electronic systems A-level in 1969, Chaplin struggled to gain its approval from a Schools Council that deemed engineering too vocational. He received, however, support from Lord Mountbatten, the royal family member, well-known statesman and then-chairman of the National Electronics Council.
This working friendship helped Chaplin to finally convince the Schools Council to alter its stance. A trial class successfully completed the course in 1975 and in 1979, ten years after Chaplin's initial recommendation, the body approved the A-level for the UK's broad national school curriculum.
It represented yet another groundbreaking achievement, and further amplified the legacy of an electronics pioneer who did so much, created so much, and whose contributions continue to help so many, to this day.
Be sure to subscribe on our homepage to keep up to date with all the latest posts from The Hub.
Words: Joe Shervin; information provided by the family of Barrie Chaplin
Images: The family of Barrie Chaplin
Related posts