Public Engagement, Palaeontology and 'Purls of Wisdom': an interview with Elspeth Wallace
The next step 2nd April 2020
Elspeth Wallace is a PhD student in Palaeontology with Earth and Environmental Sciences at the University of Manchester. Alongside her studies, she works as the Education and Public Engagement Officer for iCRAG, the Irish Centre for Research in Applied Geosciences. I asked Elspeth about how she obtained the position at iCRAG and how she manages work and study. She told me additionally about her yarn-based initiative to raise awareness of climate change and sustainability: Purls of Wisdom. First and foremost, I had to ask how the job role had changed due to recent circumstances relating to COVID-19.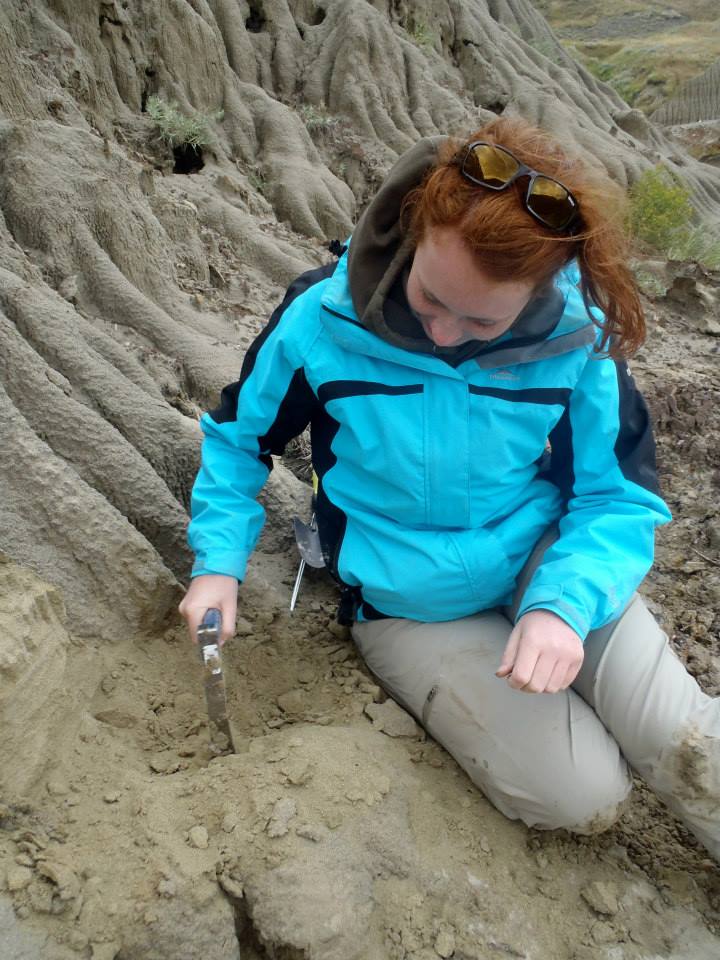 How has your day job changed in response to the new working conditions in this national emergency? How do you cope working from home – do you have any tips for others?!
With COVID-19, face to face engagement has ground to a halt. It's disappointing when projects you've worked on for months get cancelled or indefinitely postponed and being a little down about it is only natural. Being stuck inside (and currently in a different country from my colleagues!) isn't stopping us from developing some brilliant activities though! Where we can, and where it's appropriate, we're taking our activities online. For example, our Purls of Wisdom Climate Crafting project (in which you knit/crotchet/craft the temperature stripes for your area) is a perfect activity for people to get involved in at this time as you don't need to leave your house for it. Also, we're working on creating videos to bring a new online careers guidance/career information aspect to our Girls into Geoscience – Ireland programme. There's no doubt that we're in a challenging position right now, but we're also at a point where we can let our creativity flow to help keep the public engaged in science!
What A levels did you study?
I studied Geography, History, Maths and Physics at AS-level and dropped Maths for A2. When I chose my A-levels, I wanted to be an astrophysicist, but I very quickly realised that I didn't like Maths or Physics and I wasn't very good at them either! When my AS results came in, I had to re-think my plan to study astrophysics and decided to look at what I really liked and was interested in. For me, this was geography, but not the human side of things. The Geography/Geology degree at the University of Manchester was a no-brainer!
Which degree programme(s) did you study at Manchester, and at what level?
I actually studied for two degrees at Manchester. I studied for a BSc in Geog-Geol, through which I developed a passion for palaeontology and science communication. I decided to take an MPhil (kind of like a MSc, but without the mandatory lectures, it's basically a year-long research project) in Palaeontology which was perfect for me as I got to do some brilliant field work alongside visiting some amazing museum collections.
What outreach/public engagement activity did you become involved in during your studies? How did you get involved with this?
Whilst I was at Manchester, I was involved in lots of public engagement activities. Before I left for my job in Ireland, I was heavily involved in public engagement work! I was first invited to do engagement activities at the University of Manchester Museum with Mandy Edwards (1st year coordinator) which was really enjoyable and a great way to engage different groups of people with the work we do at Manchester. This led to participation in bigger events like the Royal Society Summer Science Exhibition in 2014 and the Cheltenham Science Festival in 2015 with the Interdisciplinary Centre for Ancient Life (ICAL) team. When I moved to Masters and PhD level, I graduated from helping out to designing and coordinating ICAL stands at science fairs like the Daresbury Laboratories open day, and Science X at the Trafford Centre. A great programme I was also involved in was the Widening Participation Fellows scheme, through this I developed a series of engaging workshops for groups in the local area. The scheme is open to research students and I would recommend anyone interested in public engagement get involved!
What is your current job title, and what does your day job involve? Does it stem from the outreach and public engagement work you took part in at UoM?
I am the Education and Public Engagement Officer for iCRAG, the Irish Centre for Research in Applied Geosciences. I manage two of our four education and public engagement (EPE) programmes, Earth Science Education and Geocareers. Our programmes involve lots of varied activities so my days at work are rarely the same! A lot of my work will involve meeting people, whether it's our researchers to discuss how we can make their work accessible through our EPE activities, or meeting partner organisations to collaborate on an activity, or even artists to develop science-art crossovers. After developing activities, delivering them is always great fun. This involves being flexible as some activities need to take place on evenings or weekends to enable your target audience to attend. Some of the weirdest moments on the job have come from preparing for these activities. For our Girls into Geoscience – Ireland event, my colleague Emma and I spent an hour filling a gutter pipe with cake to demonstrate how geology cores work (we sterilised the pipe first!). It was a memorable day for our participants! One of my favourite parts of the job is being able to travel across Ireland to deliver EPE activities. One weekend we could be in Mayo delivering a teacher training session, and the next week we could be in Clare leading geology walks or visiting schools.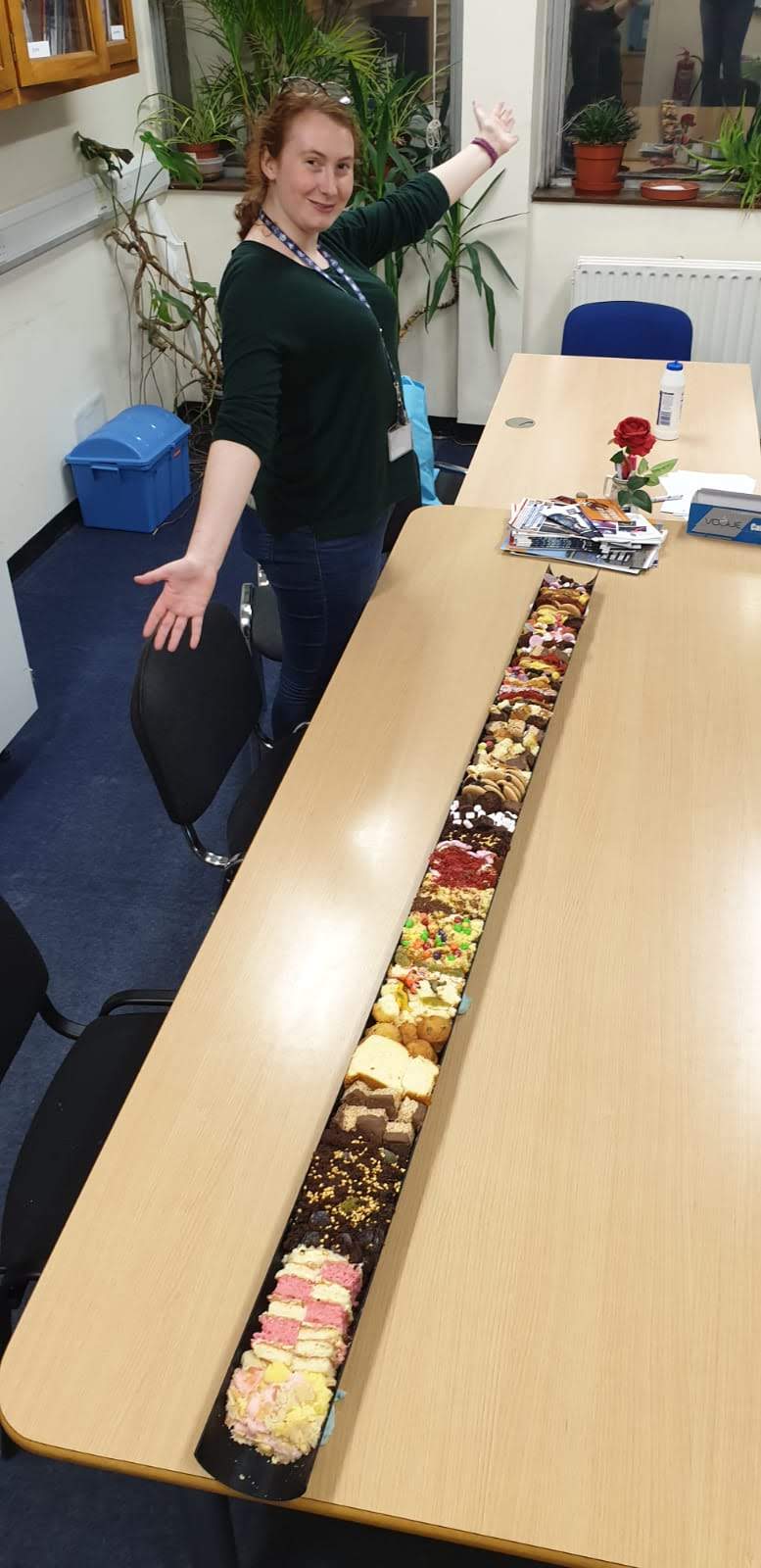 I'm very grateful to UoM staff like Mandy Edwards and Phil Manning for exposing me to the Science Communication world. My interest in doing a job like this definitely stemmed from my time at Manchester doing public engagement work. Without the exposure gained from participating in activities at Manchester, I don't think I would have known that a job like this existed! These jobs remain quite rare though, so I know I'm very lucky to be in the position that I am!
What qualifications and experience did you need to secure your job and where did you see it advertised?
For my job, I needed experience in public engagement. It was helpful to have a degree in Earth Sciences, but not a requirement. The best skill you can have for the work I do is the ability to communicate, the researchers do the science and I work with them to make their science accessible. I actually saw the job advertised on Twitter. I don't think the advertisement came directly from iCRAG, I think I saw it tweeted by chance and I decided to have a go! As a 24 year old PhD student, I felt very underqualified and looked on the application as more of an exercise in gaining experience rather than a job that I could get, so I was very surprised when I was invited to interview! I think underestimating yourself is a mistake that lots of people, particularly women can make. Have confidence and you could get your dream job!
Are you continuing to study alongside work? What are the challenges of doing this?
I am studying alongside working. It's really hard. When I moved to Ireland to take my job, I went part time on my studies with the intention of studying during evenings and weekends. I very quickly discovered that this is just not possible. You need to have a life, you need to have hobbies, you need to have downtime! I still work on my PhD when I can, but I've had to take an extension because I simply don't have time to work a full-time job and study at the same time. Alongside time management skills, you also need to exercise self-control and stick to your study schedule. I've found this the hardest aspect as I have lots of hobbies! I'll get there eventually, though!
What is the impact of your work?
At iCRAG, we have three aims for our Education and Public Engagement (EPE) work:
1. Empower Irish publics to make informed decisions about the Earth's resources and changing climate.
2. Enhance public understanding of Earth's resources and earth system change.
3. Engage the publics such that our research is influenced by, and shared with, the publics for mutual learning.
All the work we do is based around satisfying these aims. I've been at iCRAG for 10 months now and in that time I've engaged with many different groups, from primary school children, to teachers, to adults with no prior knowledge or even interest in the sciences in some cases. I feel confident in saying that our EPE work is making a difference. It is having a tangible impact on the understanding of geoscience in Ireland and will play a key role in preparing the publics to make key decisions (surrounding the geosciences) necessary to secure our sustainable future.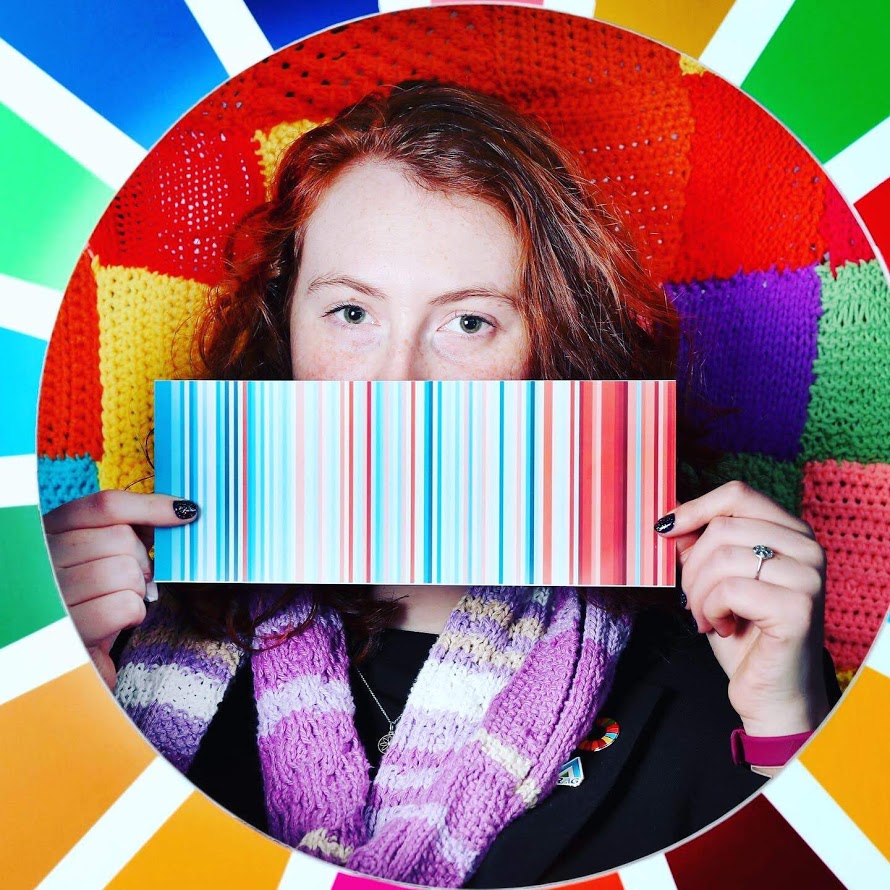 You can follow Elspeth on Twitter @elspethpalaeo
Her project, Purls of Wisdom, was featured in the Irish Times and an Instagram account linked to the project can be followed here soon: @purlsofwisdomclimatecrafting
More information about iCRAG can be seen here.
Interview conducted by Jemma Stewart.
GeologyICALiCRAGpalaeontologypublic engagementPurls of Wisdomstudy
Related posts