Meet our alumni: an interview with Niall Maguire
The next step 13th May 2020
Niall Maguire is a recent graduate from the MEarthSci programme at UoM's Department of Earth and Environmental Sciences. Niall now works as a Graduate Consultant in Site Evaluation and Restoration for Arcadis. We caught up with him to find out how he secured the role and what the job involves…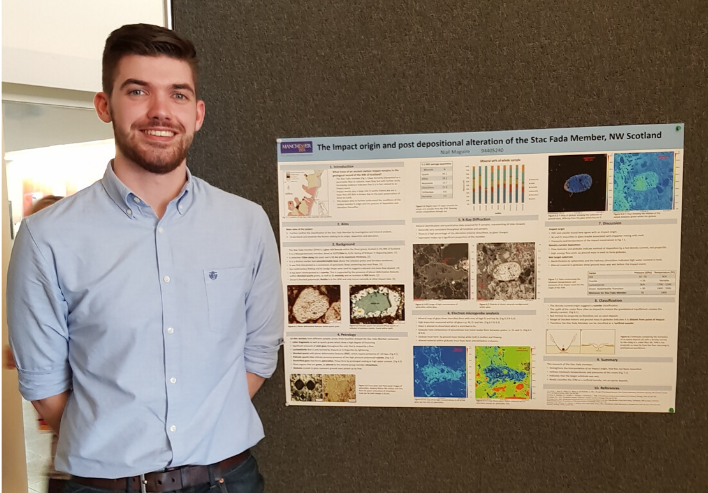 What A levels did you study?
I studied Maths, Physics, Chemistry and Geography at A-level. I was always interested in science subjects but was especially keen on the natural world. Unfortunately, my school did not have the option of geology at A Level, but looking back I would not change my choices as I loved learning all of them.
Which degree programme(s) did you study at Manchester, and at what level?
I studied the integrated Masters of Earth Science (MEarthSci) at the University of Manchester from 2014 until I graduated in June 2018. This followed the Geology pathway with the final fourth year consisting mostly of an independent research project. This included completing an independent mapping project in my third year and my fourth-year research project on the potential meteor impact origin and subsequent chemical alteration of a geological rock member in the North West of Scotland.
What is your current job title, and what does your day job involve? How does your degree link to this role?
My current job role is a Graduate Consultant as part of the Site Evaluation & Restoration department of Arcadis. I have been working with Arcadis for a year after spending several months working with a ground investigation drilling contractor. As a geo-environmental consultant, I work with environmental and earth related problems as part of the wider environmental division of Arcadis.
What qualifications and experience did you need to secure your job and where did you see it advertised?
The role at Arcadis requires an undergraduate degree in a relevant subject but also experience in data gathering and analysing, as well as interpersonal and communication skills. Following my graduation, I knew the sort of company and discipline I wanted to work in and so searched for related terms for graduate roles online through search engines and job websites like LinkedIn, Reed and Indeed. I noticed that a lot of larger companies had the majority of graduate roles listed on their own website rather than on other services, and this is how I found the Arcadis role advertised. After the initial application of a CV and questionnaire, I completed an online assessment followed by a recorded video interview and an assessment day.
What is a typical day in the life of a Graduate Consultant in Site Evaluation & Restoration?
Day to day work can vary massively within this role. I have been lucky enough to work on a range of projects since I started, including site investigations which include a range of tasks such as utility surveying, drilling, ground water monitoring and sampling. I have worked on slope stability studies on chalk cliffs and large jobs on decommissioning and the demolition of former industrial sites. I therefore have a mix of being on sites across the UK doing field work and being in the office doing the desk studies and follow up work. It is fascinating to work for clients from such a range of sectors such as petroleum, chemical, pharmaceutical, automotive, infrastructure, government and many more.
What is the impact of your work?
The Arcadis motto is 'improving the quality of life' and I genuinely feel that is the ethos of the teams I work with. As part of the environmental department we are acting to protect land and restore it so that we leave a better place for the generations to come. As Arcadis has such a range of disciplines it is also great to have experience of differing fields. This paired with the need for problem solving makes every day interesting.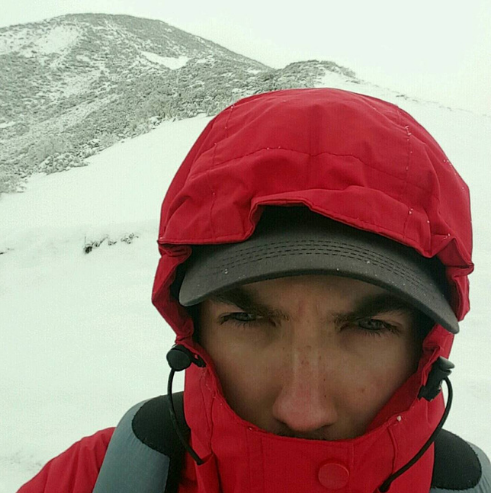 You can view Niall's LinkedIn profile here, and find out more about Arcadis UK on LinkedIn here.
Careerchalk cliffsdata analysisdecommissioningdrillingfield workgeo-environmentalGeologyground water monitoringground water samplinginterpersonal skillsprotect landslope stabilityutility surveying
Related posts