International Women's Day 2021: Dr Sarah Crowther
Meet the Department Research and impact 4th March 2021
To celebrate this year's International Women's Day on 8 March 2021, we are sharing inspirational stories from staff and students across the Faculty of Science and Engineering, showing what they #ChooseToChallenge in their roles at the University.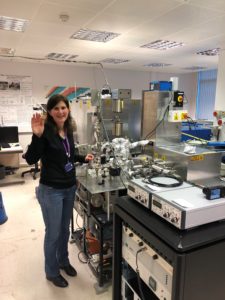 "I was always encouraged to follow my interest in science, both at home and at school, and I want to encourage other girls to follow their interests too." 
Sarah Crowther is a Research Fellow in the Department of Earth and Environmental Sciences. Her fascinating work with extra–terrestrial materials is out of this world – and she's keen for other women to reach for the stars as well. 
An early love of science
After completing an MChem (master's) and DPhil (PhD) in chemistry at the University of Oxford, Sarah's lifelong interest in science would lead her to the Isotope Geochemistry and Cosmochemistry Group at Manchester.  
"It enabled me to combine an interest in space that I'd had since I was a child, with the skills and knowledge I'd learnt studying chemistry at university, and to apply the experimental techniques to a different field," she explains. 
"I analyse small pieces of extra-terrestrial materials (including meteorites and samples from the Moon collected by the Apollo astronauts) in the lab and measure the composition of gas trapped in them, to help us understand more about the history and evolution of the Solar System.  
"A lot of my work is age-dating meteorite samples from asteroids, from which we can understand the timing of physical processes in the early Solar System. This job enables me to use some of the knowledge and experimental techniques I learnt during my degrees and apply them to a slightly different research area." 
Bridging the gender gap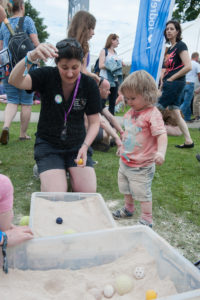 Encouraging more girls and women to engage with science is a particular passion of Sarah's. She expounds: "I lead our research group's public engagement activities, organising our participation in a wide range of events, from Bluedot Festival to school visits. Our goal is to engage people of all ages, genders and backgrounds, to stimulate interest in our research and the wider field of planetary science.  
"The majority of our audiences are children and young people, most of who are really excited to hold a piece of the Moon or Mars in their own hands. If we're able to engage the whole family that can encourage greater and lasting impact.  
"I think it is the responsibility of everyone working in a STEM role (male and female) to ensure female scientists are visible to girls and young women as role models, to help them discover and explore the types of careers in science that are open to people like them, and people with their skills and interests.  
"Around half of our research group are female, which puts us in a great position to inspire young women to study STEM subjects, by presenting role models they can identify with." 
Shifting mindsets
"Unfortunately, women still only make up less than 25 % of the core STEM workforce," Sarah observes. "Only about 20% of A-Level physics entries are girls – the number has been constant over the last 20 years and decreases even further at degree level." 
One event helping to shift mindsets and challenge preconceptions is Girls' Night Out at Jodrell Bank. A twice-yearly event celebrating women and girls in STEM, it takes place every autumn and spring, following a different theme each time. 
"Whenever possible I take part in events like Girls' Night Out at Jodrell Bank, and encourage other members of the research group to get involved with these events too. Events like this are targeted at girls and women and aim to give them the opportunity to follow their interests and learn more about these subjects in an informal setting." 
Even from a young age, the subjects Sarah enjoyed most were science-based. Now an experimental scientist, spending much of her time in the lab, she is leading the way as role model for young girls just starting out on their science journey. 
Discover the other women from the Faculty of Science and Engineering who are taking part in our International Women's Day Choose to Challenge campaign. 
Words: Joe Shervin 
Interview: Enna Bartlett
Find out how others throughout the Faculty of Science and Engineering are 'choosing to challenge' this International Women's Day.
AcademicAcademic InterviewbluedotEarth and Planetary Sciencegender inequalitywomen in environmental sciencewomen in stem
Related posts