International Student Profile: Balaji Lakavath, India
International student profiles 22nd August 2019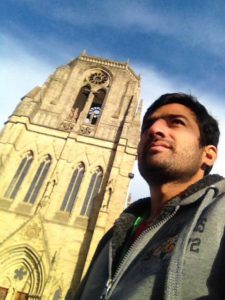 Balaji Lakavath is a second year PhD student from Hyderabad, India.  Professor Nigel Scrutton is supervising his PhD project "Biophysics of light activated proteins."
Please give a brief summary of your PhD project.
Natural light activated proteins offer many advantages in developing deep understanding of enzyme mechanisms. In this project I will interrogate reaction mechanism of a newly discovered light activated enzyme using time resolved and structural approaches. Key questions will focus on how the natural cofactor is set up in the protein active site to capture photons and excited state chemistry towards the desired catalytic outcome. I will develop laser spectroscopy methods to optically probe reaction mechanism across a variety of timescales (femtosecond through to second) using ultrafast and standard photolysis approaches and link this to structural programmes and computation.
What did you do before undertaking your PhD?
I completed my MSc in Medical Sciences and continued my research work in the field of bio optics during in the spectroscopy laser lab at the School of Physics in The University of Hyderabad. I'm very much fascinated with bio-physics particularly their applications in the biomedical field.
Why did you decide to undertake a postgraduate course?
I have always been interested in discovering how things work with respect to Sciences. Then I had a chance to do some original research on my masters and that inspired me to take up the challenges of a PhD abroad.  I have enjoyed my academic work so far. Undoubtedly I am very much fascinated with biophysics and biochemistry particularly their applications in biomedical field.
Why did you choose your degree/project/supervisor?
My primary motivation is that university and faculty research profiles are well matched with my research interests and their research laboratories are well equipped with research facilities, so my PG research work and 2 years research experience provoke interest to pursue doctoral studies. Actually I did a rigorous research on finding the potential laboratories and research faculties within various Indian institutions where my research interests would match but unfortunately I could not come across research faculties whose primary interests are matched with my research interest and mostly my former supervisor strongly recommended me to join The University of Manchester
Why did you choose Manchester?
Actually I feel study abroad is a challenging life experience and it is a lifetime opportunity. Mostly I will have the opportunity to study subjects not available in my home country and I can practice and develop my language skills.   I will also the have chance to meet new friends from around the world, and I can share my country culture with them.  I feel everything is an opportunity to learn and to share our cultures with each other.
What are facilities and resources like in the Faculty?
The staffs are really friendly and helpful. There are well-established research laboratories with scientific instruments.
How do you think studying here will help your future prospects?  What are your future plans?
I choose my career as a researcher.  I intend to establish a research laboratory and work as an independent researcher to pursue my research interests. After the doctoral studies, I prefer to do post-doctoral studies at any well-established research laboratory and there after I would like to join in an Indian Institute to work both as independent researcher and I would like to work as a teacher to inspire young people those who are interested in research. At a research faculty at an Indian institution I will give best of my contribution to the science in the form of research publication.
What do you like about the city of Manchester?
I did some research online and I found out that Manchester is an international city. It is one of the biggest cities in the north of the UK they have a very famous football club,  Manchester United and I am a big fan of it and people are more friendly. Manchester is a metropolitan city in Greater Manchester, England. I have been interested in British culture and I wanted to study in the UK for a long time and I am planning to visit a couple of places in the UK as well. Also I am planning to travel to a few places in the UK like visiting places and I'm planning to travel to few universities to attend seminars and conferences.
Related posts