International Student Profile: Zaid Al-Alawi, Sultanate of Oman
International student profiles 14th April 2020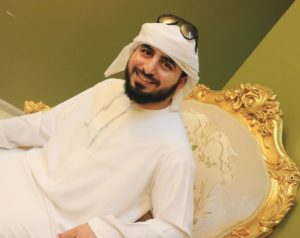 In our latest International Student Profile, we're hearing from Zaid Rashid Saud Al-Alawi. Zaid is from the Sultanate of Oman, in his early thirties, and studying for a PhD in Chemistry.
Can you provide an overview of your research in layman's terms?
My research is in the Quayle-Yeates group at University of Manchester and it is concerned with the identification of new stabilisers for the stabilisation of graphene in aqueous systems. We have prepared a variety of amphiphilic molecules and tested their ability to stabilize aqueous graphene suspensions.  This is a multidisciplinary investigation requiring input from synthetic, physical and theoretical chemists, with the ultimate aim of optimizing stabilizer efficiency for aqueous graphene dispersions.  Such systems have a range of potential sensing applications which are currently under investigation.
Why did you want to study at Manchester?
I chose to study at Manchester for several reasons:
It is a well ranked University globally and within UK
Manchester is a multicultural city and suitable for Muslims as it has many mosques /local Muslim citizens/variety of Halal food. It is free of racism against Muslims
The university located in a good position between city centre and accommodation
Manchester International Airport is not far from University and city centre
Life is not as expensive and as busy as London
What/where did you study before starting your PhD?
I studied a BSc (Chemistry) and an MSc (Chemistry) in the Sultanate of Oman at Sultan Qaboos University.
What do you enjoy most about studying/researching here?
The variety of research projects in all the scientific fields
The availability of analytical facilities
Free access to E-Journals
24/7 access to the university and department for PhD students
What are your thoughts on Manchester as a city?
There are a number of reasons that Manchester is a good city for everyone, especially for students. It has international airport not far from university. The city centre is close to university about a 15-minute walk from the main campus. In addition, the university is located in between the houses, accommodation and shops so it is not an isolated campus. I think this is far better than an isolated campus where reaching the university is not that easy. I like that Manchester is a multicultural city with different people from different part of the world.
How do you see your time at The University of Manchester helping with your career plans?
Before I started my research at the University of Manchester, I was very excited about exploring the future behind my research and achieving some targets. With time, experience and access to a research environment I have become more and more excited about this. This has added a lot to my future career plan based around academia, research and development.
Has your time studying at The University of Manchester caused you to rethink or alter your career plans?
Yes, the career choices here are very diverse and I have a variety of options to consider.
What would you say to people considering coming to Manchester to study?
Don't hesitate! Make the most of the available resources and opportunities. The environment is rich with opportunities, which can add value to your CV and help you develop your personal qualities.
And outside university… what do you get up to in your spare time?
In my spare time, I like to engage with volunteering services to help my local community. I am also a mentor for some students.
In addition, I enjoy different types of exercise such as going to the gym, boxing and wrestling.
Related posts