International Student Profile: Dukula De Alwis Jayasinghe, Sri Lanka
International student profiles 7th December 2019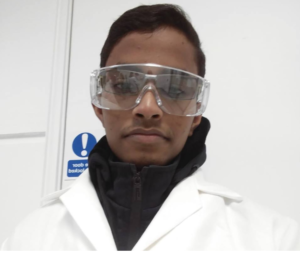 Dukula De Alwis Jayasinghe, from Colombo, Sri Lanka, is a second year MChem (Hons) Chemistry with Industrial Experience student. 
Why did you want to study MChem (Hons) Chemistry with Industrial Experience at the University of Manchester?
The University of Manchester is the birthplace of Chemistry and has a very high reputation in the field. After all why not study the subject I am most passionate on at its birthplace?
Manchester also offered me the opportunity to take part in an industrial experience during my third year of the study. This is extremely valuable for me as it would allow me to understand the work place properly before I graduate which is highly valuable for employers.
What do you enjoy most about the course?
I have two points to make. One, the course is very balanced. We learn the theory during the lectures and then apply what we have learnt in the practical labs. For a chemist, I think the balance is highly required to excel in the field. Second, the lecturers are very supportive and the wide range of resources available for the program helps one to be thorough with all content in the course.
What do you enjoy about the wider university?
The best thing for me was the fact that the university has a large number of international students. There are a lot of activities organised by the international society and this helped me to get to know many friends from different cultures and backgrounds.
What are your thoughts on Manchester as a city?
I love the range of FOOD available. Amazing!
Lots of things to do in your leisure time, everything is very close to the university; from film theatres to historical museums!
What did you study immediately before starting your course?
Cambridge A-Levels; Mathematics, Physics, Chemistry, Marine Science & Psychology
How do you see your time at the University of Manchester helping with your career plans?
It was a real surprise that I had the opportunity to enhance my interview skills and CV from the first year itself. The university have a career link which provides a lot of resources as well as internships.
Has your time studying at the University of Manchester caused you to rethink or alter your career plans?
Yep! I came here on the target to be an environmental chemist, but after studying a module in coordination chemistry, I think I will be combing both fields in my career.
What advice would you give to someone considering coming to Manchester to study MChem (Hons) Chemistry with industrial experience?
The university has a lot of resources and facilities available to students. I think getting the maximum use of these resources and facilities will be very helpful in academic and general life.
And outside university, what do you get up to in your spare time?
Personally, I enjoy a wide variety of things and as I said previously, everything is very close! Whatever the feeling at the time, Manchester will definitely have something to offer.
Related posts