Chemistry on Tour: Site Visit to M&I Materials 2020
Chemistry in the real world 17th March 2020
Jen is the current Student Experience and Employability Intern for the Department of Chemistry. She has recently arranged a trip to M&I Materials for current students to see how a chemistry degree can be used outside University. Here she tells us more: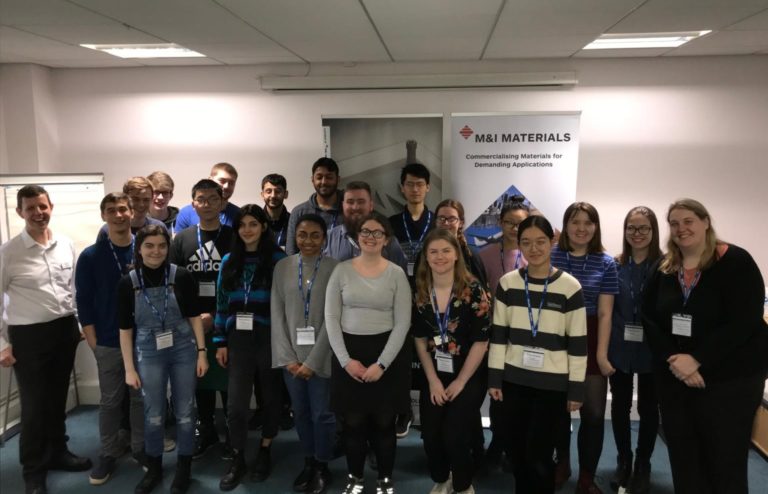 Following the success of last year's site visits, we decided to organise another trip to M&I Materials.
On Wednesday 19th February, a mix of BSc and MChem students visited M&I Materials in Trafford Park for a tour of their site and facilities. Upon arrival, we were greeted by Louise Riley, Marketing and Events Manager, and taken to the conference room. Here were given an interesting talk by Mark Lashbrook, Technical Manager, about the five products M&I Materials manufacture –  APIEZON®, METROSIL®, MIDEL®, MIVOLT® and WOLFMET®.
We then put on our high-vis jackets and split up into small groups to rotate round the five product divisions. Each member of the technical team took us through the manufacturing process from beginning to end for each product. This included MIVOLT, a dielectric fluid which can facilitate faster charging stations for electric vehicle users.
The tours of the manufacturing plant were incredibly interesting and gave students a fantastic insight into how their Chemistry degree can be applied within industry. It also gave students the opportunity to see what life is like outside of a teaching lab and talk to people working in industry.
Reflecting on the experience, first year student Mariam said,"The trip was very rewarding. It provided an amazing opportunity to see the inner workings of the chemical industry and speak to many different specialists and workers. I gained an insight as to possible careers after university and I would definitely consider attending similar trips in the future."
We would like to say thank you to Louise Riley, James Reid, Mark Lashbrook, Penny Livesey, Tom Galvin and Tim Bulman who made this site visit possible.
Related posts