Heritage, passion and skill – why UoM students stand out to employers
Materials World 1st November 2017
The Made In Manchester Careers Fair took place in October and dozens of fashion, textiles and materials science employers came along to meet students from the School of Materials. One thing they were all agreed upon – there's something that makes University of Manchester students stand out from the crowd.
Rich heritage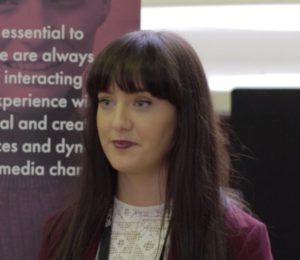 Adam Getty, Sales Manager at textiles company British Millerain, told us that Fashion Business students from the School of Materials had a "genuine interest" in the textiles industry. "They have a hunger; they have a good work ethic, which are both attributes that we're looking for. [UoM students have] a genuine interest in our industry."
Getty added that he believed the fashion industry was growing in Manchester, a city that was once called the 'Cottonopolis". And it's an industry in which he loves to work; where you could visit Paris one week and New York the next.
Shaun Foster, Recruiter at Next, agreed that working in fashion is anything but boring. He pointed out that the sector is fast-paced and home to a lot of innovation.
Tara O'Reilly, a Talent Partner at ASOS, pointed out that her line of work offers up a mix of creative and technology, which made for a "dynamic and innovative" environment. "The fact that here at the University they offer a variety of different courses appeals to us at ASOS as we have lots of different teams – in buying, in merchandising but also in software engineering, in marketing."
Yasmin Kobbie Kaduwe, Talent Accusation Lead at N Brown, echoed these comments, saying that the variety of courses on offer to students in the School of Materials meant that graduates have "really good all-round experience" and a "good understanding of what they can expect in the industry".
Rachel Russell, Senior Recruitment Manager for Matalan, told us: "We find that the difference between University of Manchester students and students from other universities is that the Fashion Buying and Merchandising course is a Bachelor of Science rather than a Bachelor of Arts. What we find the differentiator of Manchester University students is that they come with much more commercial and business awareness because of the nature of the course."
Exposure to research
Another thing that makes University of Manchester students stand out to employers is the exposure to research they enjoy before they graduate. Philip Jenson, an engineer at Rolls Royce, revealed that the quality of materials and the research opportunities on offer to students here really prepare them for employment.
"The exposure to the research that goes on in this University [is beneficial]. There's a lot of work done that's cutting-edge, and just being able to be there and to have exposure and experience that quality of work I think [makes the students stand out]," he told us.
Ed Maynard, a Technical Sales Engineer for Morgan Advanced Materials, backed this up. "You have the opportunity to work in industry and in doing so you can get some really useful experience, which going on into a professional job later on is really useful and looks great to employers," he said.
Dream job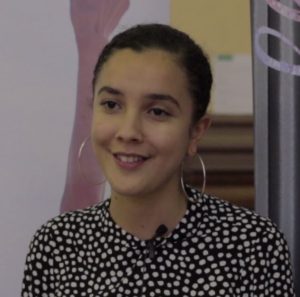 As well as employers, a few of our graduates came to visit us. Ed Maynard is a School of Materials graduate, and said that a Materials Science degree is a "very good qualification." He added that it helped prepare him for his role at Morgan Advanced Materials, where he gets to spend his time problem solving and thinking creatively – something he loves.
Graduate Elspeth Harry was also at the fair in her new capacity as Import Merchandising Intern for South Beach. Her Fashion Marketing degree covered a range of roles within the fashion supply chain. "I think learning skills in all those different departments allows you to develop your skills in the area that you decide to go into and gives you an idea of where you really want to be yourself so you have more confidence in yourself and in what you want to do," she noted.
And not only did it prepare her on a technical level, but the degree course also gave her confidence in her own abilities. "When I came to the role I already had an understanding of how things work in industry and how important each individual department contributes to the final picture," Elspeth told us.
We can't wait to see which undergraduates who attended the Fair will be returning as employees next year.
Careerscareers fairEngineeringFashionGraduate SchemeinternshipsMaterials Science
Related posts