#MondayMaterials Episode 30 – Ella Row
Meet the Department 27th March 2017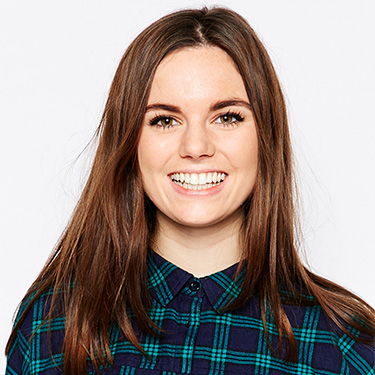 Hello all! Welcome to Episode 30 of #MondayMaterials. It's a little different today as we're meeting with recent graduate Ella Row to discuss her industrial placement. Ella was introduced to me by former #MondayMaterials participant Patsy Perry. Patsy was particularly excited by this student's progression because Ella, after a year of industrial experience with them before her final year, has gone on to earn a full time role with fashion giant ASOS. Like many of our students, Ella found the year in industry so valuable that she was desperate to tell you all about it. So I went along with my camera and my notepad:
Hi Ella. Thanks for chatting to us! And huge congratulations on the new role. What course did you study with the School of Materials and what did you enjoy most about it?
I studied Fashion and Textile Retailing (Editor's note: Our course names have changed since Ella started, but you'll find similar degrees on the website.) What I loved most about the course was how varied it was. We covered such a wide knowledge range of the industry which really helped me when I was on placement and in the job I'm doing now when I liaise with people from all over the industry, such as buyers and garment techs.
And why did you decide to do an Industrial Placement?
Before starting Manchester I hadn't even considered doing a placement, but in my second year we were given so much information and it really appealed to me. Looking back it was the best decision I could have made.
What, in your opinion, are the main benefits of an industrial placement?
It was great for me because when I came back in final year I really understood what I was learning on the course a lot better. Everything I was taught I could relate to my experience at ASOS. It also looks great when you're applying to graduate schemes – that you have a whole year already doing a job role. That's really gonna put you ahead of other candidates. And for me it was great because I got offered a job at ASOS without even having an interview, because basically I'd been working there for a year. It was like a yearlong interview. So I started at ASOS two weeks after I'd finished my final exam.
So tell us a bit more about the company? What do they do?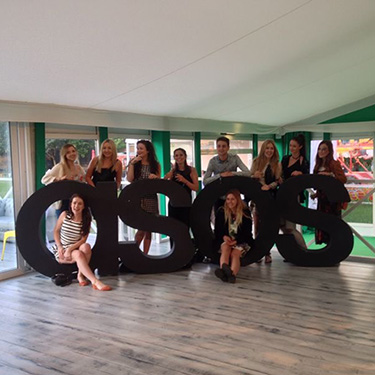 So I worked for ASOS; they're a global online fashion retailer. I specifically worked in the menswear buying team, on accessories. And now I work on t-shirts. But ASOS are broken up into so many different departments, from marketing, to the garment tech team, who test the quality standards of the product, to the production team which is made up of the models and everyone behind that who gets the products photographed for the website. And the list just goes on and on; there so many different job roles within the company.
What was the application process like for the role?
So every year there's a big online application – it's around November but you might want to check. I think the deadline is Christmas.  So you just upload a cover letter, your CV, and there's just a few questions to answer.
But the next stage is a surprise telephone interview. I actually didn't know that it was coming, which was really great. It meant that I didn't have to worry about it and that someone who's really passionate about the role gets the job because they just know about it. And they know about the company. So, that's great.
And then I heard back from them in January and I had an assessment centre. This consisted of a group task, a presentation which I prepared in advance, and an interview. And then I found out I got the job.
And what did your average day consist of while you were there?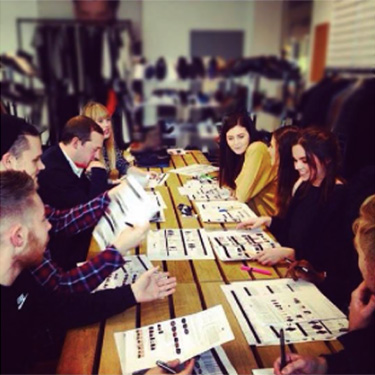 My tasks were very varied each day. So Mondays were always really busy because we'd get our weekly sales through from the week before. I would analyse and compile the data into a report and present it to our team at our weekly trade meetings, and we'd try and react to any best or worst sellers.
For bestsellers we'd make sure we had enough commitment coming in so that we could keep it online, and for worstsellers we might get it retouched. Or see if we've got alternative images that we can use to try and sell that product.
Twice a week I attended fit sessions with the garment tech team, so just testing the quality of the products and making sure they meet the standards of ASOS. Once a product was approved I'd hand it over to the production team to get a photograph for the website.
Other than that, on a daily basis, my main role was maintaining a critical path. So just chasing suppliers to make sure the products were delivered on time. And I also carried out a weekly, online comp shop of our competitors just to make sure we weren't missing anything from the range.
What big or interesting projects were you involved in while you were there?
So after working at ASOS on my placement for six months, I was lucky enough to be given the wallets category to develop. Which was really exciting – to see the ideas that I came up with go from the initial design to the product live on site, for the whole world to buy. That was really good.
And then now that I'm back at ASOS, I've actually been give the role of colour monitor. I look at any new colour reactions that are working really well for my department, on t-shirts, and then I send out a monthly email so that other teams can react to this and make sure they've included these colours in their range.
So yeah; there are lots of exciting things to get on with while you're on placement.
What new things did you learn?
I learnt so much on my placement; from learning about the job role as a buyer to getting a real feel for working life before graduation.
I'd say my presentation skills definitely improved the most. Every four weeks at ASOS you present to the senior buying team, and you're given feedback for this. So at the start my comments were generally how nervous I looked, and how shaky I was. But by the end I had such great feedback. What really helped this was the fact that ASOS offer such a wide range of training, to work on any skills you want to develop. So I went to a presentation skills workshop and that really helped.
What were your three favourite things about your placement at ASOS?
My favourite thing was definitely getting to see a product go from initial design to live on site, particularly for my own wallets. And especially when we found a new bestseller. That was really exciting.
I also loved when I got to venture out of the office with my buyer to go to suppliers around the UK and help put products into development. For example, in two weeks' time I'm going to Leicester to see a t-shirt supplier to put some things into work. And this is great because you actually get to speak to the suppliers in person, which works a lot better than just emailing all the time.
And then finally, generally, just working at ASOS overall was amazing. They're such a fun company to work for, really inspiring, and they have some amazing company parties over the year. And just a great atmosphere.
And what about your other interests? What do you do in your spare time?
I absolutely love running. I ran for the uni team in my first, second, and final years. So it was great being based in Camden because I could run in Regent's Park. And ASOS also offered certain exercise classes you could take part in, so that was really good.
But also, London was great for going out to eat, or for drinks with friends.
What would be your top tips for anyone planning a placement in the future?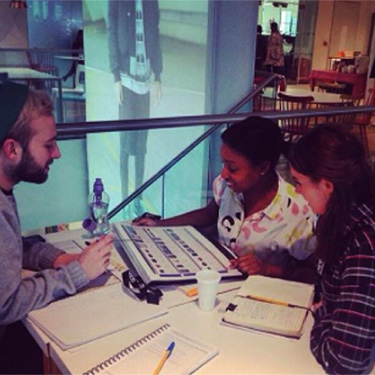 I would 100% recommend doing a placement, it's been great for me. And I don't think employers expect you to have so much experience when you apply for placements; they like some fashion related experience. But almost as soon as you graduate they expect you to have been doing the role for a year. And you'll be competing with people who've done placements – so they already have a year of experience in a role.
But I definitely recommend do a lot of other research beforehand, and making sure you're doing something that you definitely want to do. I knew I wanted to do buying, but some of my friends have done other fashion related placements such as garment tech or visual merchandising. And they've all found it's been great for them, too.
And the final thing would just be to make sure you get some fashion related experience beforehand. I personally had a part time job in Topman in Manchester Arndale, and I also had some other fashion related experience from London Fashion Week. And this just gave me lots to talk about in my interview.
ASOSEmploymentFashionPlacementSchool of MaterialsThe University of ManchesterUndergraduate
Related posts