#MondayMaterials Episode 17 – Meera Dulabh
#MondayMaterials Fashion 15th February 2016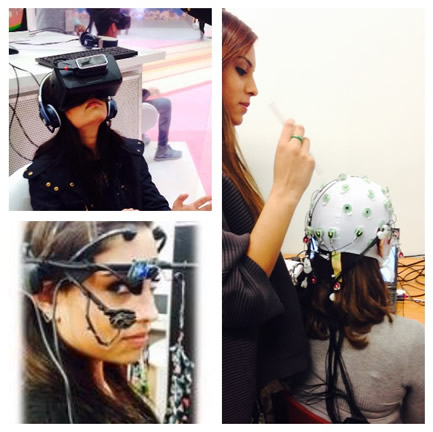 I first met Meera Dulabh when I was preparing to go down to an event at the Museum of Science and Industry in which she would be displaying her cutting edge work alongside some equally impressive collegaues. Unfortunately, I fell ill on that day so I missed out on the festivities and you guys missed out on an interesting blog piece.
But talking to Meera in the lead up to the event, I was fascinated by the research she was telling me about. Once again, #MondayMaterials is meeting a PhD student who is undertaking a hugely exciting and innovative project. I'll let Meera tell you more about it:
Hi Meera – welcome to the blog. Can you start by explaining your research, for the layman, in ten sentences or less?
I analyse consumer engagement to online shopping computer interfaces. So, for instance, I look at social media, videos, and browsing experience via an EEG – we put electrodes on the scalp to analyse brain activity when online shopping.
And this is transferable to new things such as virtual reality – yeah, it's new and upcoming!
Sounds fascinating, Meera. Thank you. So how can your research benefit the general public?
Okay. So as I mentioned, the research that we're doing can be transferred to new online technologies. It can benefit organisations, like Net-a-Porter or online retailers, that can basically use our findings in terms of what's interactive, what's engaging.
And it can also benefit the general public when they go onto the websites. And in the future, when you've got these new virtual reality headsets, you can map these sort of findings and see what can be created in the future, and what can be taken out.
And that's basically how I think it will benefit the public.
And how did you first get interested in your research area?
Okay, so my first degree wasn't in fashion. It was in Psychology and Law. I then wanted to follow my dreams of  doing fashion because I'd loved it since I was younger.  I wanted to be a Fashion Buyer, so I went to the Fashion Retail Academy and I got relevant experience in that.
And then it was a bit difficult and I missed studying. So I went and did the Masters and I used the internships that I got from several retailers and I used that to do my thesis.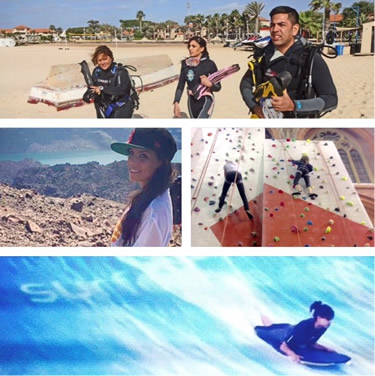 And, yeah, that's how I came across it. And then do the PhD – I got asked to do it. It was in Psychology and it was in Fashion, so it was perfect for me.
Going back a bit further, could you tell us who or what first inspired your interest in fashion?
What really inspired me was when I was little and I always used to draw pictures of women in dresses and things like that. So it's always been in me and that's what inspired me. Whenever I was bored I'd always do that.
And then after my degree, my first degree, I decided I was just going to follow what I love. And then I just did things like mood boards.
And I just love shopping, so that's basically what influenced me in fashion. And then to the course that I'm doing now.
Can you tell us a bit about your interests outside of work and what you get up to in your spare time?
I'm a bit of an adventure sports junkie. So I'm a qualified scuba diver. I learnt to scuba dive because I love travelling, so when I go I've now got my advanced scuba diving qualifications. I can't practice in Manchester, though – that's a bit difficult.
But I've started things like rock climbing, I've done some Buddhism classes, and I play squash. I do like sports, so that's what I do in my spare time currently.
Brilliant, thanks Meera. So, even if Manchester isn't good for scuba diving, could you tell us how good it has been for your work and research?
Well there's everything around here in Manchester. There are a lot of facilities around, there are a lot students around, so that benefits me in the sense that I can use the libraries, I can contact the academics or people that I need to because everyone's around here.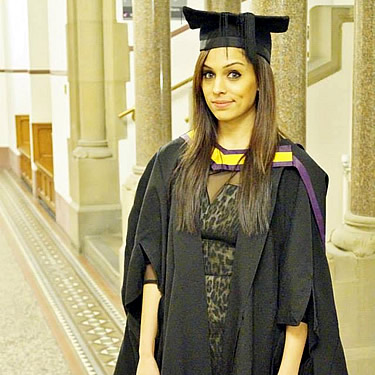 But also, it's such a lovely place and it's such a lovely city to visit. There's a lot to do here – there's a place called the Northern quarter which is good for going out. There's also a lot of sort sporting activities that you can do.
So Manchester, I think, is the best place to do the PhD. It's the perfect setting for everything.
Well what a positive note to end on – I'm glad to hear that Manchester has been so good to you. Thanks for the interview, Meera – I'm very excited to see how your research develops.
To the rest of you, come back in 2 weeks. We'll be chatting to Fashion Business Lecturer and Lifestyle Blogger Rosy Boardman.
Thanks for reading!
Consumer engagementFashionFashion buyingOnline shoppingSchool of MaterialsThe University of Manchester
Related posts