#MondayMaterials Episode 27 – Xiangran Wu
Meet the Department 19th December 2016
Hello all, and thanks for joining us for Episode 27 of #MondayMaterials. Today, I return to a place that has already provided us with some of the very best blog interviews of the entire series. Dr Delia Vazquez. one of our very early interviewees, has introduced me to another of her outstanding PhD students. And after Sophie Miell, Meera Dulabh, and Sobia Khan, Xiangran Wu does not disappoint.
Anyway, enough of me, let's meet Xiangran: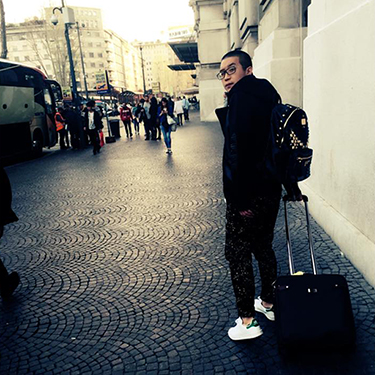 Hi Xiangran – thanks so much for talking to us. Could you please describe your research, for the layman, in ten sentences or less?
Actually my research is not something overly advanced, and there are no science and technological tools involved. It's just a pure marketing and communication research based on normal human behaviour and emotions.
Sometimes when you watch a TV series you will feel you get involved deeply in the plot and love someone naturally, it's like the kids making friend with their teddy bears. You will agree with many ideas from your favourite TV character and even learn from him or her. That emotional behaviour is what we call para-social relationship in academia, which is the core theory applied in my research. When people buy a product that belongs to their favourite TV character, or have a chance to communicate with that character, they will feel their para-social relationship enhanced. This may be able to be applied for a fashion marketing purpose.
Coincidentally, modern people like watching TV programmes and using their mobile phones at the same time. In some recent research, most people using mobile phones while watching TV, and they are browsing the product displayed on screen or socialising with friends by using their phones. It means if you put your fashion product on screen to get their attention, and create some related text advertising on mobile that will satisfy their needs on both channels, and even enhance their experience of para-social relationships, that's something retailers are working on today and also where my research started from.
And how can your research benefit the public?
Well, my research is based on a cross channel communication, so the benefit will be for different users. For the TV producers I think they will be able to find out where is a good spot for designing their commercial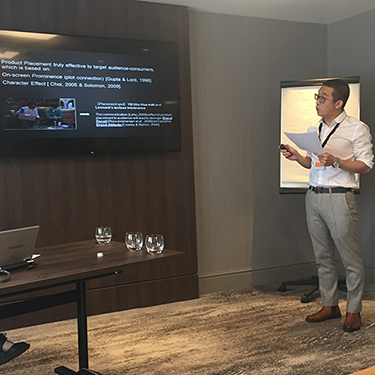 fashion product placement on screen in order to enhance the para-social relationship for a better effect. For the fashion retailers I think they could create TV series related content marketing on social media, on one hand it will give the audience more chance to talk about their TV character, to enjoy their para-social experience, while on the other hand this content marketing is able to push the popular TV character as a fashion inspiration for further enhanced para-social experience when people buy the same fashion product as their favourite TV character.
Worth to say, my research is focusing on the Chinese market and we know China is becoming a very big fashion market recently. So I think my research will provide a new perspective for the global fashion brands if they want to enter China's market. Because I realised the global fashion retailers are often restricted by cultural differences in China. With my research, I think they could just invest in a TV series before planning the marketing strategy and test the feedback of the marketing communication of Chinese consumers. Then they still have time to find the right way to enter the new market based on the marketing feedback.
Thanks, Xiangran. Sounds like fascinating stuff. So how did you first get interested in your research area?
Because of the working experience I think. Before I started my PhD journey, I worked in a global PR agency based in China, and we served many luxury jewellery and fashion clients. My job was managing the clients' social media account and I found people were very interested in talking about the products worn by some popular TV characters. I got a case at that time, one of my clients became a sponsor in a TV series, so sometimes the brand or product was displayed on screen as product placement. I was very lucky that the TV series was becoming the no. 1 rating at that time. When I created the social media content to present the popular character wearing our product, the feedback was so good. It's even better than just presenting a celebrity's image. I think it's very interesting topic so I am here being a PhD student to do this research.
And who or what first inspired your interest in fashion?
Because fashion is very special in the marketing area, I think. Actually fashion product is the same as food and transport, which are necessary things we need in daily life. Food makes us forget hunger, and fashion is just used to cover our body, and transport lets us move farther. But fashion is a much more individual product and has unlimited space for creations, whether in designing or marketing areas. And fashion is very easy to connect with any other kind of product. That's very interesting. Marketers like challenge, fashion can give them more chance for challenges. That's why I am interested in fashion.
What are your other interests? What do you get up to in your spare time?
Hmmm. As a foreigner here in the UK, I am interested in everything new for me. I like to travel around the EU, I want to have a look of different cultures and arts. But most of the time I need to focus on my research. But in my spare time I like to play video games with my friends. I like the feeling of teamwork and competition. Gaming makes me feel happy and relaxed.
Onto the last question, then. Can you tell us how being here in Manchester helped your work and research?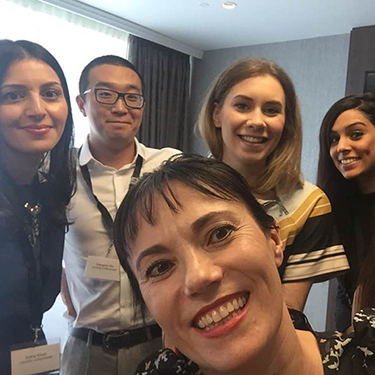 It's a very good experience studying and working in The University of Manchester. You can access nearly all the resources around the world for free here. By reading the papers, I truly feel my knowledge is enhanced a lot. And I think the PhD supervisor is another very important element for every PhD student. All the supervisors I got in touch with before are very professional and very nice people to help students in Manchester University. I have to say thank you to my supervisor Dr. Delia Vazquez; she gave me the chance to start my topic and she has also been like a mother for me. She taught me many other things and helps me to be a better person within or without my research. You know, I am a foreigner here, far away from China, staying away from my family. My supervisor is truly like a real relative who can help me, care for me, and support me. That's why I feel very good and confident to stay here for my PhD.
Lovely – what a nice place to end. Thanks for chatting to us, Xiangran – and please keep us informed as your research continues. It sounds like fascinating stuff.
Readers, thanks for joining us again. Come back soon!
CommunicationFashionMarketingRetailSchool of MaterialsThe University of ManchesterTV
Related posts