Triple Down at the Big Green Gathering
Fashion 6th April 2016
A few weeks back I was lucky enough to meet three inspiring students from the School of Materials. Alex, April, and Lindsey are fashion students in the School, and when I met them they were doing their bit to help out with a sustainability event being run by the Faculty. Between them, these three impressive undergrads have also set up their own fantastic fashion blog and Alex works for an exciting charity project called The Closet which you'll learn more about below.  
I won't go into too much detail as that might spoil what comes below, but I was so impressed by Triple Down that I asked them to introduce themselves to the rest of the School over here on the blog while also giving us the lowdown on what they were doing on the day I met them. So here they are:
"Hi! We're Triple Down, three fashion marketing and buying and merchandising students from our very own University of Manchester! With a keen interest in fashion and spreading our loud and excessive opinion about clothes we decided to start our blog; taking influence from film, street style, vintage, and pre-loved fashion to style outfits and talk about ourselves, to put it simply. No, no, we kid.
But we do love our degree and thought it couldn't harm to try to spread the love and share some of our outfit insights and styling tips with the general public to share our ideas and fully explore our interest and passion! We love Manchester and take so much influence from all the great stuff that goes on around us. We are always learning and adopting new styles, and the blog is a great way for us to merge our three alternative angles and see what magic we can create! If you like the sound of what we do and want to check us out then go on, click this little link.
A few weeks ago we were lucky enough to pop along and style some outfits for another great charity cause as a part of The Big Green Sustainability Gathering organised by our University and held in the wonderful North Campus, where we mostly reside.
Did you know? Every 10 minutes we send 7 tonnes of clothes to landfill in the UK ALONE.
'Swishing' is a charity clothes swap event, with all donations and proceeds going to the Wood Street Mission, a charity based in Manchester supporting families, and Lifeshare, a homeless charity, two fantastic organisations (be sure to check them out in the links attached). Alongside other events held as part of the fantastic day of affairs the swap was put together to support and promote shopping in a sustainable manner, a necessity within our throw away culture and the fashion industry going forward, as a three we really try to support this ideal and shop ALOT in charity and vintage shops to give every garm we grab its fully deserved lifespan!
The event spread awareness about the affects of fast fashion and with a series of drop in areas across the campus, including our favourite little charity shop The Closet's very first Pop-Up Stall, in aid of the fabulous Manchester Mind, the inspirational local mental health charity.
Triple Down were lucky enough to be invited down to the swap to pick and choose a few of our favoured items and style them to show you all, and to prove just how far our student budget can stretch! With items here going for FREE in exchange for your old items, or the option to claim it as your own for a donation of only £1! Plus a few featured items from The Closet who are always there to keep our cheap and cheerful student wardrobe in tact.
Styled below are a few of the items we grabbed for our own cheeky swap – Check check check it out!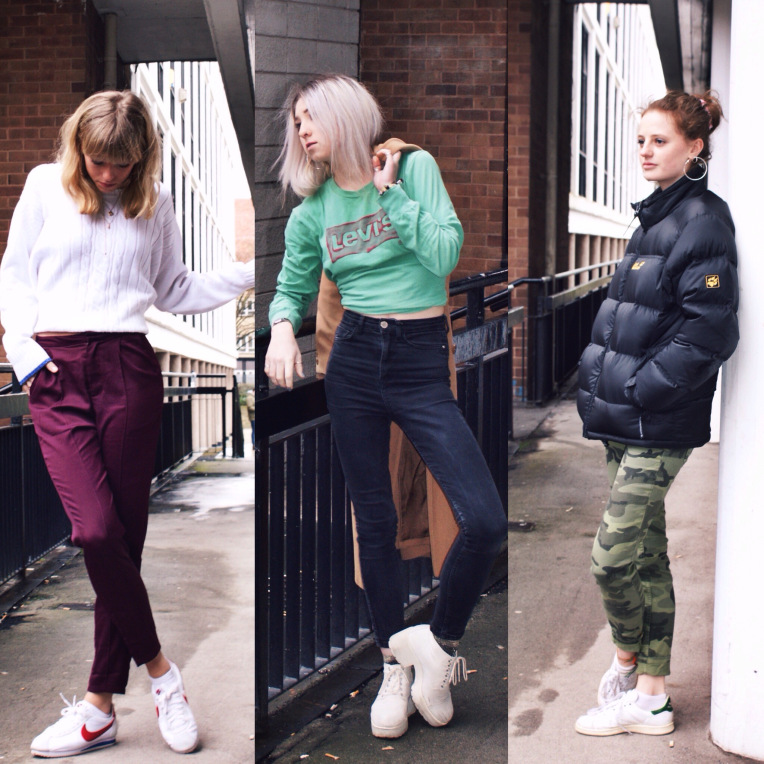 Our Swap Shop Finds:
(left to right)
Alex wears: White Cable Knit Sweater – SWAP SHOP
Trousers: Missguided
Shoes: Nike Cortez
Lindsey wears: Green Levi's Long Sleeve Top – SWAP SHOP
High Waisted Jeans: Topshop
Shoes: Vagabond
Coat: Vintage Burberry
April wears: Camo Pull&Bear Jeans – SWAP SHOP
Coat: Jack Wolfskin @ THE CLOSET
Shoes: Adidas Stan Smiths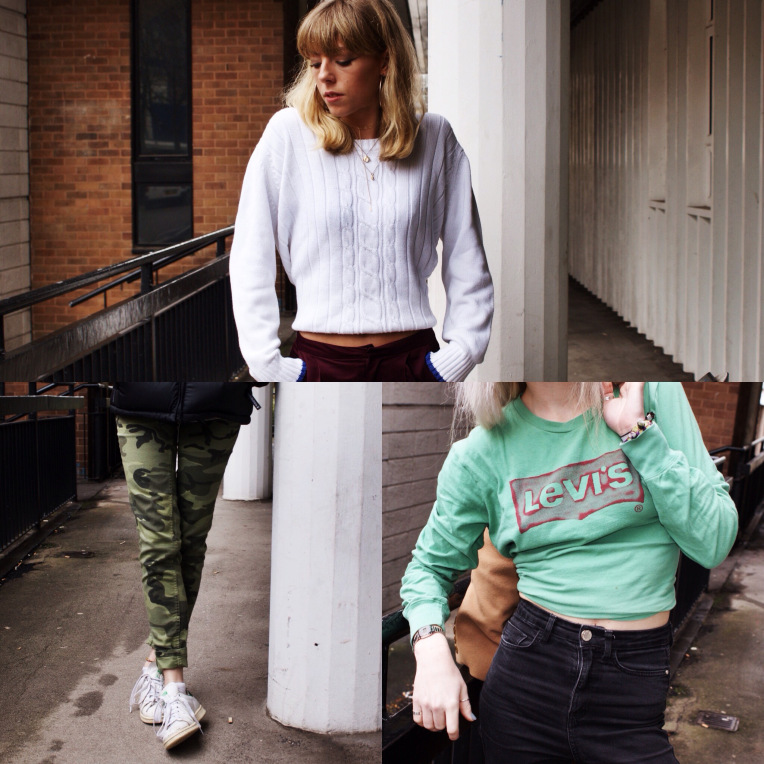 We want to say a massive thank you to all those involved! And be sure to keep an eye out for events like this near you as it's a great way to reinvent your wardrobe for nothing! Can't go wrong! Right?
If you like these looks be sure to follow the links attached and give us a follow on Instagram (@tripledownblog) to keep up with our weird daily life.
All our love;
Alex, Lindsey and April
xxx"
BloggingFashionSchool of MaterialsSustainabilityThe University of Manchester
Related posts