Dragonfly Day – "Women can do anything"
Social responsibility UOM life 14th February 2019
In a week that kicked off with the United Nations' International Day of Women and Girls in Science, The University of Manchester hosted Dragonfly Day – an opportunity for local schoolgirls to meet the women studying science, technology, engineering and mathematics (STEM) here.
On 13th February, girls aged 13 to 14 from three schools in Manchester paid a visit to the University for a packed day that included the chance to meet the female researchers and academics working here. There was even the opportunity to ask them anything at a speed-networking event.
The day began with a talk about why women play such a vital role in STEM subjects. Currently, little more than one in ten (13%) of the UK's STEM jobs is occupied by a woman. And it's not only in the workplace that women are so underrepresented – at university, too, there are a notable lack of female students enrolled on STEM courses.
Where are the women of STEM?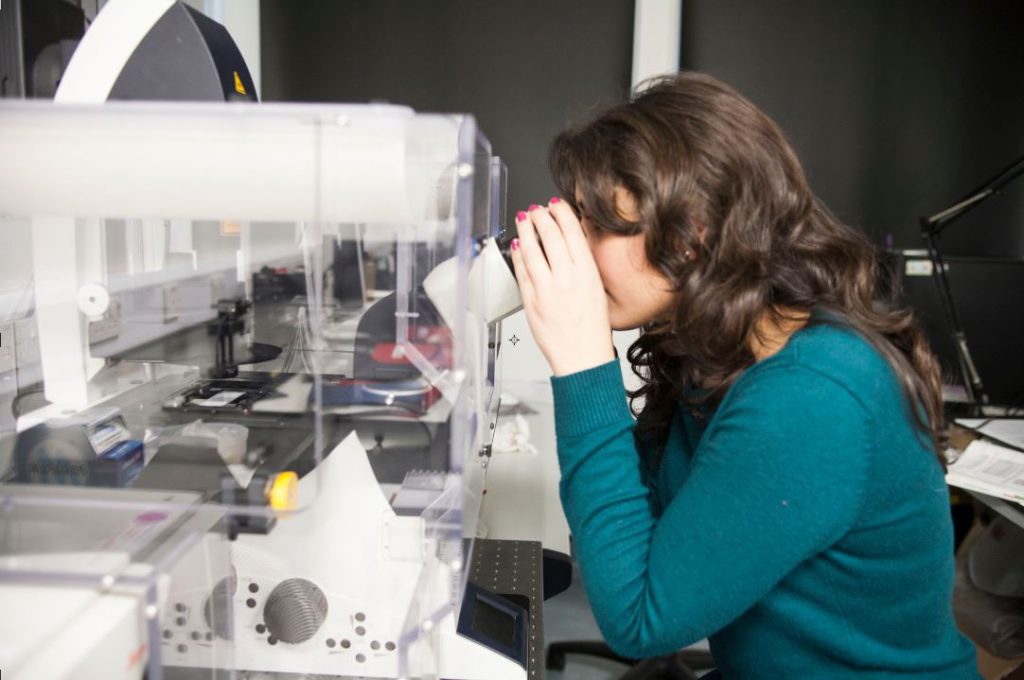 It's a problem that begins before university, before girls make their A-level choices – and even before they pick their GCSE subjects. In fact, it's thought that girls start to drop out – first in interest and later from class – of STEM subjects when they're aged between nine and 11.
There are numerous theories as to why this steep decline occurs. Socialisation is one, and the fact that certain academic subjects are seen as feminine and others – like STEM subjects – as masculine. While still in the infant school playground, girls' aspirations begin to take a very different shape to those of boys.
In an earlier post, we shared figures from the Institute of Physics that revealed Year 7 boys dream of growing up to be a doctor, builder, engineer, police officer or footballer (and there are also a fair few who are confident they'll be Prime Minister). At the same age, the most popular career aspirations among girls are model, makeup artist, nail technician, teacher and fashion designer.
There's another hypothesis for the lack of women in STEM – that low confidence among girls puts them off asking questions in class, as they are afraid they will answer wrong. STEM is all about asking questions and getting things wrong. It's getting something wrong that helps scientists and engineers narrow down their options, refine their technique and end up at the right answer.
While the reason for the leak of girls from STEM subjects is manifold, the outcome is the same – a dire lack of women in STEM industries. This is bad news for everyone as, in the words of biomaterials researcher Negin Kamyar, "we can't afford to exclude half the population".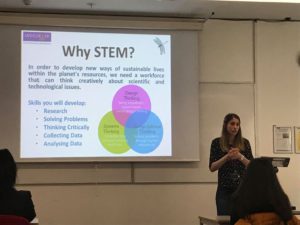 UoM's women of STEM
Negin kicked off Dragonfly Day by highlighting the uneven split between men and women in STEM – and pointing to the benefits of working in this industry too. She told the visiting Year 9s about the great travel and job opportunities that await students who graduate from these subjects – and pointed out that the positions are often higher paid than non-STEM jobs.
Next Negin introduced her own research to the pupils. She is currently studying for a PhD in biomaterials, and spoke about the work she does creating scaffolds and growing tissue cells that can be used to repair injuries like fractures and breaks. As one member of the audience pointed out, it's like we're living in the future!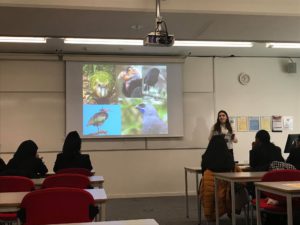 Next to speak was Rebecca Lewis, a graduate from the Royal Veterinary College who is currently studying for a PhD at the School of Earth and Environmental Sciences.
Rebecca's research concerns birdsong and the impact it can have on conservation. The visitors sat captivated as Rebecca explained that one in eight bird species are currently under threat of extinction (according to a 2018 Birdlife International report) and that a clue to helping grow their numbers may be present in their unique song.
Songbird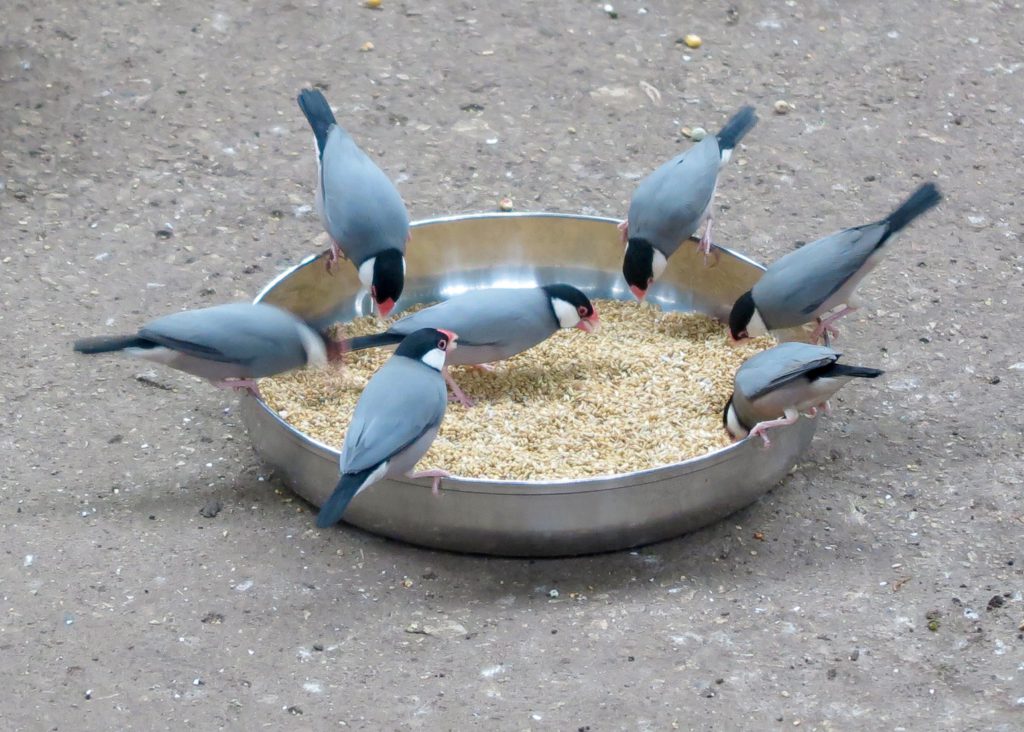 Just as the accents and dialects humans speak with vary, birds all sing a different song. Birds pass their songs on to their chicks, and so the tradition goes throughout the generations. Over time, the songs adapt and change – something known as 'cultural drift'.
'Acoustic adaptation' – how the acoustic properties of a given environment affect sound – also plays a role. Indeed, this hypothesis suggests that the male birds whose songs are best transmitted in their environment are also the most likely to attract a mate – and thereby pass on their song.
This is important to know if you work on a conservation programme in a zoo. Here, not only will the environment the birds are housed in differ from their natural home, but the bird populations are also made up of creatures from lots of different locations and families – even within a single species.
Rebecca works with the Java sparrow to record its song and gather the data she needs to answer the questions that could help improve conservation efforts. But her work didn't start with birds – after graduating with her Bachelor's degree she was chosen to join the internship programme at Chester Zoo, where she worked with primates. Proof that there's no limit to where your work could take you when you're a scientist.
"Women can do anything"
Following the talks, the girls attended two workshops – one of which focused on STEM heroine Mary Anning, who was among the first dinosaur hunters. She also has the accolade of being the first person to identify fossilised dinosaur dung correctly.
The girls then had the chance to meet more of the female PhD students, researchers and academics we have working in STEM subjects across the University. This was their chance to find out what real scientists, engineers and mathematicians look like – and to ask them anything.
Following last year's Dragonfly Day, 100% of the attending pupils said the event had inspired them to go to university, and a staggering 85% said they'd like to find out more about studying a STEM subject. Judging by the atmosphere this week, Dragonfly Day 2019 is likely to have been just as successful. After all, as one of last year's attendees pointed out: "Women can do anything that men can do!"
Words Hayley Cox
Images – Ethan Trewhitt, Rebecca Lewis and Hayley Cox
biomaterialsChester ZooDragonfly DayInternational Women's DayUOMWomenWomen of STEM
Related posts