Recognition for a Young Chemical Engineer in Research
Research and impact 5th October 2016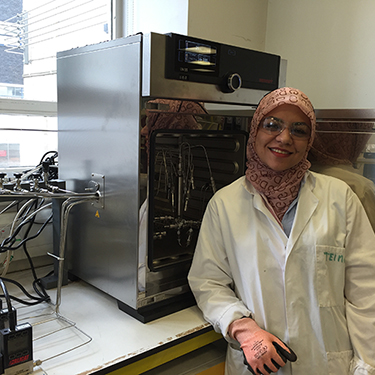 Hello all. Thanks for making another trip to the blog. It's an exciting update for you all today as we meet up Young Chemical Engineer in Research Award finalist Nadeen Al-Janabi, a PhD student here in the school.
Nadeen is doing some hugely important research, supervised by Dr Xiaolei Fan and Dr Flor Siperstein. IChemE, the hosts of the award, have already been glowing in their praise of what she is doing. I thought I'd better go and find out more about it:
Hi Nadeen. Congratulations on being chosen as a finalist. Could you start by explaining the research that has earned you this nominations?
Thank you very much, Fran.
My research focuses on carbon capture technologies, aiming to reduce its impact on climate change and global warming. My work employs the application of metal organic frameworks (MOFs) for carbon dioxide capture. MOFs are a class of porous physical adsorbents that attract carbon dioxide selectively and store it in their porous frameworks.
Over the course of my PhD research I have focused on the fundamental aspects of these materials, as well as their applications in practical settings; for example, to develop an economical method to improve the hydrothermal stability of MOFs and to use the combined experimental and process simulation method to design the adsorption processes based on MOFs. The novelty and originality of my research has been recognised by the community, resulting in 6 publications in high impact peer-reviewed journals with media coverage in Industry Today.
And how can this research benefit the general public?
CO2 is a greenhouse gas, the main contributor to global warming and climate change. Global warming and associated climate change adversely affect many aspects of our society, such as the sea level rise and food shortage. Therefore, CO2 abatement is a grand challenge that we have to address. My research aims for the development and application of emerging yet practical porous materials such as MOFs for highly efficient carbon capture, benefiting the general public and our society.
Going back to the awards, can you tell us you felt when you heard you'd made it to the final stage? And what was the application process like in the first place?
I was so excited, and also so proud, that I made it this far.
The application to this award required a careful preparation of the application material, in which I received a great help from my supervisor Dr Xiaolei Fan and also the Head of School Prof Chris Hardacre. I also thank them for their nomination to this award. My application was then selected by the IChemE panel as one of the finalists in the category of Young Chemical Engineer in Research.
IChemE members can vote for the winner of this award. If you were trying to convince them to vote for you, what would you say? 
Global warming by the greenhouse gas emission is a serious challenge faced by all of us. It affects several aspects of our society such as climate change, food supply, and human wellbeing. My research contributes to the novel solutions for global warming, especially the CO2 capture from industrial sources.
So far, my work has showed the significant impact of developing novel porous materials for practical applications. Therefore, this IChemE award is not only a reward of recognising my personal achievement in my project, but also a reward of acknowledging how cutting edge research at The University of Manchester and in the UK contribute to tackle the grand challenges of the world.
So, to discuss your research a bit deeper, can you tell us how you first got interested in your research area?
I have three years' experience of working in the oil and gas field, which provided me with a different perspective of how chemical industry should change in order to conform to this ever-changing world with tightening regulations and issues of global warming and depleting natural resources.
In 2014, supported by my home country (Iraq), I came to the UK to pursue my personal aspiration of carrying out the innovative and challenging research in the UK. Therefore, I returned to academia with a question in my mind of "how can we promote a sustainable chemical industry via research innovation?" With my inspiring and encouraging supervisors at The University of Manchester, my interest in this research has been deepened along the path of my PhD study.
And going forward, what are you planning to do when this project comes to and end?
I will return to my previous employer, the State Company for Oil Projects of Iraq. The knowledge and experience from my current research project will be valuable for me to continue my job as a process design engineer, endowing me with unique perspectives to integrate academic research and innovation with the process development for designing sustainable chemical processes.
Finally, how has being here in Manchester helped your work and research?
The University of Manchester provided me with the world-class facilities and a supportive environment, which is an excellent platform for me to develop a new skill set and to grow professionally. Additionally, Manchester also encourages support for women in scientific research and values the diversity of cultures, which creates a comfortable work environment for me to pursue my research. Most importantly, to work with my supportive and inspirational supervisors, Dr Xiaolei Fan and Dr Flor Siperstein, is a precious experience that helped me achieve academic and personal successes.
Thanks so much for your time, Nadeen – and good luck with the awards. I'll be keeping my fingers crossed for you.
To the rest of you, thanks for reading. I'll be sure to update you all on how Nadeen progresses!
Chemical EngineeringClimate ChangeGlobal WarmingIChemEResearchThe University of Manchester
Related posts